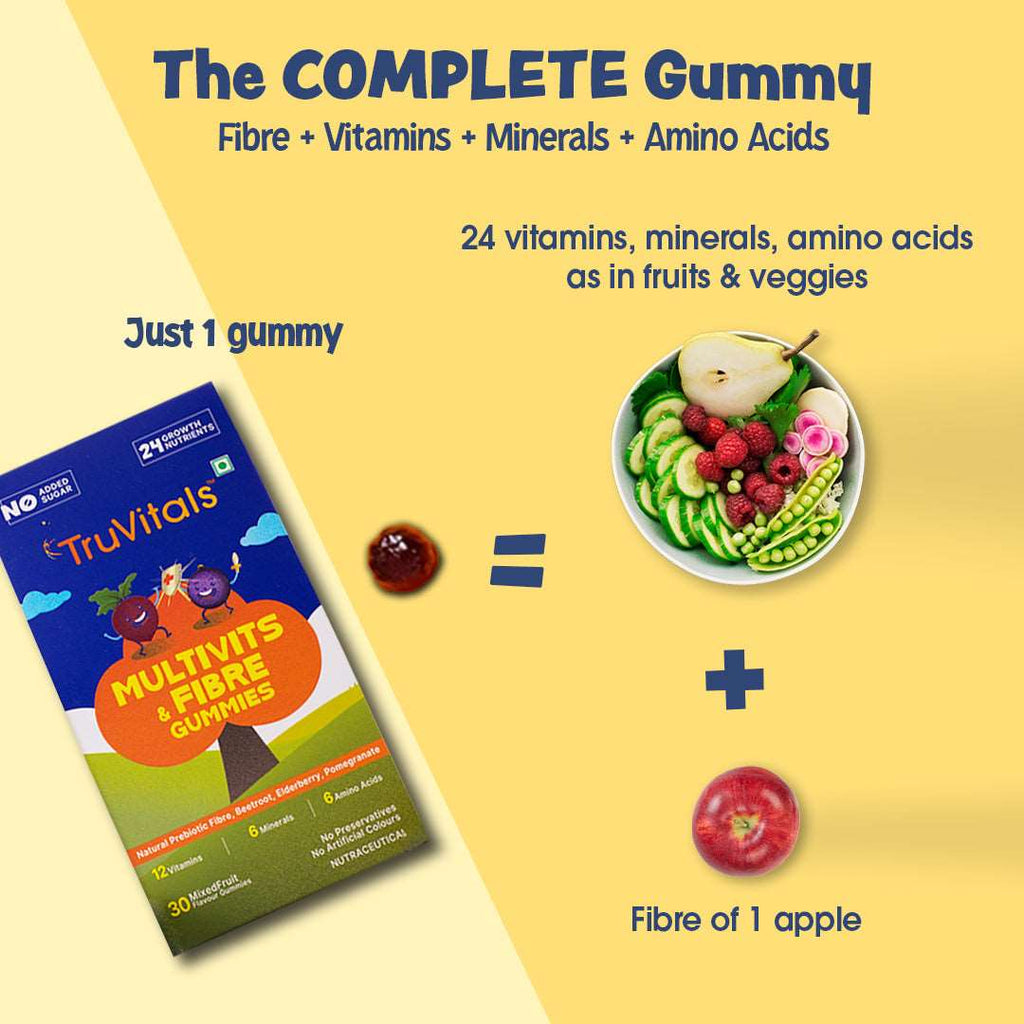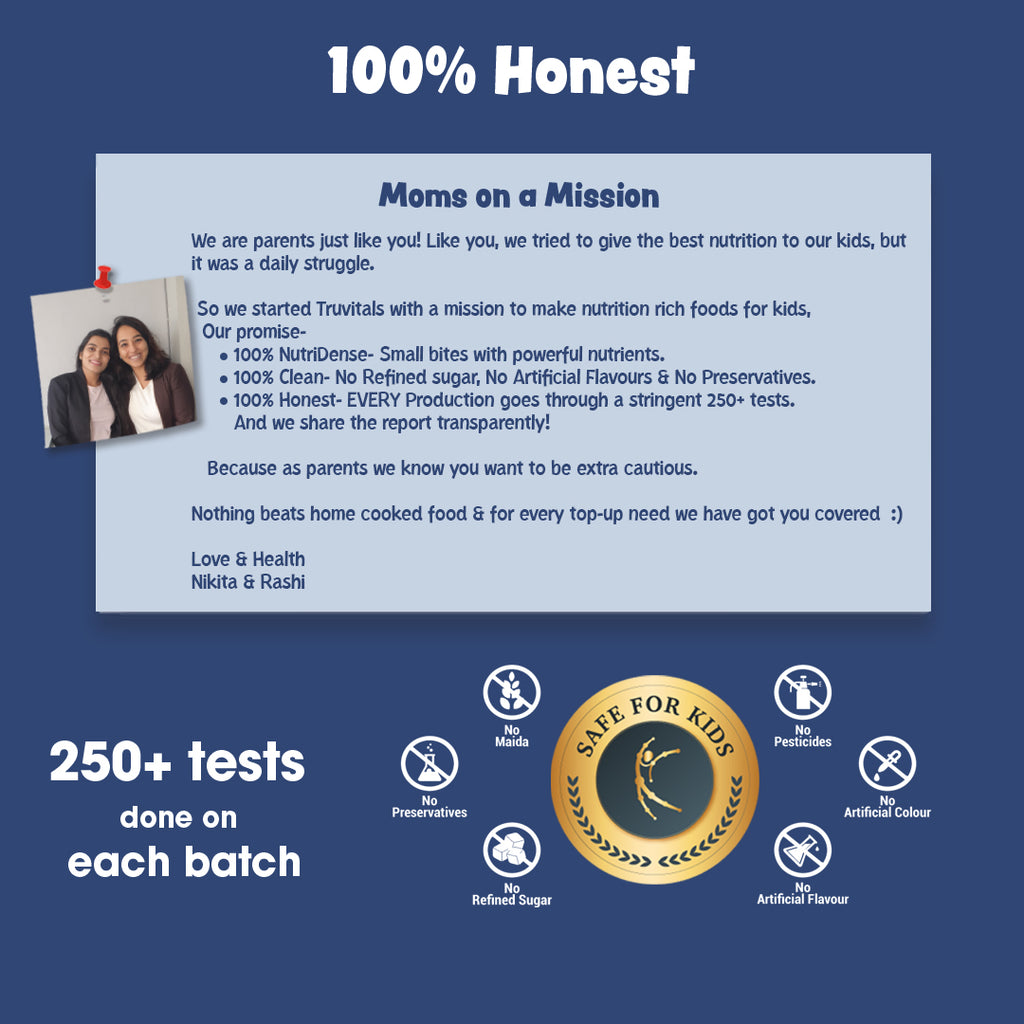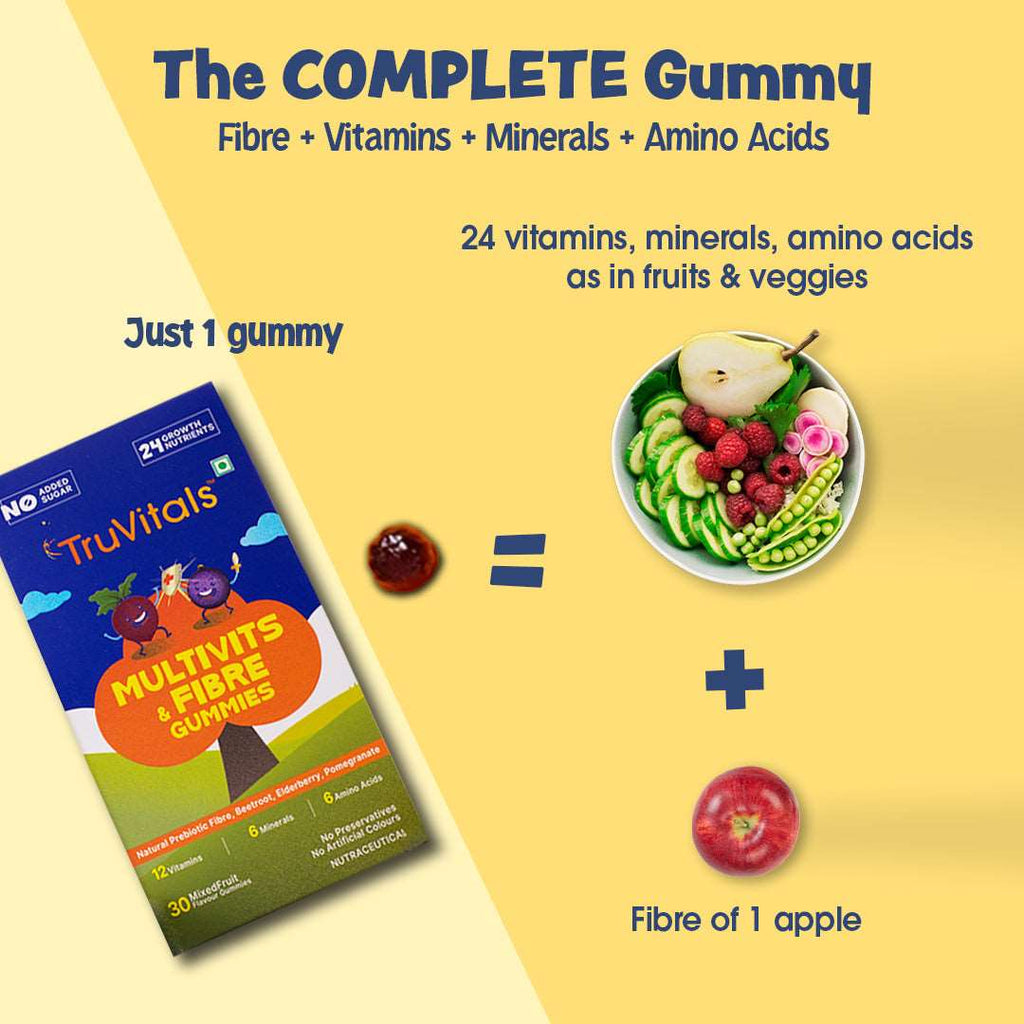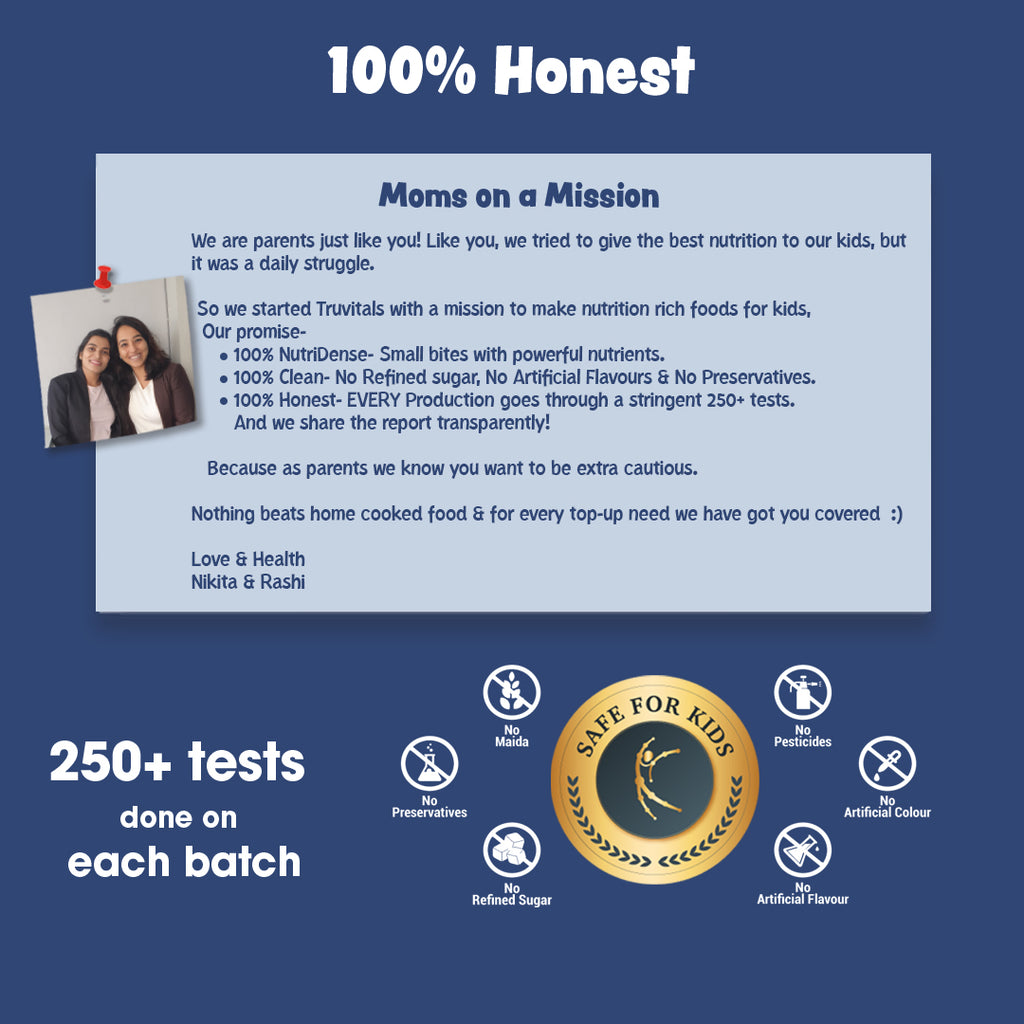 What's Inside
Hero Ingredients
Natural Fibre Blend
Prebiotic fibre from Chicory plant root and FOS helps in improved digestion in kids
24 Nutrients
Vitamin A, B Complex, C, D, E, Zinc and 6 Amino acids which are important for complete growth in kids
Natural Plant Protein
Plant-based protein containing all essential amino acids - Rice, Moong Dal, Oats, Quinoa, Pea Protein that supports growth
Nuts & Seeds
Almonds, Walnuts & Flax Seeds helps improve brain memory, offers antioxidants to counteract cognitive decline
Health Benefits
FAQs
Our milk mix is appropriate once the child has transitioned to outside milk sources (cow, buffalo, or packaged milk). As for our soft gummies, they can be introduced when the child is capable of chewing properly. Both are 100% natural with no added chemicals, preservatives, artificial colors or refined sugars and safe to give to your little ones.
It has never been this effortless to introduce bitter Ayurvedic herbs, nuts, fruits & veggies to children.This convenient combo incorporates Ayurvedic herbs with high protein,high fiber and the goodness of six fruits and vegetables into their daily diet easily. This combo is rich in essential nutrients that bolster immunity, including:

Protein: Promotes muscle development
Fats: Supports brain development
Fiber: Our fiber gummies aid digestion and promote gut health, a crucial component of immunity.
Vitamins A and E: Protects eye health and boosts immunity
Vitamin B: Fuels energy production in the body
Vitamins C, Selenium, and Zinc: Enhance immunity
Iron and Copper: Provide energy and support brain development
Calcium, Phosphorus, Magnesium, Manganese, Vitamin K: Foster bone development

This product was developed by a nutritionist in close collaboration with one of the best food technologists. Read more about the benefits of Ayurvedic herbs here.
Certainly, you can schedule an appointment with our expert nutritionist directly from our homepage. Our team of nutritionists has successfully assisted over 10,000 parents in addressing their children's immunity and nutritional needs.
Our products work to nurture your child's well-being from the inside, and results may take time to manifest. Patience and a consistent approach are crucial. Many parents have reported a reduction in sick days after 8 to 10 weeks of regular use. Rest assured, our product is FSSAI Certified, comprising proven ingredients, and is entirely safe for children to consume.
You can provide both the IMMUNITY kit and WEIGHT kit as advised by our nutritionists. This combination is designed to yield the desired results within two months. When a child falls ill, their body expends valuable nutrition and energy for recovery. Therefore, it's essential to minimize illness occurrences and provide extra nutrition to support healthy growth.
Crafted with a blend of 17 nutrient-rich ingredients, our immunity combo offers essential daily nutrition for children and teenagers, specifically catering to those who often:

Experience recurrent infections or illnesses
Struggle with seasonal allergies
Encounter digestive issues
Frequently feel fatigued
Exhibit slow healing

Additionally, this combo provides vital nutrition for children who:

Consume limited quantities of food
Accept few food options
Infrequently consume nuts, seeds, and Ayurvedic herbs
Have a restricted intake of fruits and vegetables
Show reluctance to explore new foods
Prolong meal times
Great combo
I'm thrilled with the Multivitamin Gummies and Brain Booster Milk Mix combo & they provide the nutrients my kid's need. Must buy
Good
The prices were a little high so I was not sure but after trying the combo and after seeing my kid's response, it's worth every penny
Overall great purchase
Taste loved by my kid, clean product and natural ingredients. What else do I need in a product?
Must try
Value for money. Definitely a must try!
Like it
My son loves the gummies taste, and really I appreciate the blend of fruit & veggie extracts. Also the milk mix is a delightful way to get essential herbs & nuts in my kid's diet