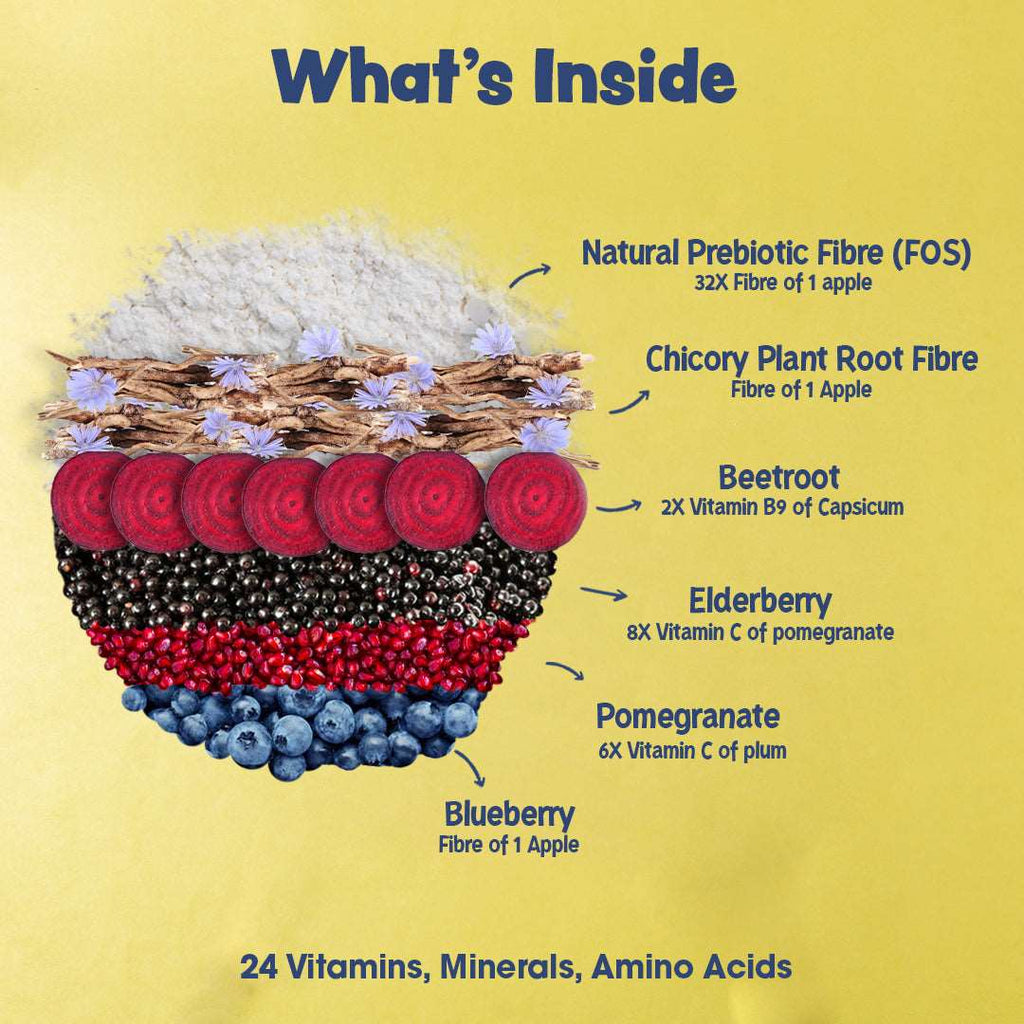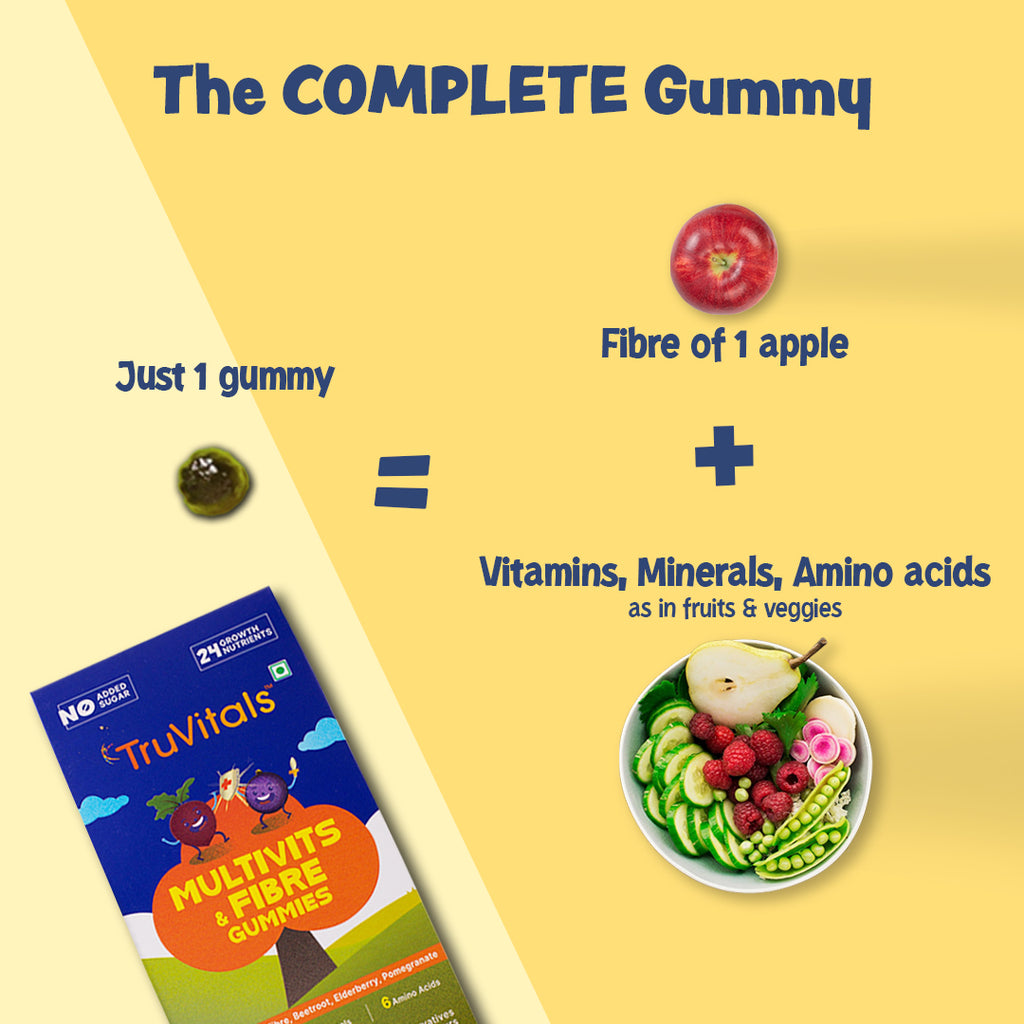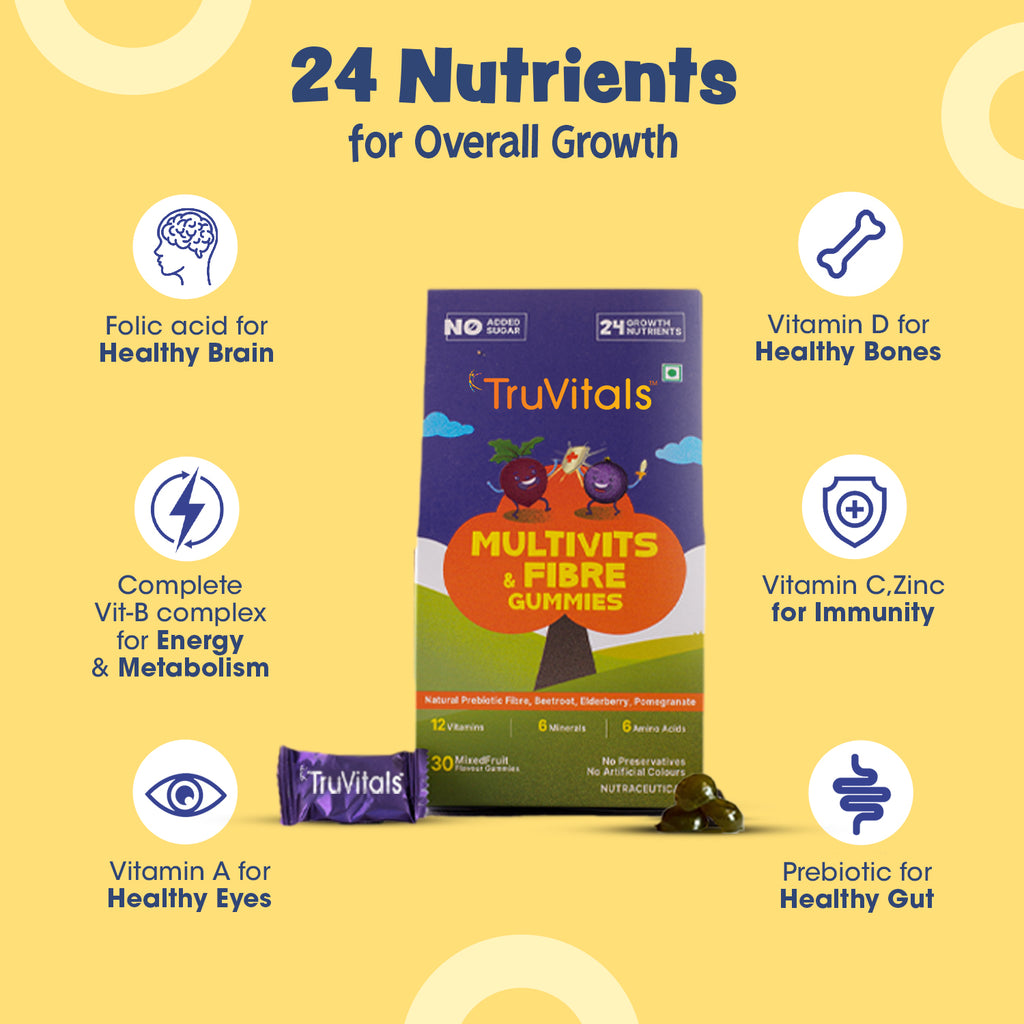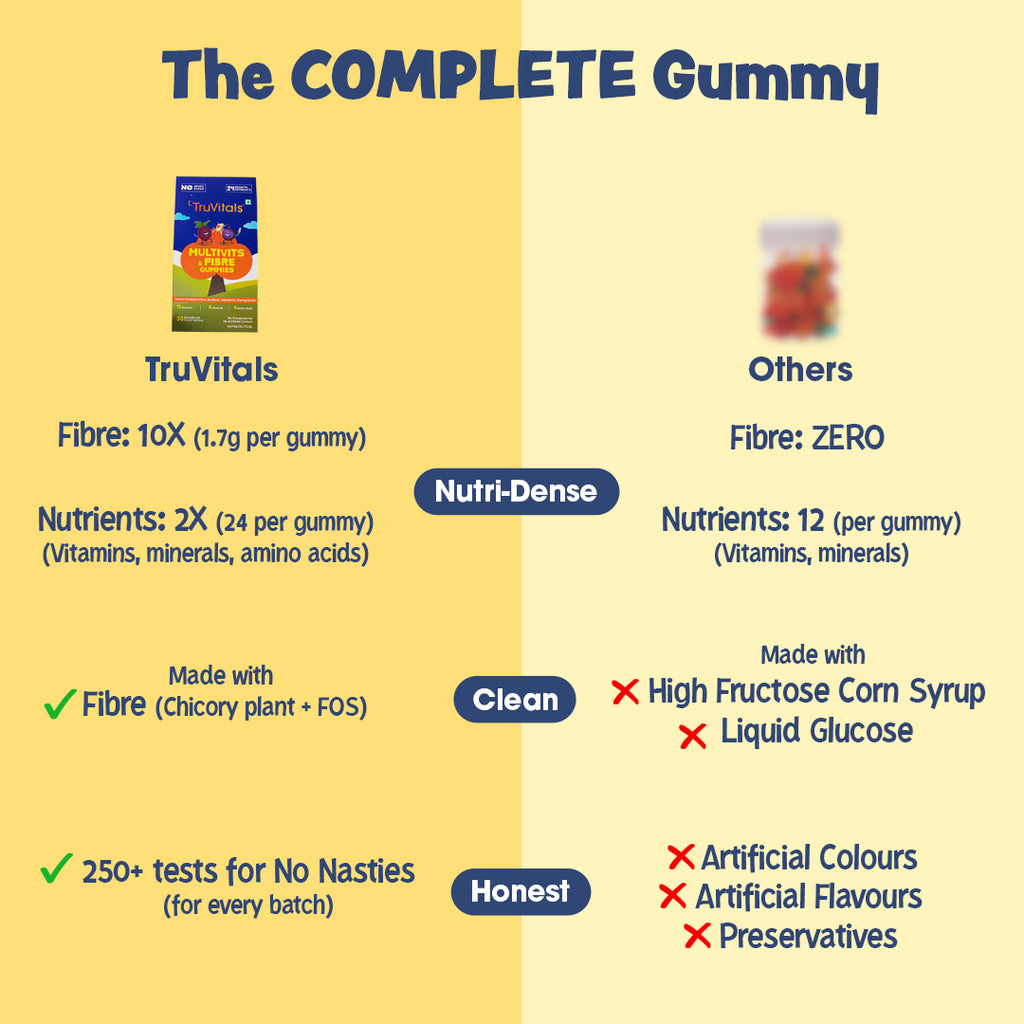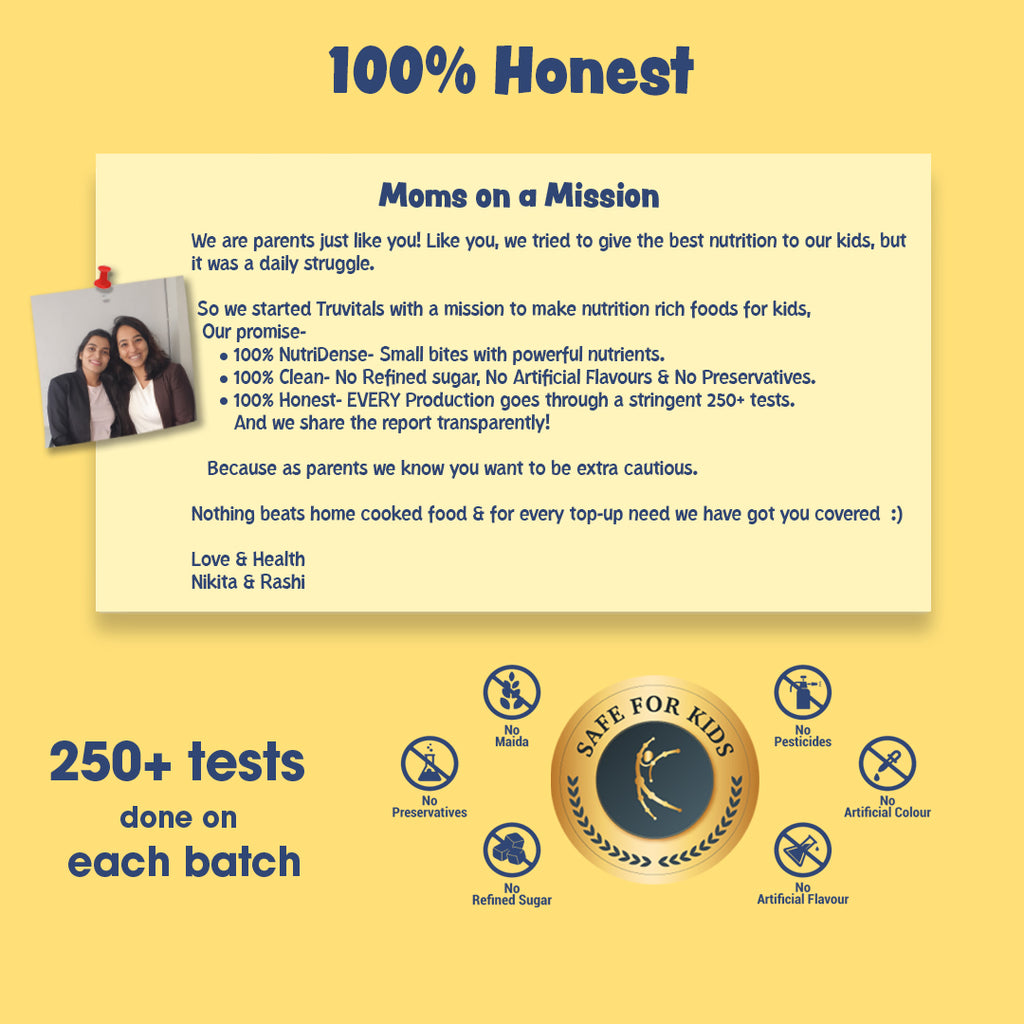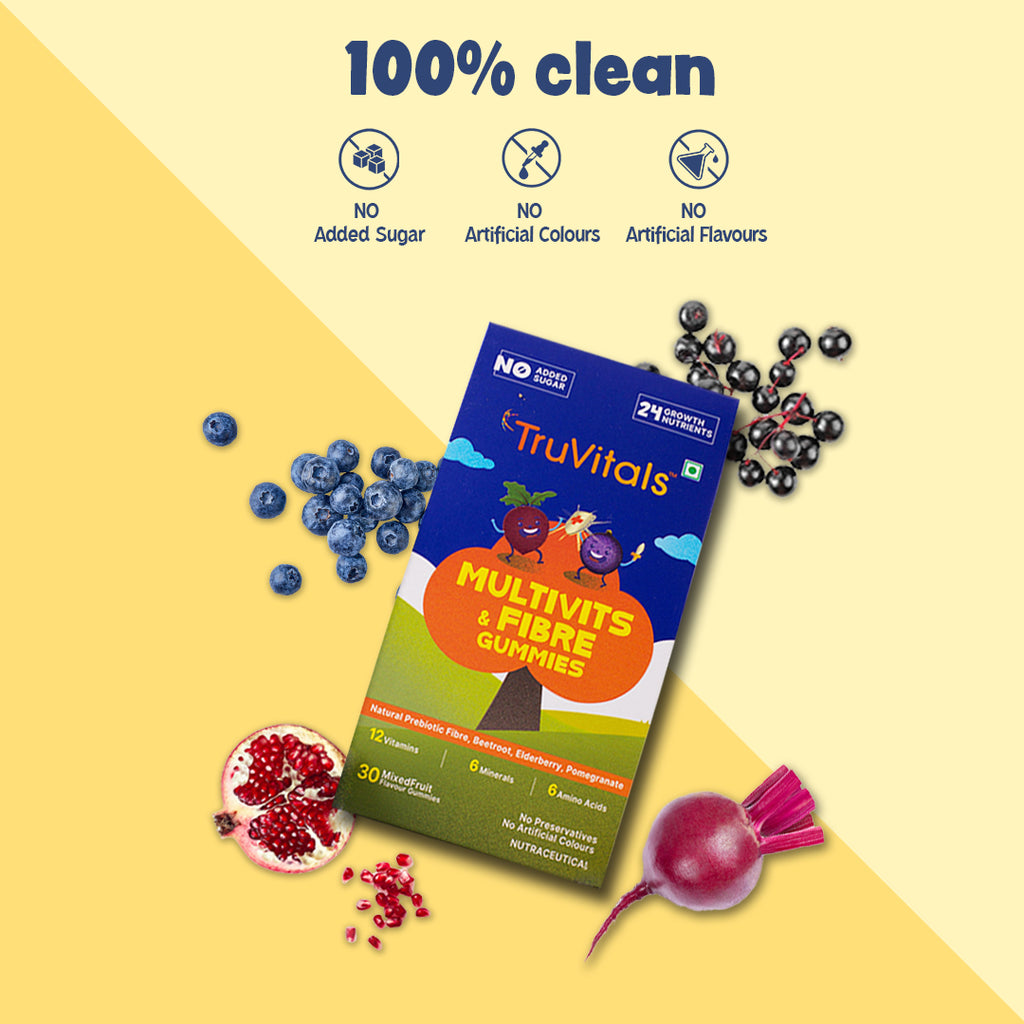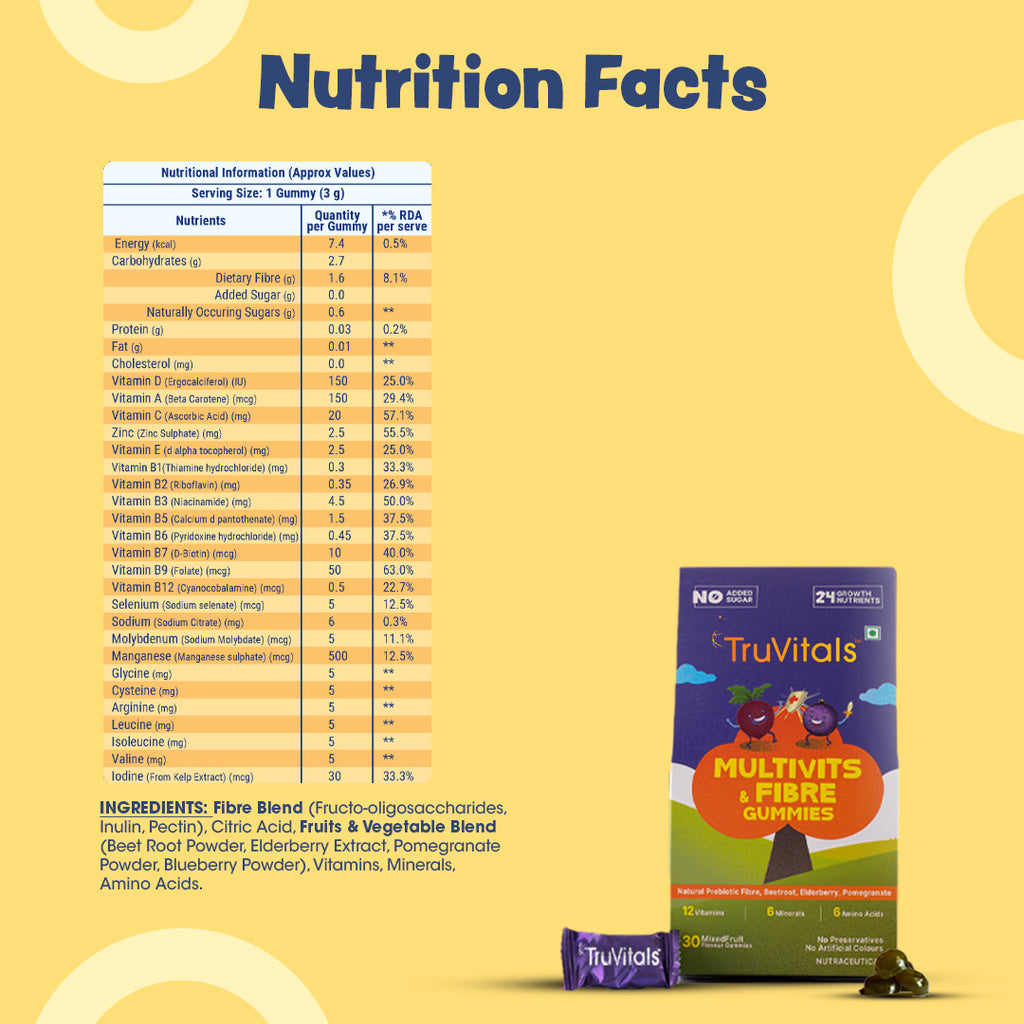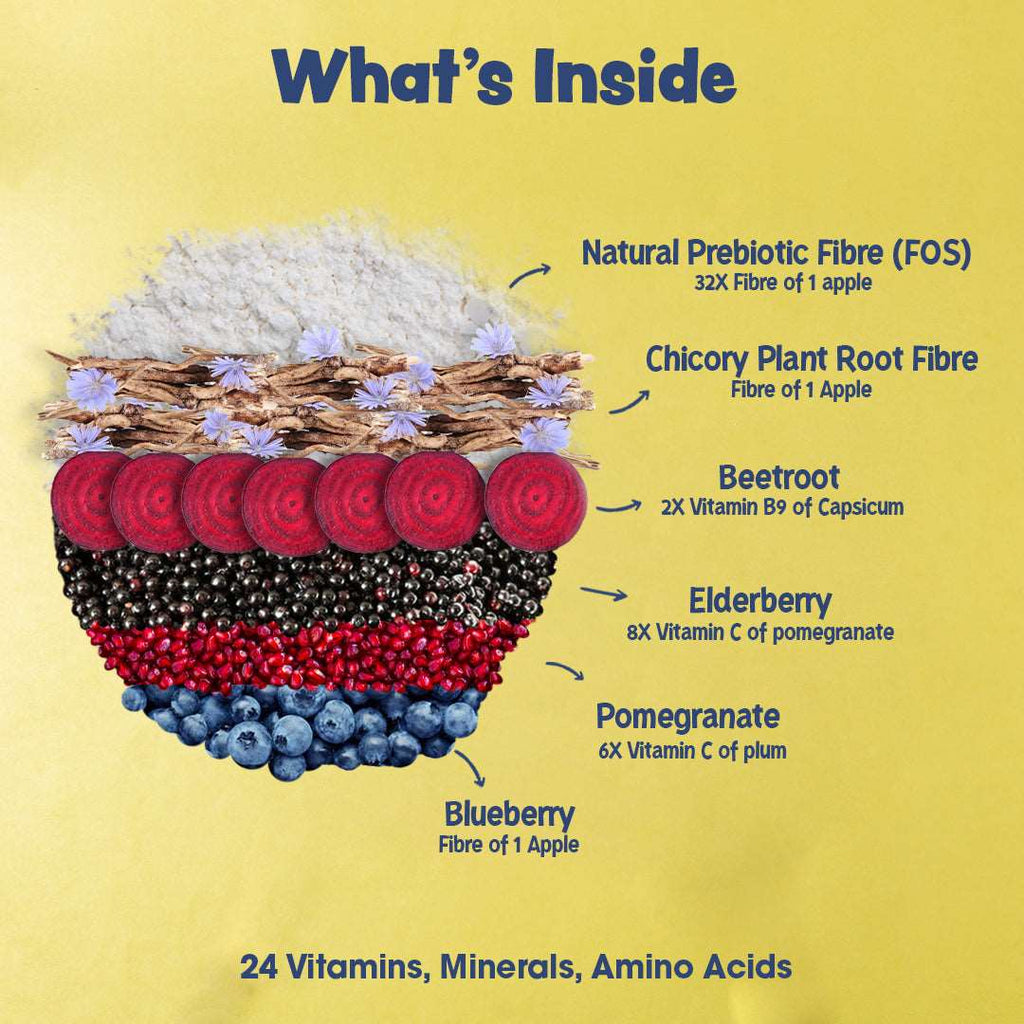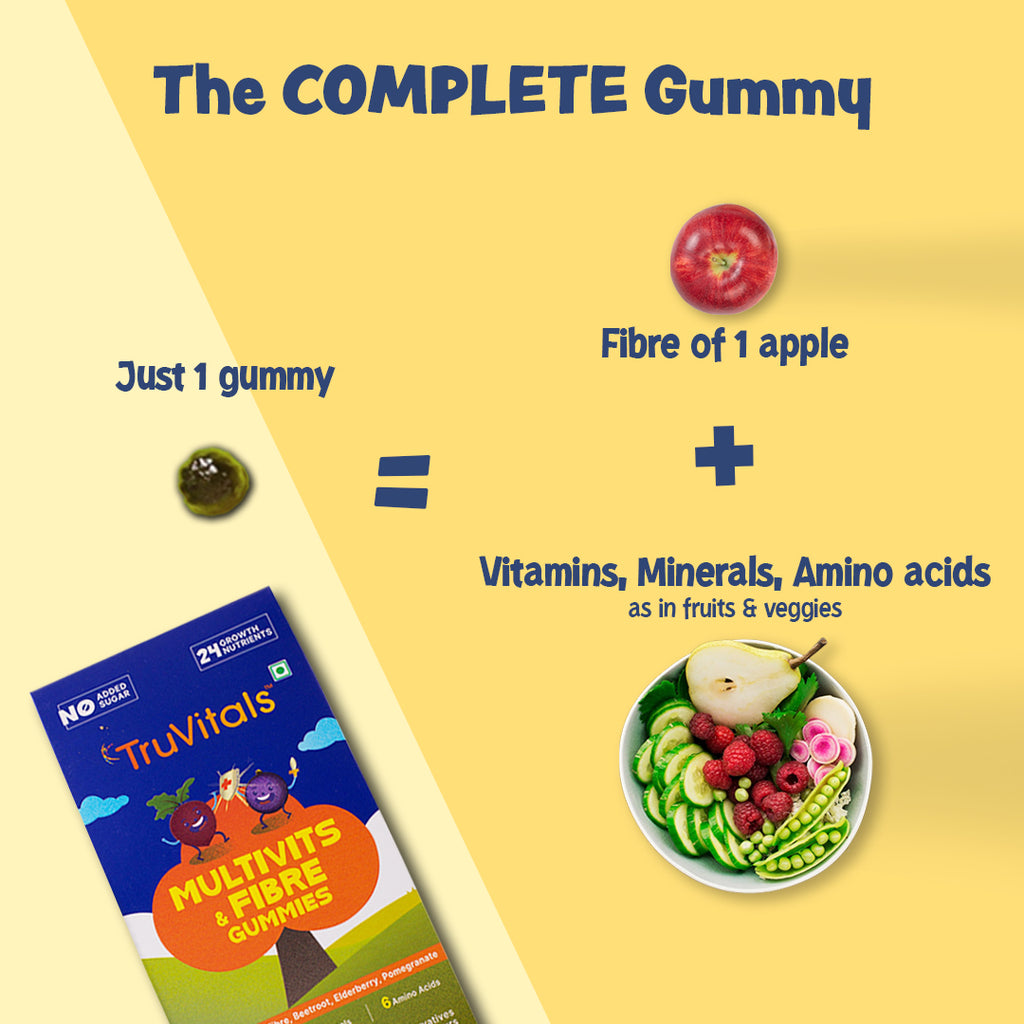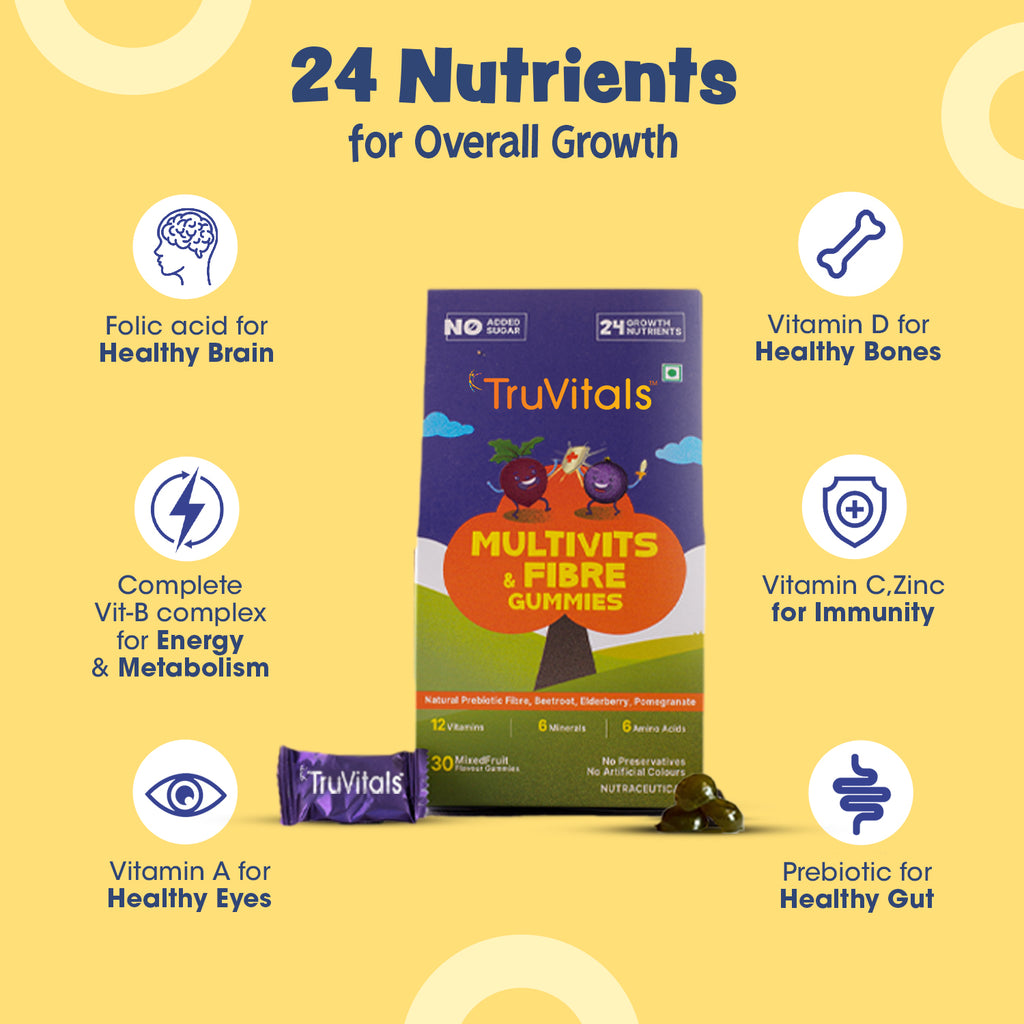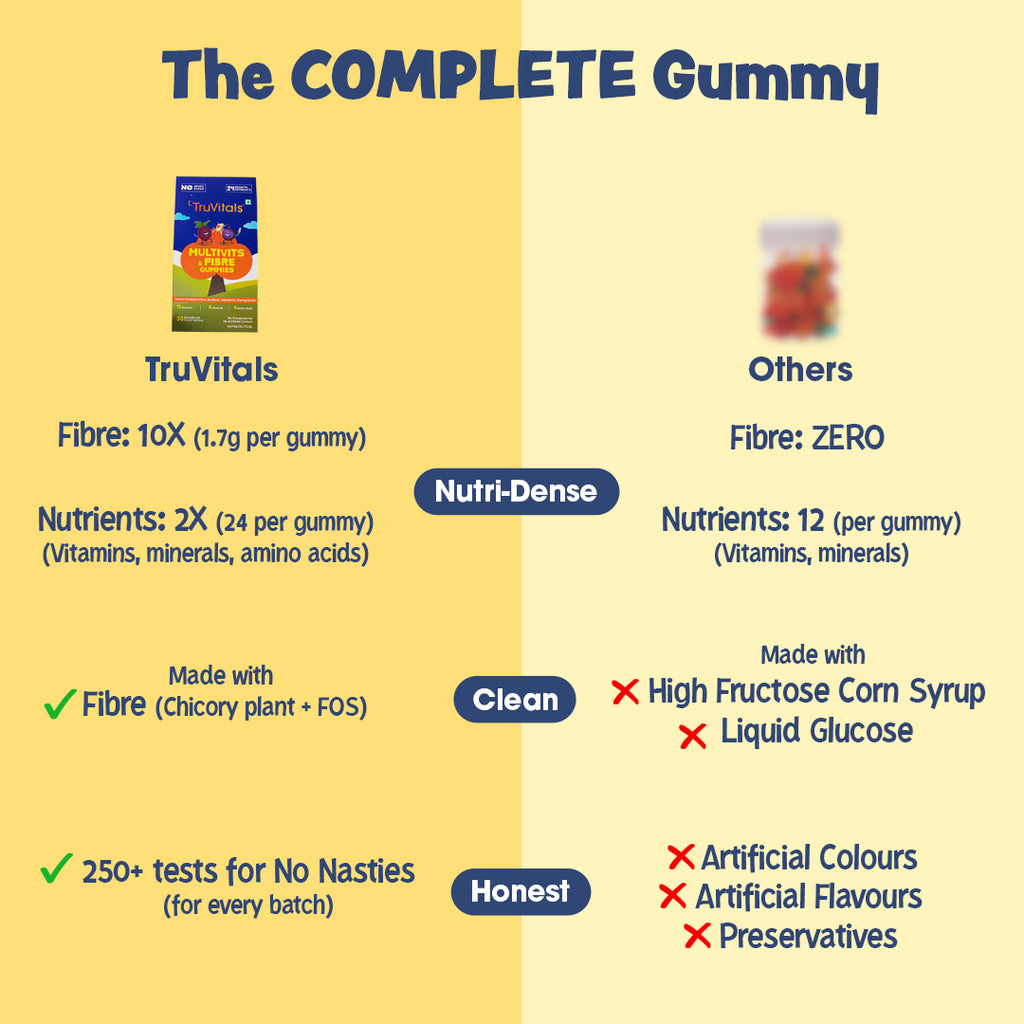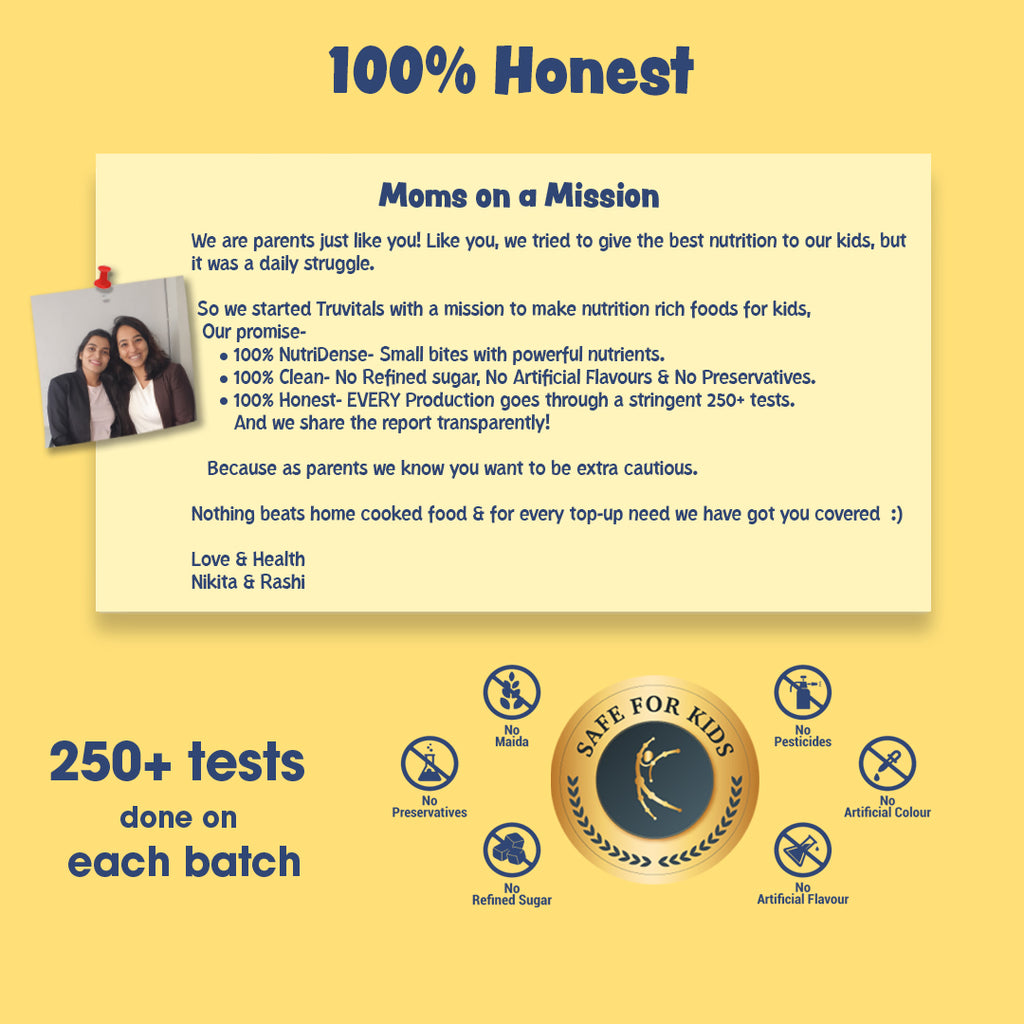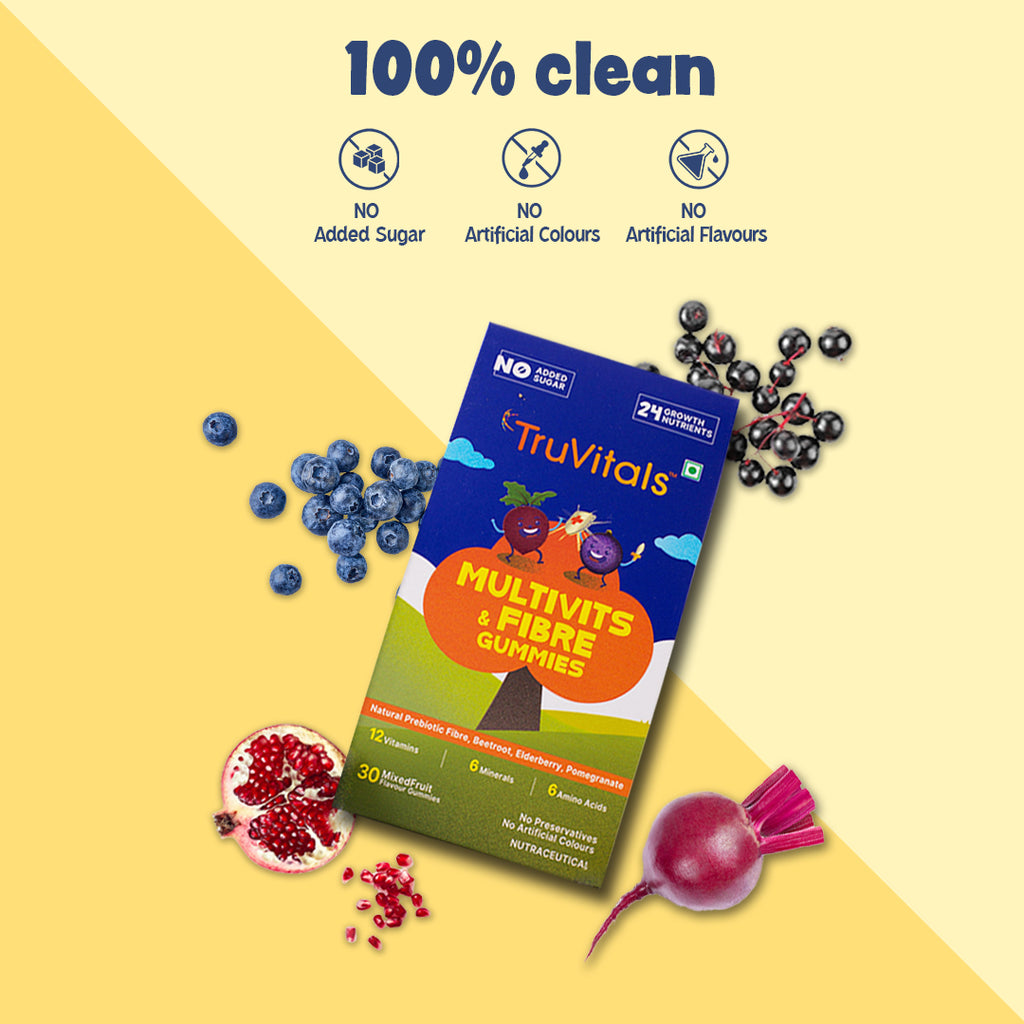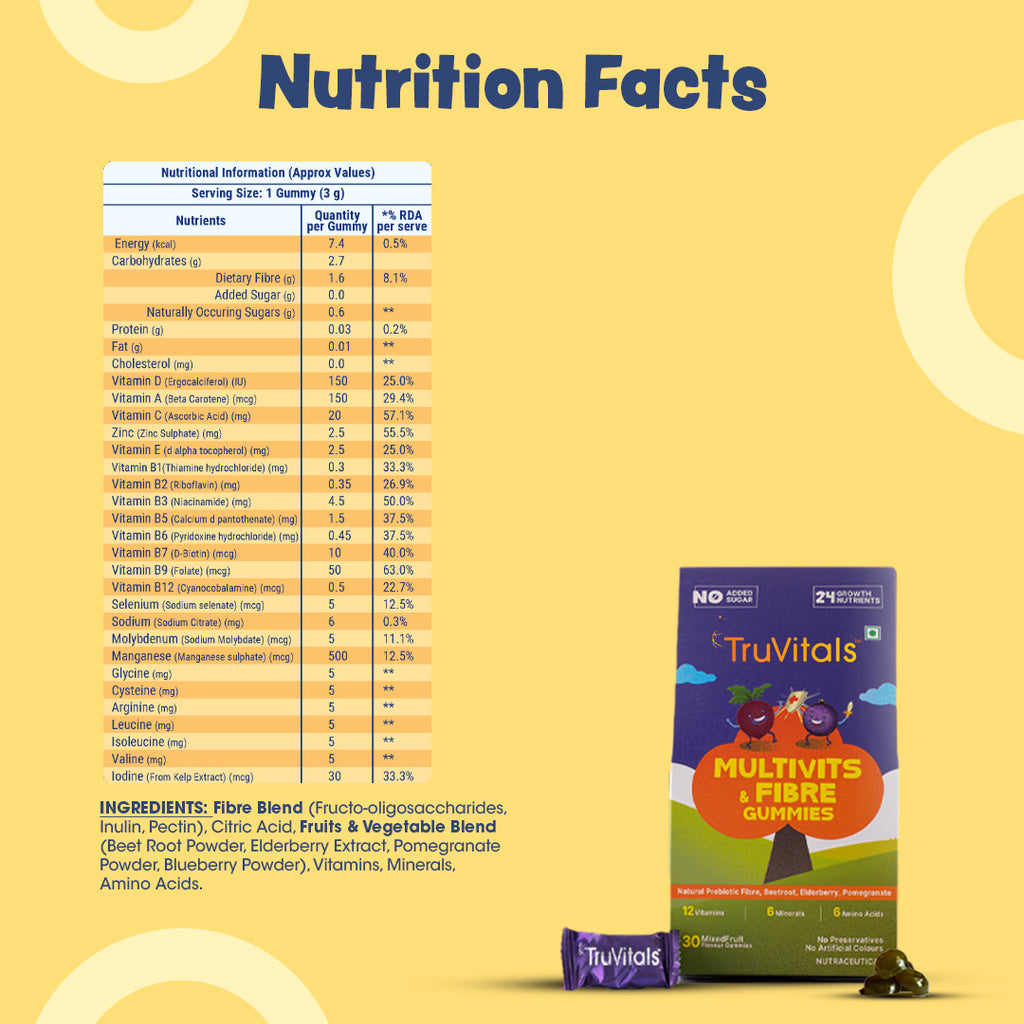 What's Inside
Hero Ingredients
Natural Fibre Blend
Prebiotic fibre from Chicory plant root and FOS helps in improved digestion in kids
24 Nutrients
Vitamin A, B Complex, C, D, E, Zinc and 6 Amino acids which are important for complete growth in kids
Natural Veggie & Fruit Blend
Beetroot is rich in antioxidants, Elderberry is natural vitamin C source for kids, POmegranate & Blueberry are rich in Vitamin C & Fibre
NO Sugar Added
Unlike other gummies we are made of fibre. Other gummies have high processed forms of sugar like high fructose corn syrup, sucrose which are harmful for kids
Health Benefits
Improves Gut Health in kids
Natural Prebiotic fibre
Increases Immunity
Vitamin A, C, D, Zinc
Better Energy & Metabolism
Vitamin B Complex
Healthy Brain
Iron, Folic Acid for improved concentration and brain health
FAQs
Our Multivitamin gummies have 24 nutrients - 12 vitamins, 6 Minerals, 6 Amino acids in the right dosages as required by kids. These essential vitamins like Vitamin A, B Complex, C, D, E & minerals like Zinc are important for immunity, normal body function and growth in kids.
Most gummies and multivitamin syrups for kids are made of sugar,sucrose, corn syrup and are full of artificial colors/flavors. Regular gummies in the market are 80% sugar! Consumption of such gummies is known to cause cavities among kids and the artificial additives impact the gut in the long run . We are India's 1st Gummy made with fruit & veggies blend and fiber. Our gummies have natural sweetness and NO ADDED sugar. Our gummies provide 2X nutrients than others. And they are fiber rich . These are dentist recommended also.
Our Multivitamin gummies is not a medicine but a nutrition top up made with proven ingredients to support healthy growth and development. Many parents have observed positive changes in their children after consistently using this for 3 months or more. Just give 1 gummy a day after any meal to your kid. This helps in better absorption of some of the vitamins & minerals.
During early years, kids need the right combination of food groups and nutrition top up for immunity and healthy growth. Today's external environmental challenges and kids being picky eaters, it is difficult to give 100% nutrient requirement with just home food. Our gummies are the cleanest top up food you can give to support your child's daily requirement of essential nutrients.
Our gummies are most beneficial when taken after meals which helps in better absorption of some of the vitamins & minerals. You can give 1 gummy a day after any meal to your kid. Just make sure that you introduce this gummy in your kids diet, once he/she has started to chew properly.
Made from 100% natural ingredients, This is a FSSAI Certified Food product. It has undergone rigorous testing and meets the required standards for quality and safety. Every ingredient in the Multivitamin gummies is carefully selected based on scientific research and evidence of its ability to provide sustained benefits. We prioritize sourcing high-quality ingredients that are potent, pure, and easily absorbed by the body. Our product is free from artificial colours, flavours, and sweeteners. You can trust that your child is getting a safe and wholesome product to support their growth & development.
Our product is absolutely natural and devoid of any artificial flavors, colors, preservatives. Once your kid starts chewing properly, they can start eating our gummies.
superb!!
nephew loved the taste of the gummy.. We give one gummy daily but he asks for me.. Very natural and healthy
fav gummy
My daughters favourite.. Tried many gummy but none was sugar free… but this one is and made with fruits and veggies..
good
Go for it.. All natural ingredients and no sugar
love it
Loved the packaging.. Very sturdy plus all gummies packed. Easy to send in tiffin
Best gummy
Best for picky eater.. No sugar.. All natural and clean ingredients used.. Has fruits and veggies in it.