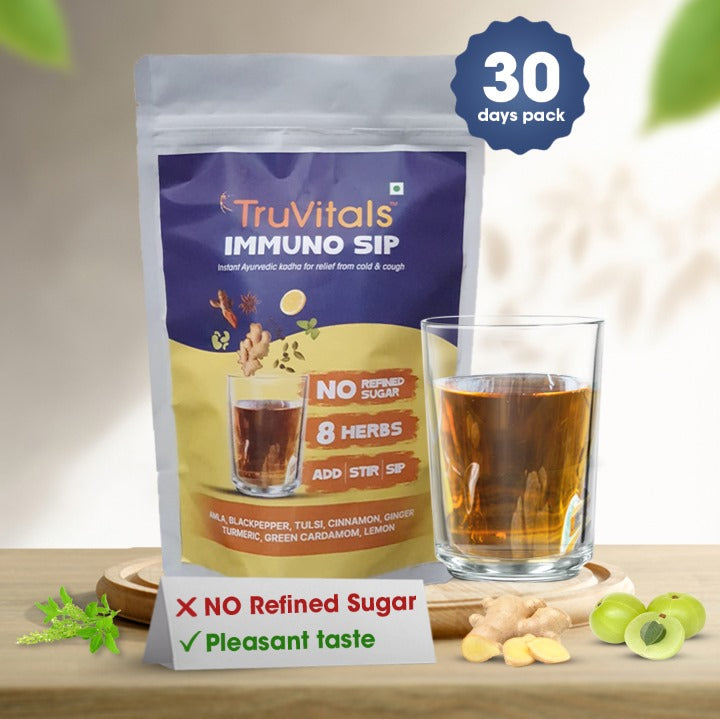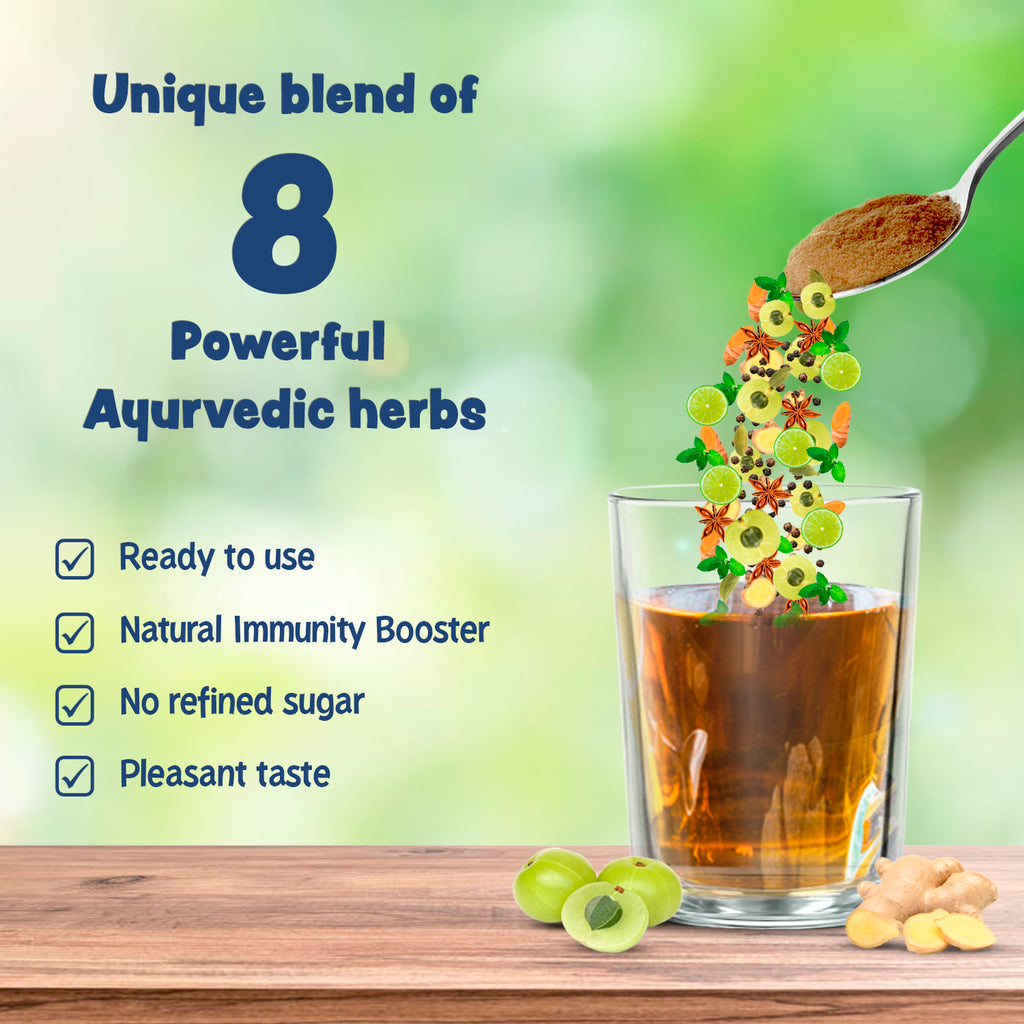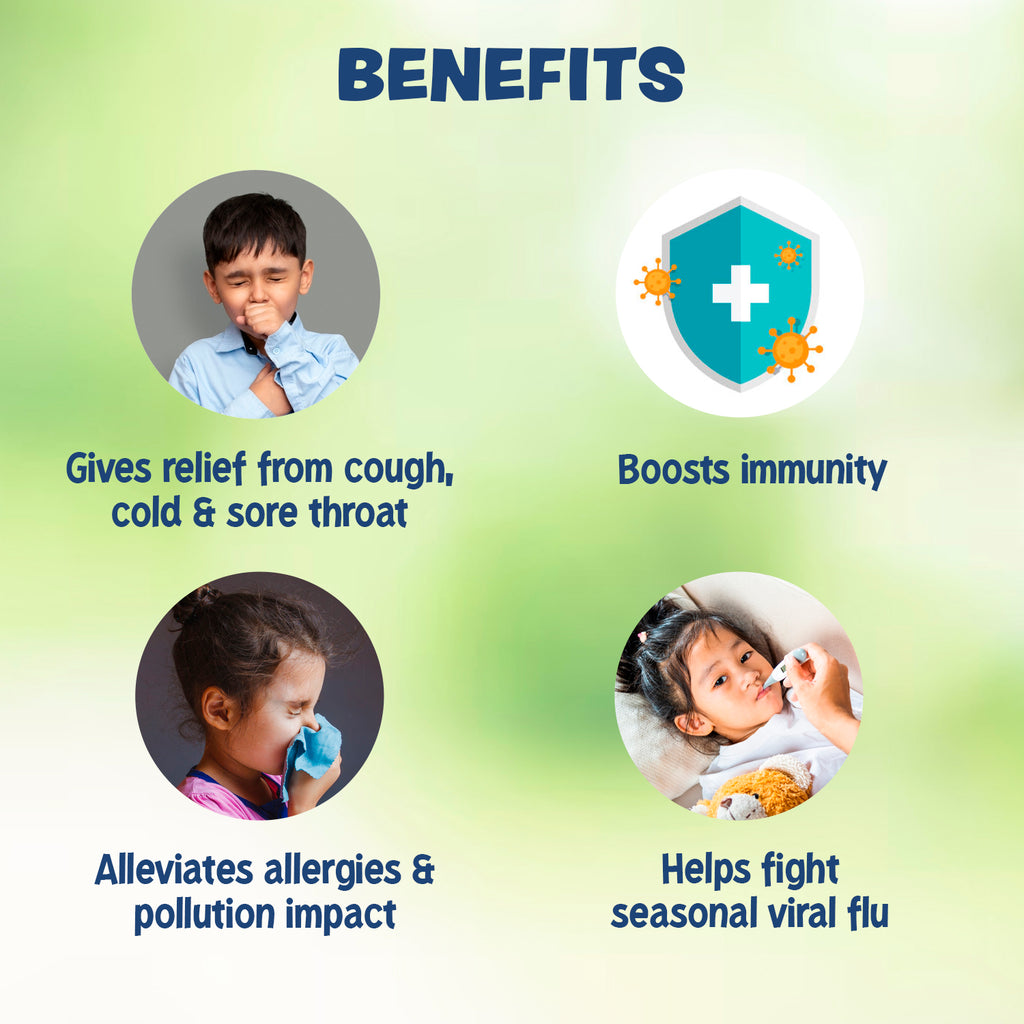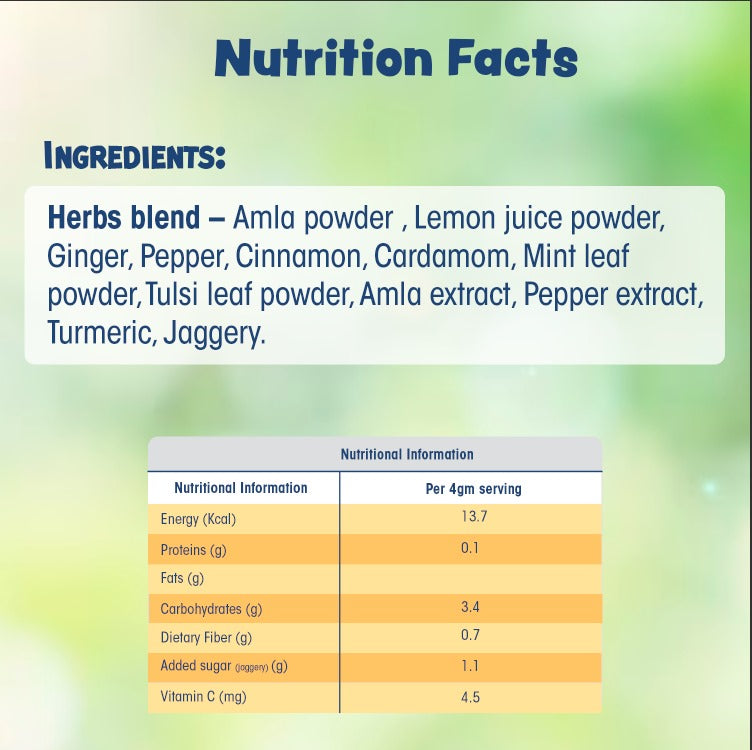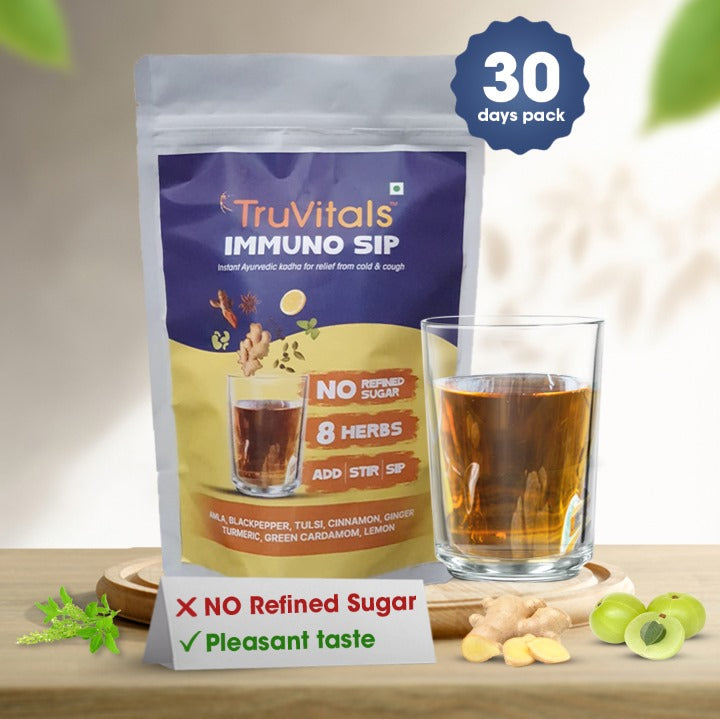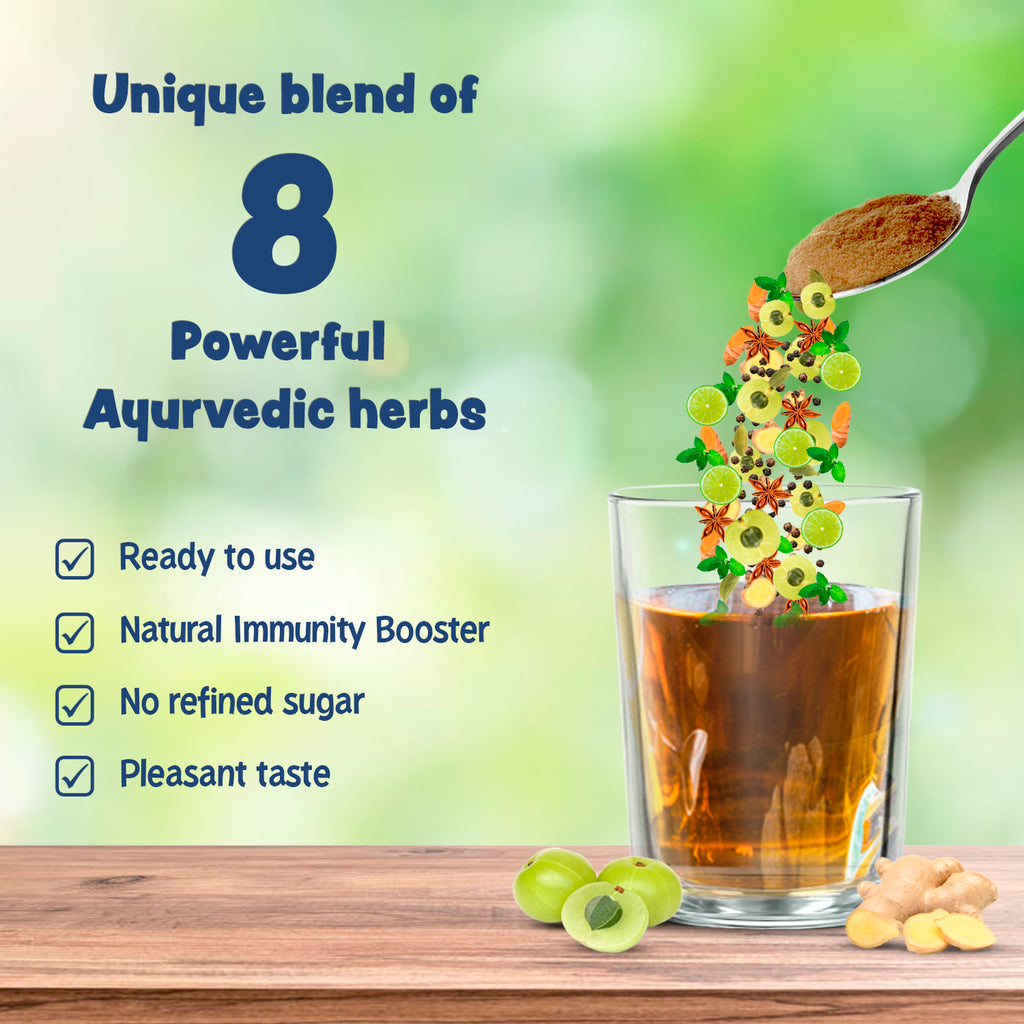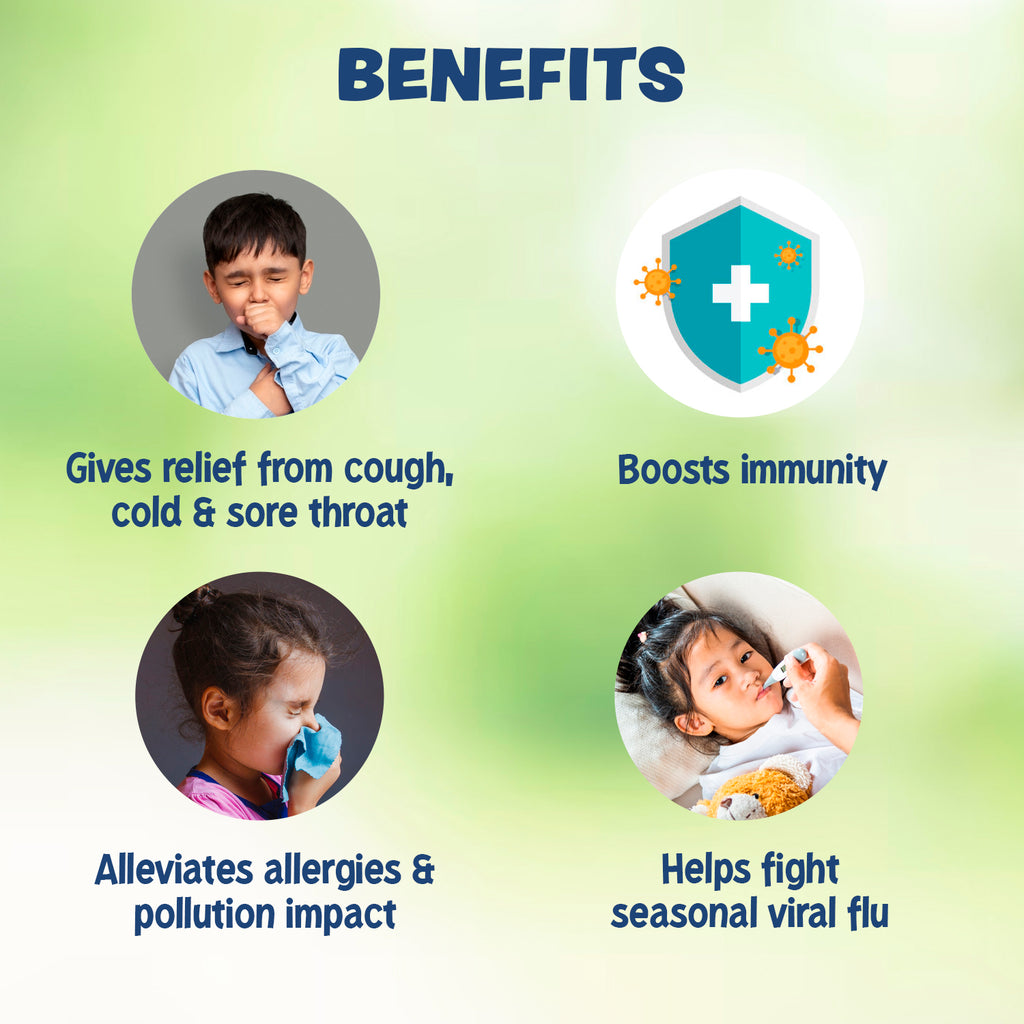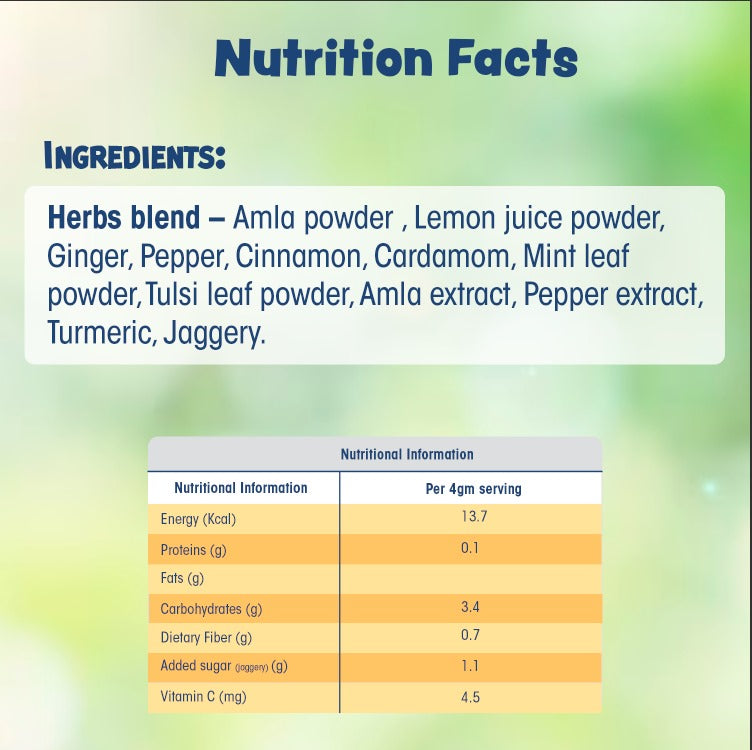 What's Inside?
Amla
Anti inflammatory & antioxidant
Black Pepper & Ginger
Relieves chest and nasal congestion.
Turmeric
Effective antioxidant to reduce inflammation.
FAQs
This kadha is made of carefully selected 8 herbs in the right proportion as per ancient texts and is apt for kids. Its anti-inflammatory and antioxidant properties help the immune system against seasonal infections, allergies and frequent illnesses. It has right proportion of amla ( anti inflammatory ), blackpepper ( relieves chest and nasal congestion), tulsi ( enhances immunity), ginger/sonth ( reduces inflammation), turmeric ( antioxidant),cardamom ( relieves sore throat),lemon (fights cold) and cinnamon ( relieves sore throat) . These are proven to build a strong immune system and help against allergies and infections.
Never has it been so easy to feed bitter Ayurvedic herbs to children in such a convenient & tasty format. This unique kadha is tasty , easy to make and has no refined sugar /no chemicals. Most products are full of chemicals & refined sugar - which harm the gut & immune system rather than strengthening it!

Our Kadha has been developed by nutritionists in close collaboration with one of the best food technologists in India. We ensure that the herbs are carefully selected & sourced from the right farms, and then mixed in a time tested unique proportion. This unique proportion ensures that each herb acts in sync with one another and helps strengthen the immune system.
This is not a medicine. It is a food product made with proven ingredients for improving Immunity. Parents have noticed positive changes in their kids in 1-2 months.It works from within, and strengthens the body's response to external stimuli.
This is a FSSAI Certified Food product made with proven 100% natural ingredients. It is safe to consume by kids. Since it has NO refined sugar, NO additives, NO preservatives, it does not adversely impact the gut also.
You can give both IMMUNITY and WEIGHT gain products. We do recommend taking our NUTRI quiz and getting a customized 90 day plan from our nutritionist.

Remember, repeated sickness may delay or hamper child's growth also. So it is always important to strengthen the body from within.
First, you must give Immuno Sip Kadha and our no sugar Multivitamin & Fiber Gummies to support your child with all nutrient needs.

Second, you must help the GUT to become healthy. Frequent medication compromises the gut. It makes the body weak and reduces appetite. This results in more frequent infection and the loop continues. Give our Gut Santulan and Super Gut for 60 days to heal from within.

We do recommend taking our NUTRI quiz and getting a customized 90 day plan from our nutritionist.
Formulated with 8 ancient herbs, this kadha supports Immunity boost, especially for kids who typically

Have frequent infections or illnesses
Have seasonal allergies
Have tummy troubles
Feel tired all the time
Face slow healing
Just add 4gm( 1 tsp) Kadha in warm water , mix well and give to your child 1-2 times a day. You can add honey or jaggery for additional sweetness if needed.
Nice smell
Nice aroma, perfect flavour and soothing. Not just kids, we have replaced our morning black tea with this :)
Love it!
Our entire family is taking this kadha every day now :) it is tasty too.
Thank you truvitals
I could never convince my kids to take chawanprash...but they loved this from first sip. thank you !
Love the taste
Very nice lemony taste. and not too sweet or too bitter... we liked it.
Thanks TruVitals
Timely launch..i came to refill my cookies stock and found this new launch. very difficult for me to give tulsi & amla to my 4 yr old . this is very tasty & easy to give.