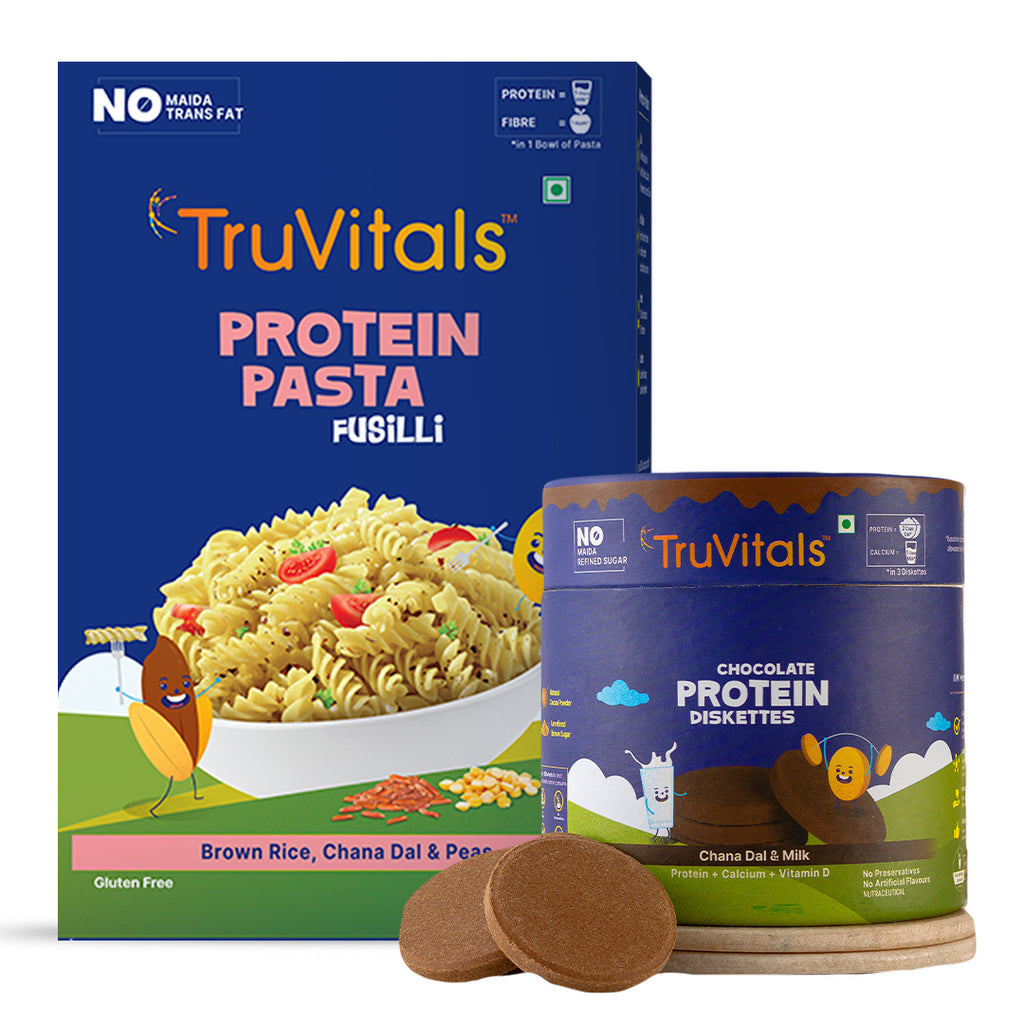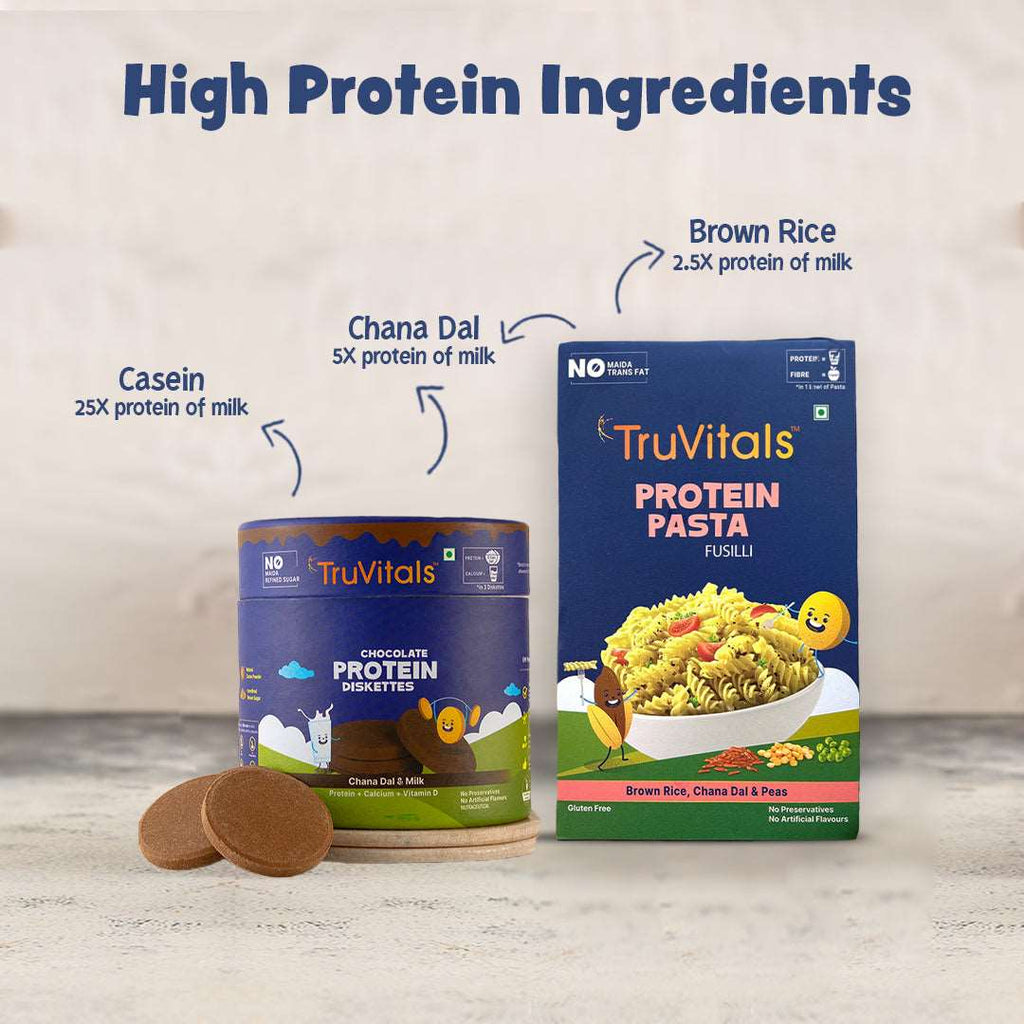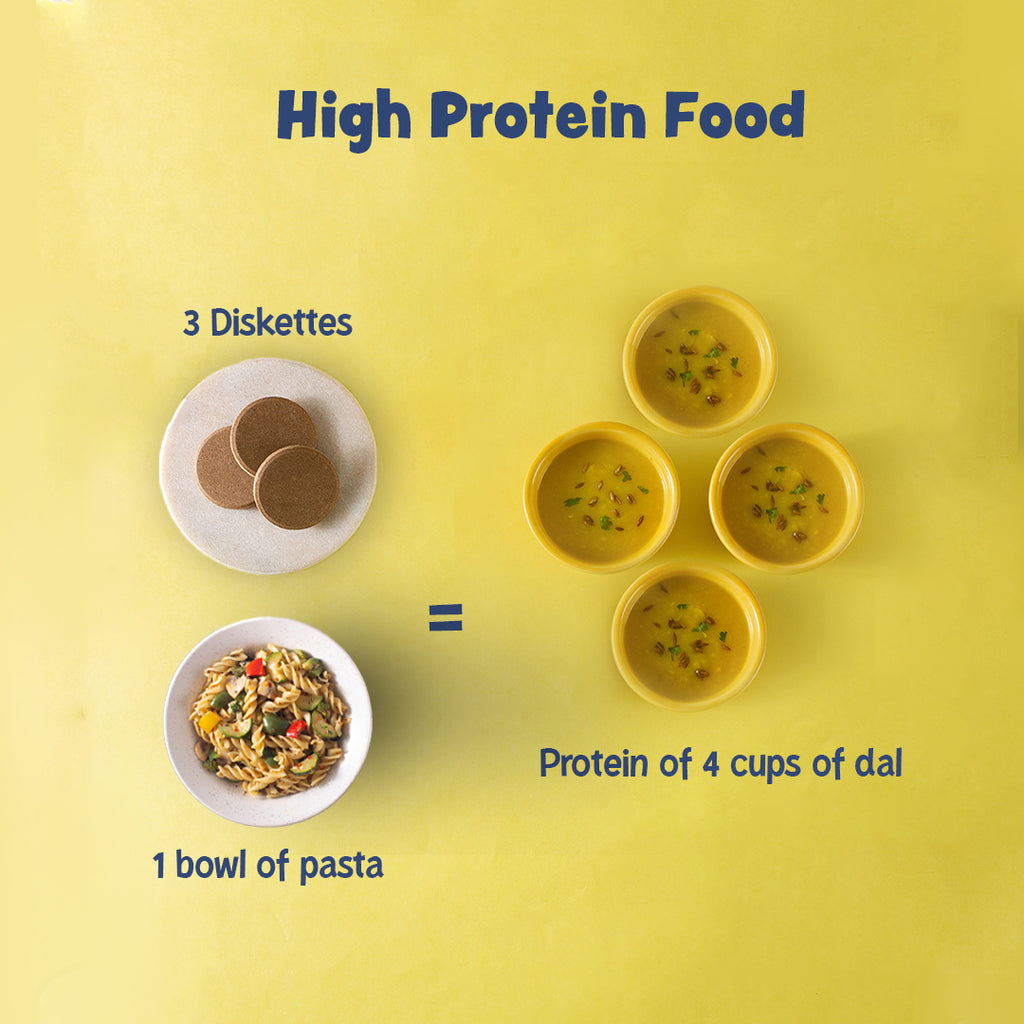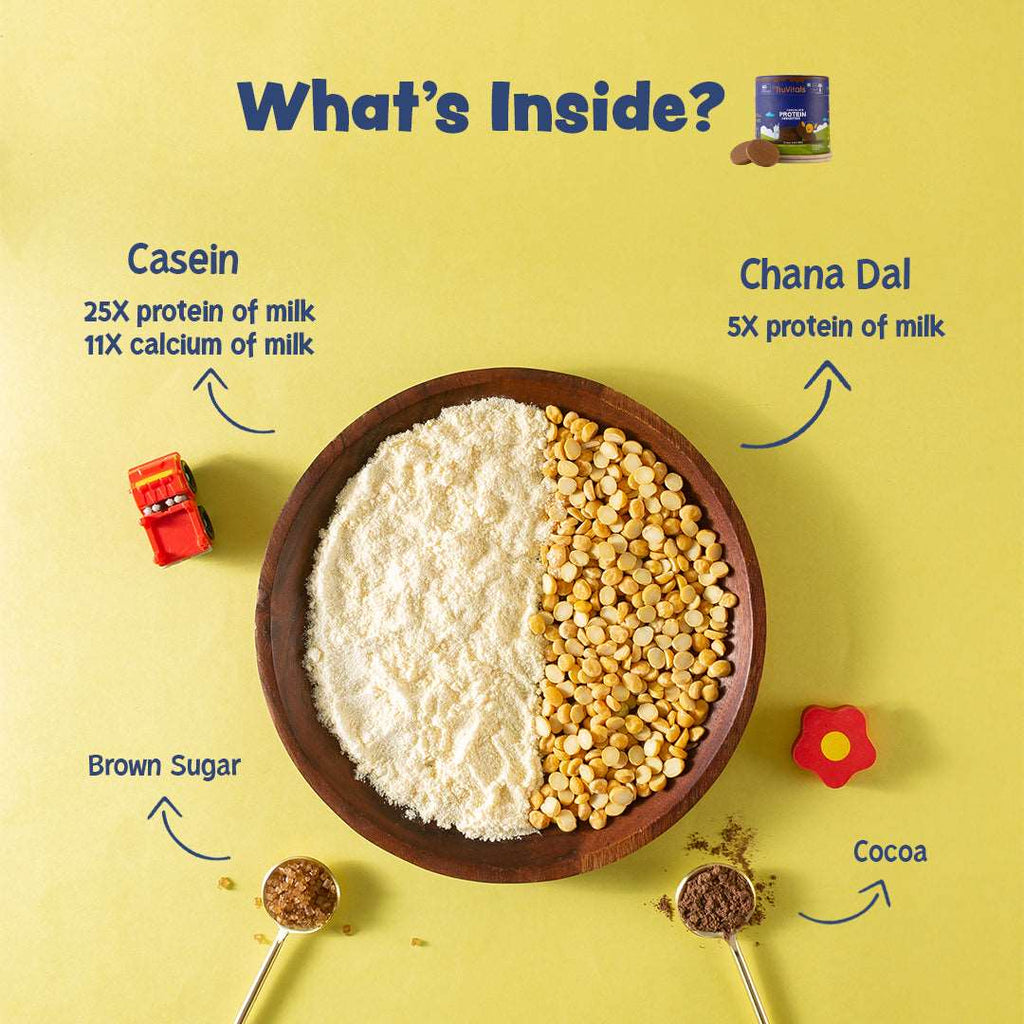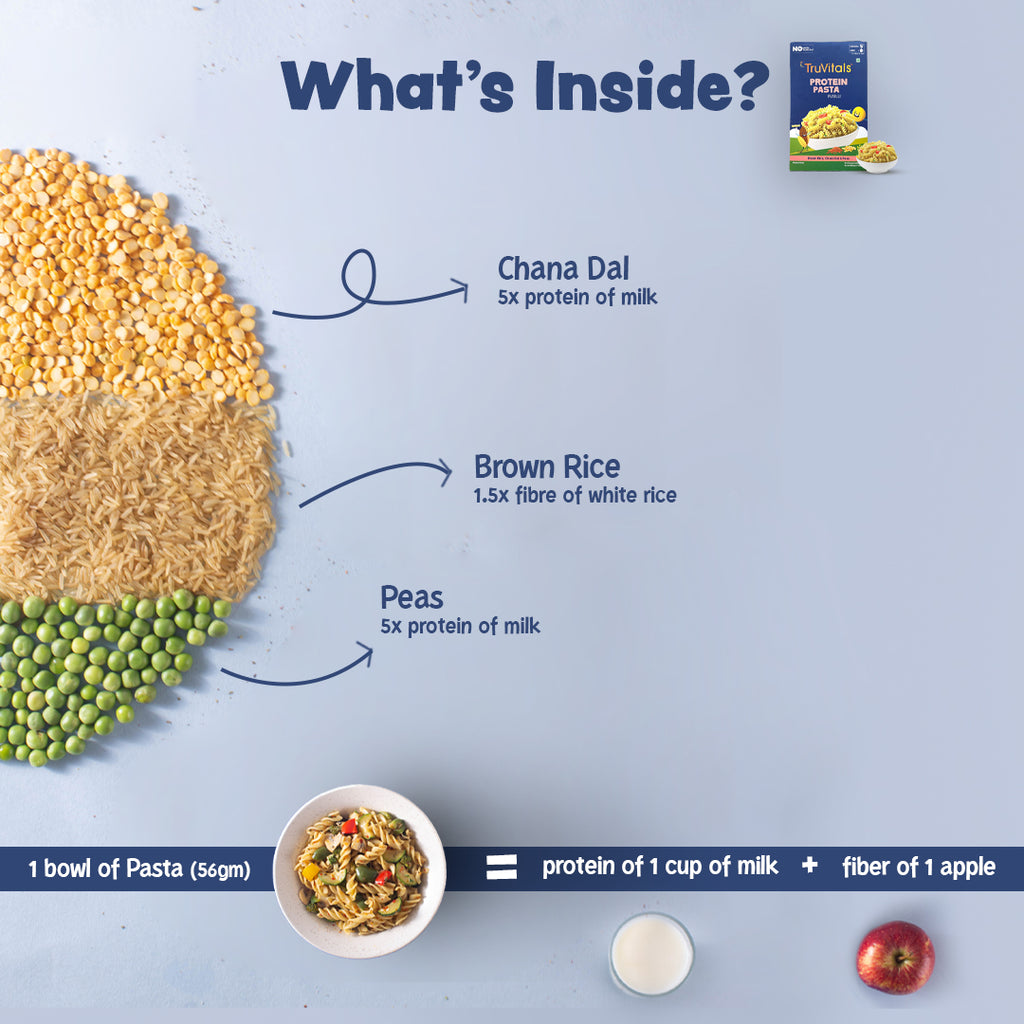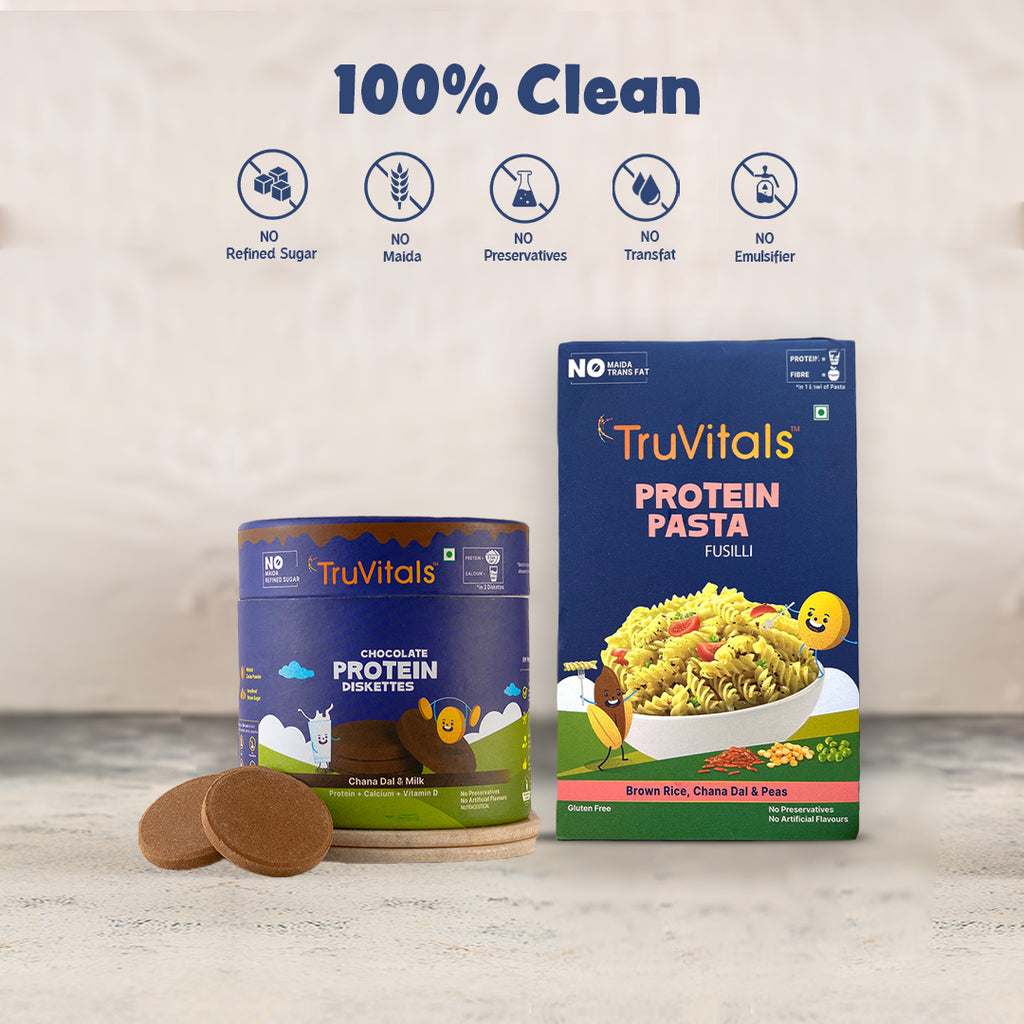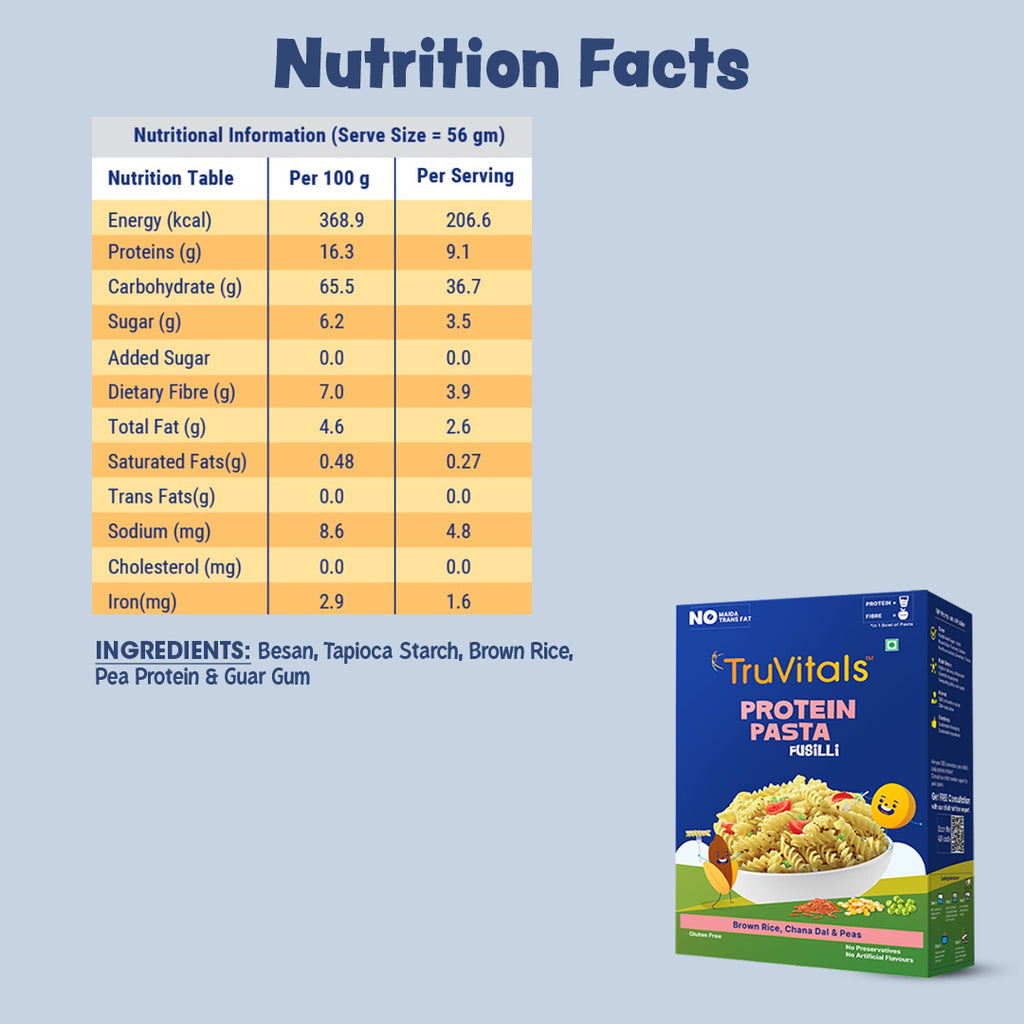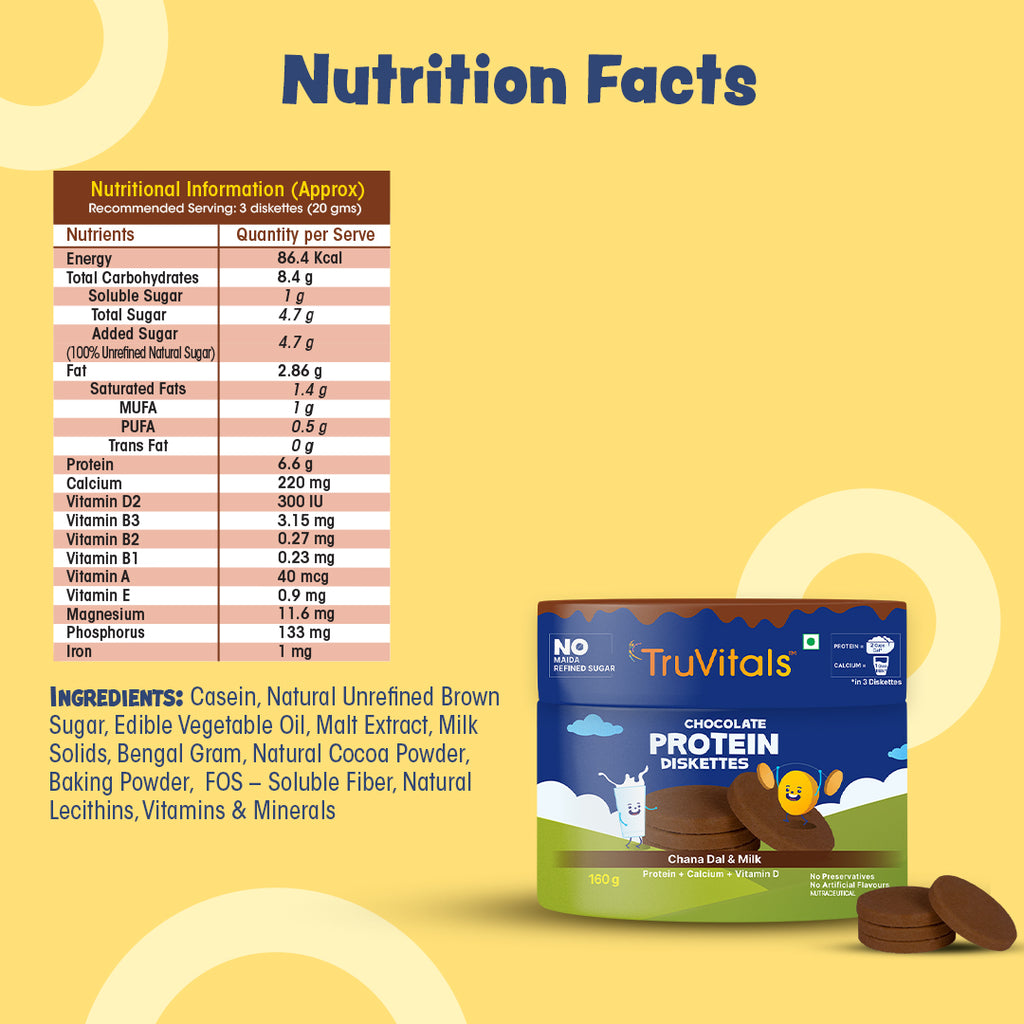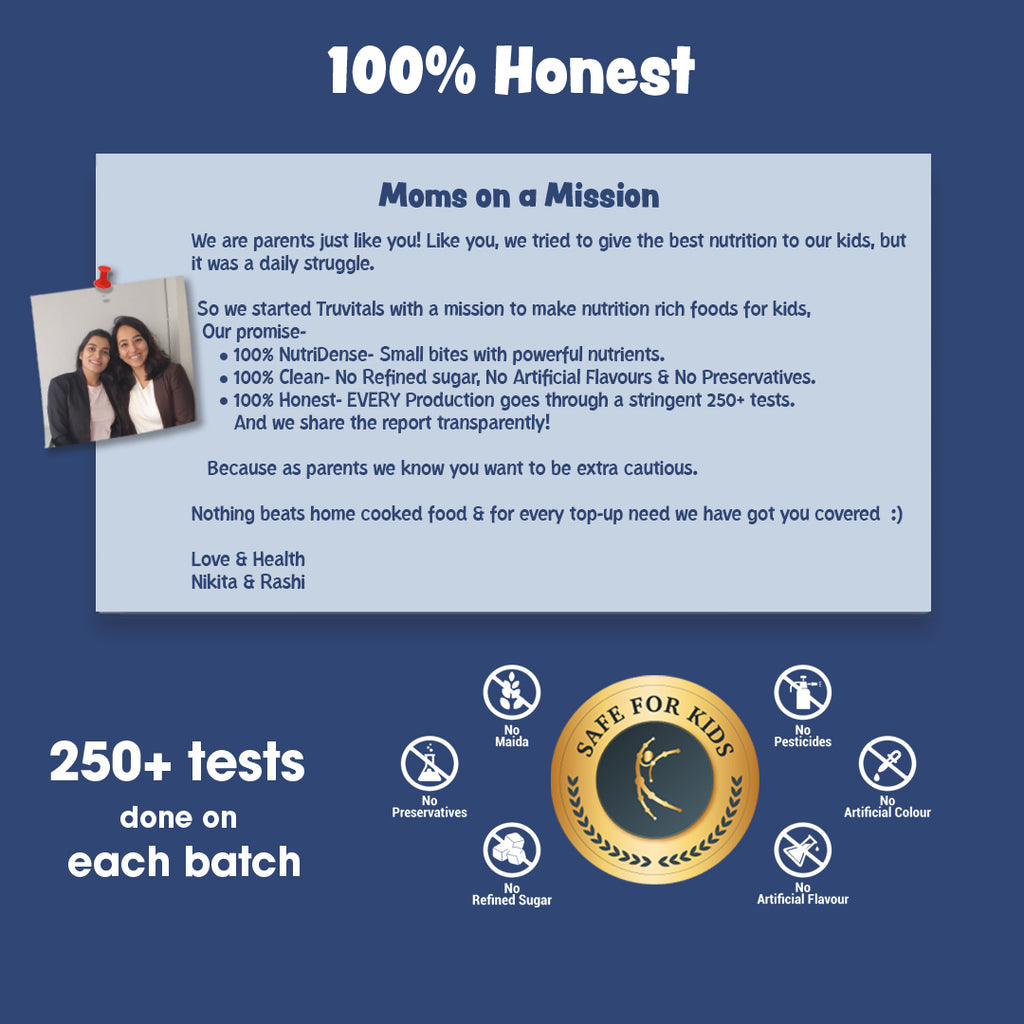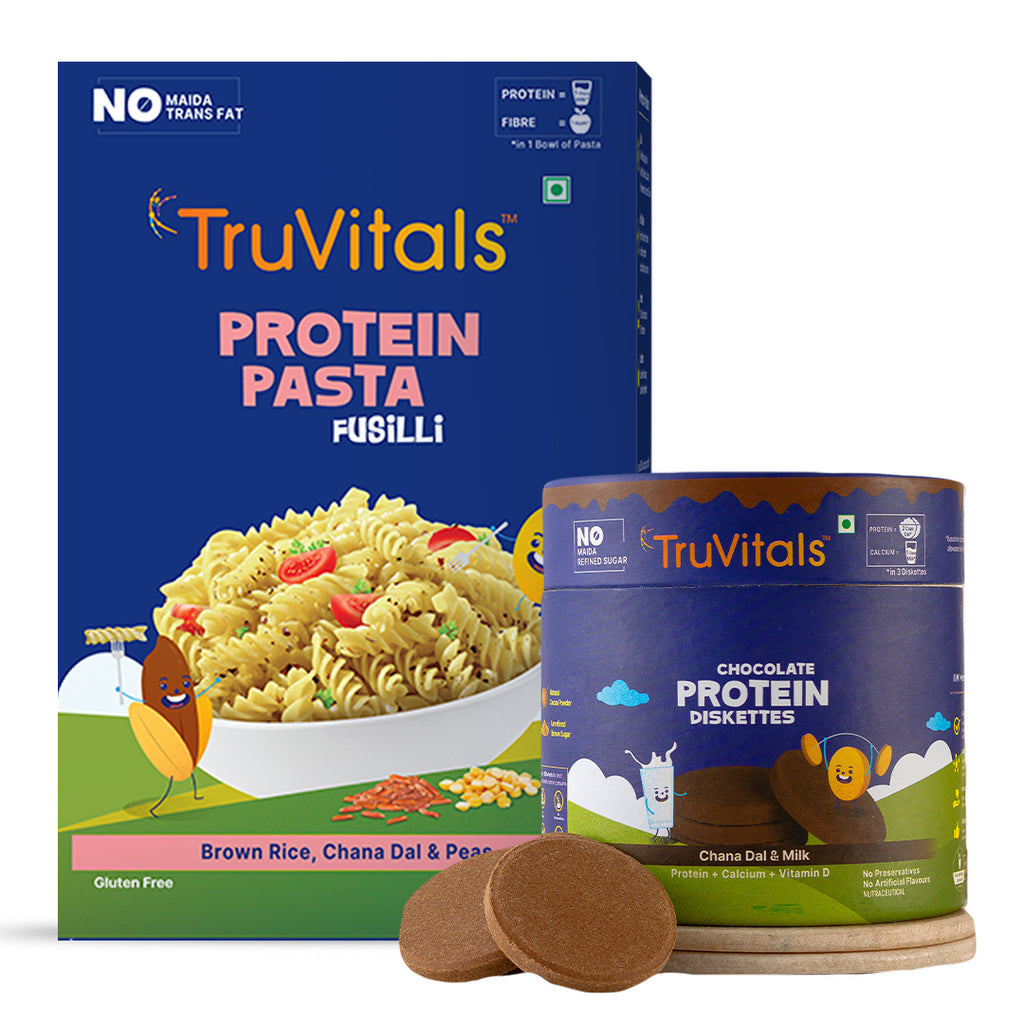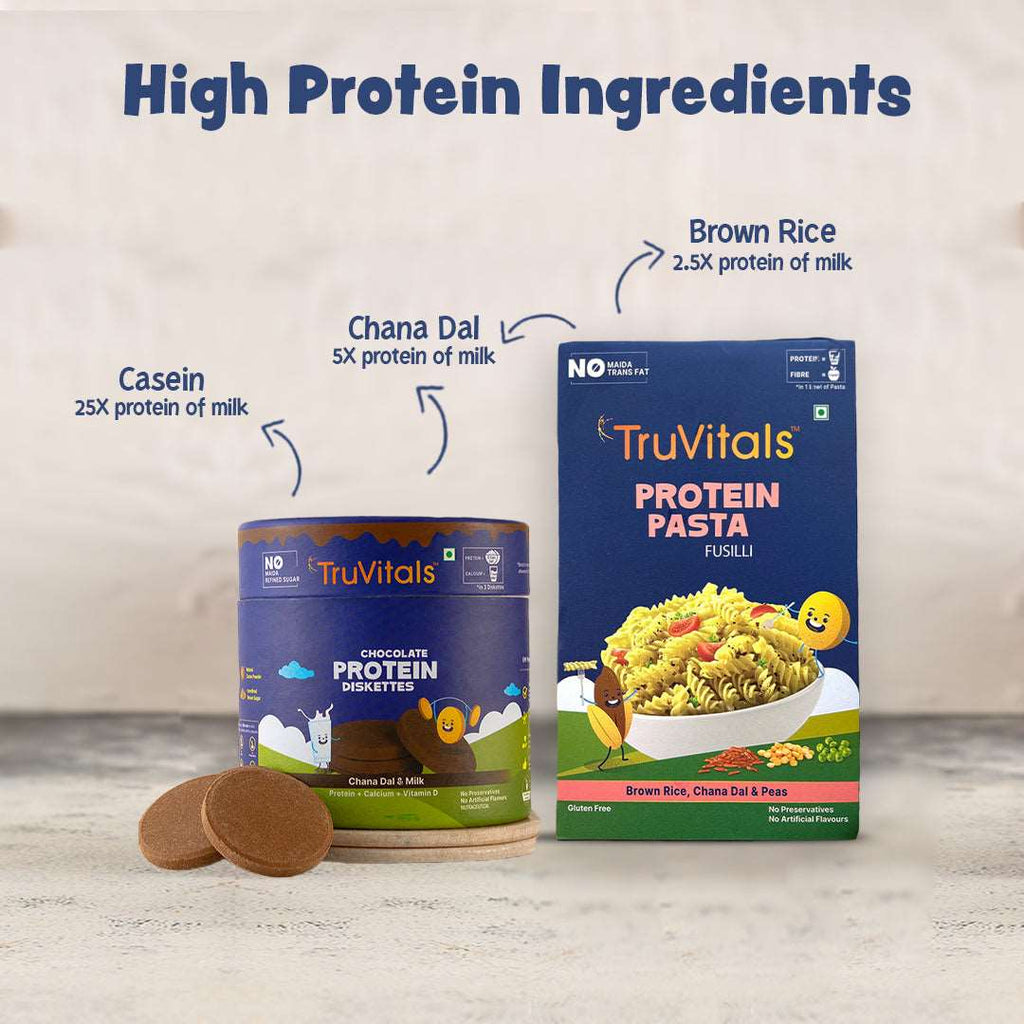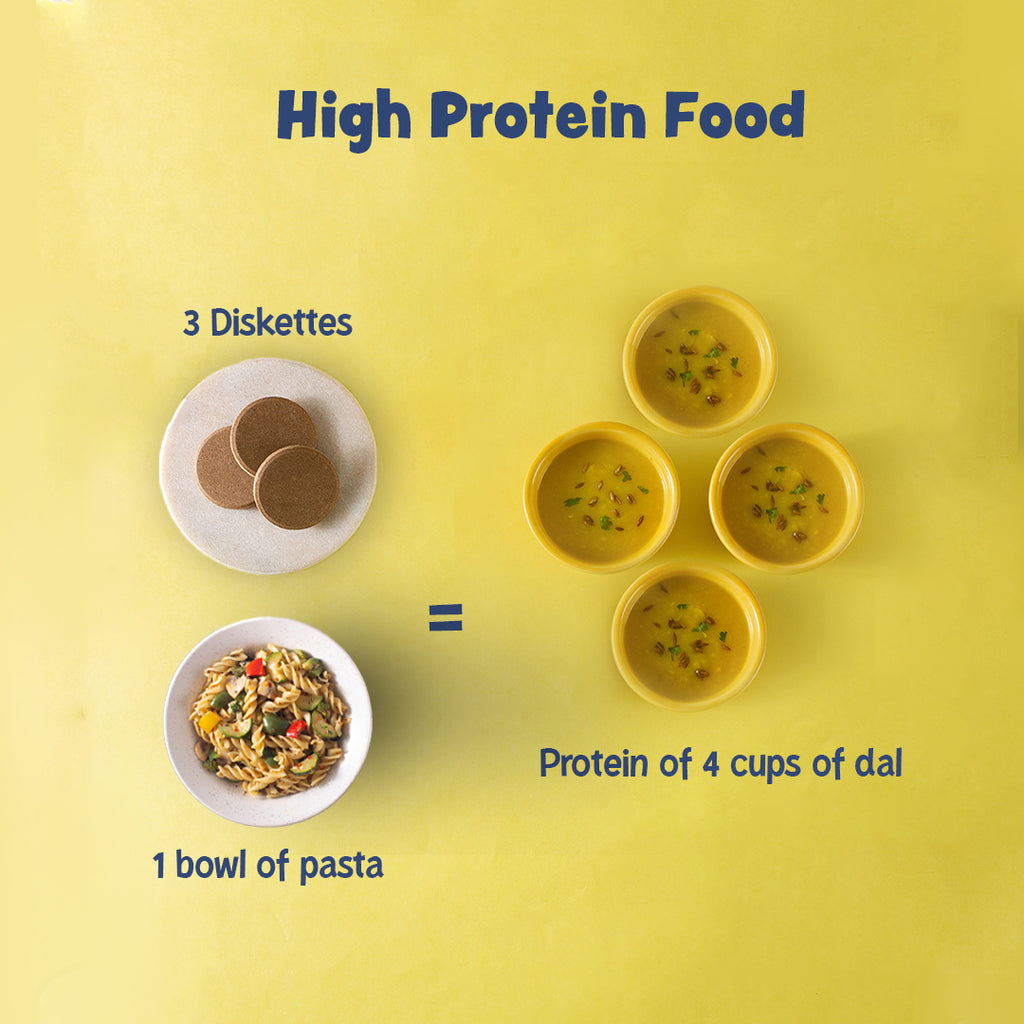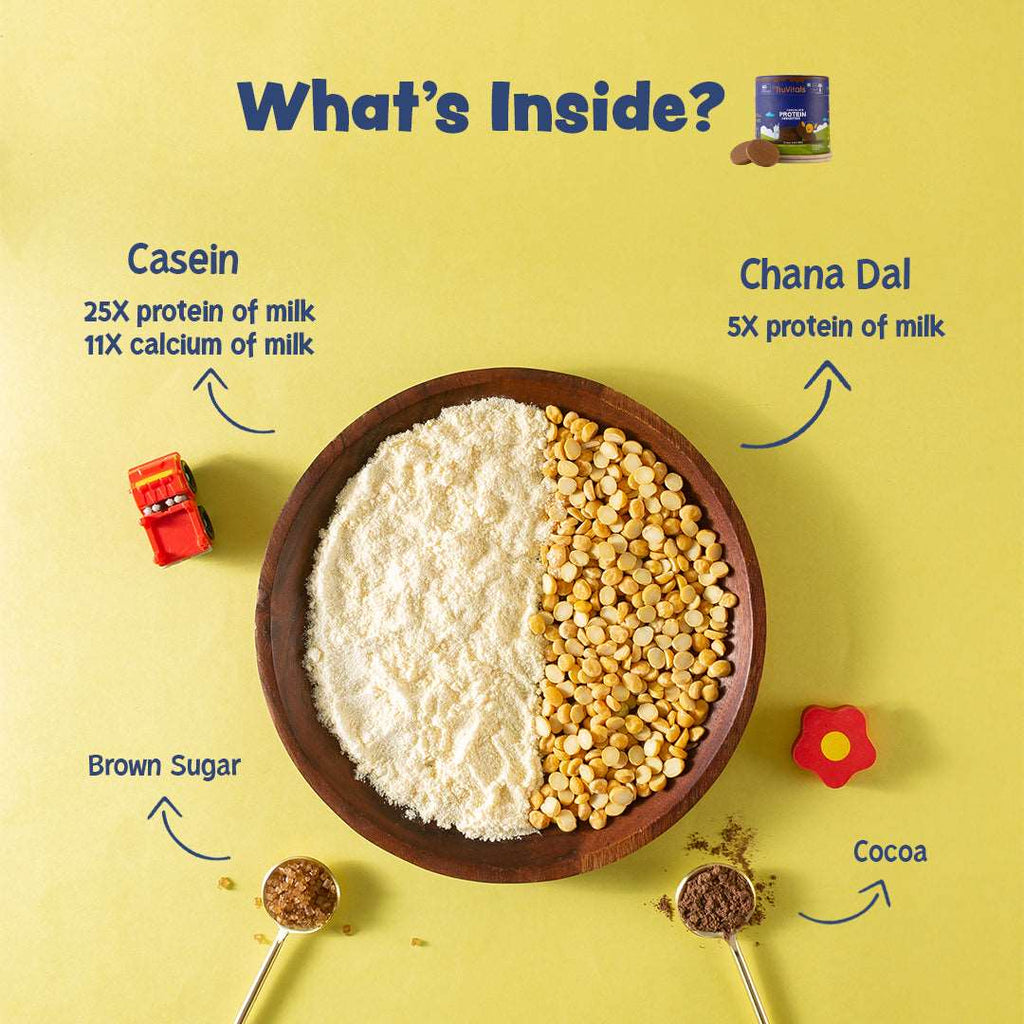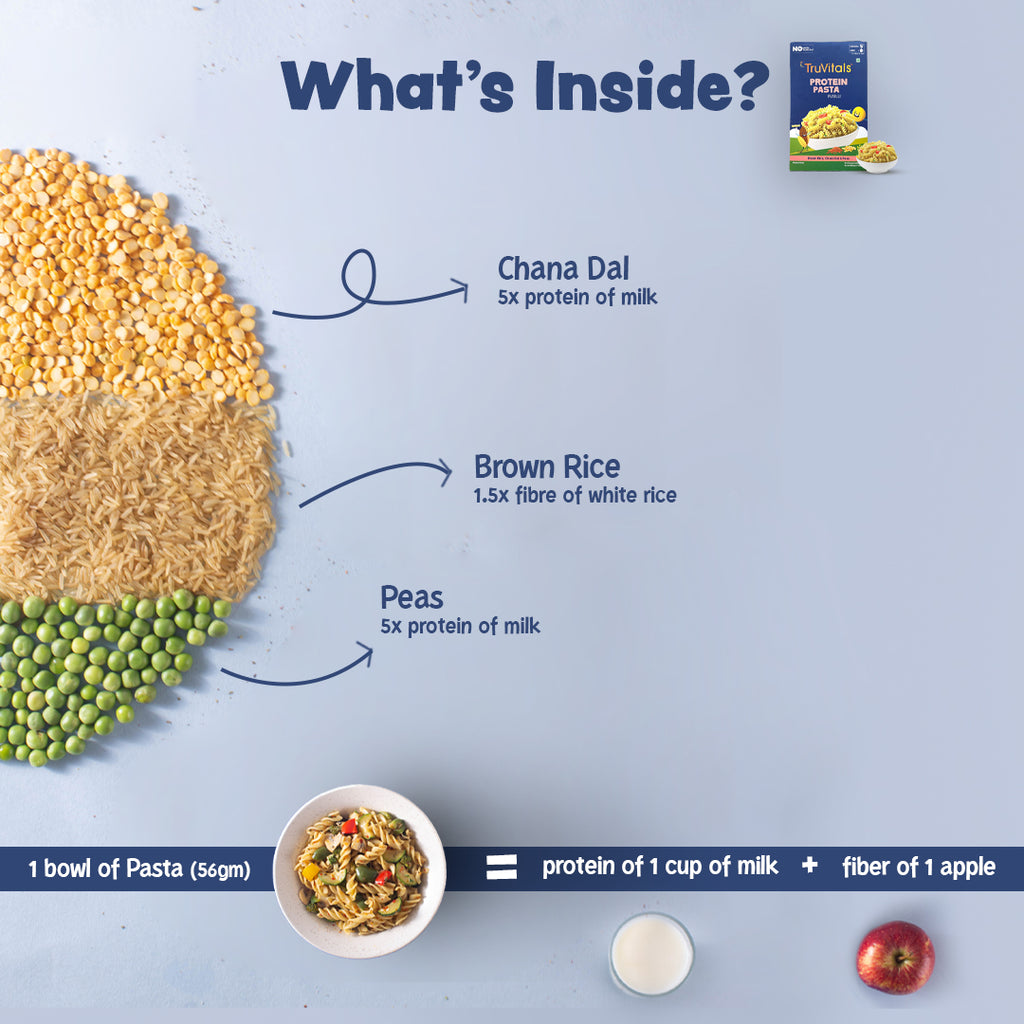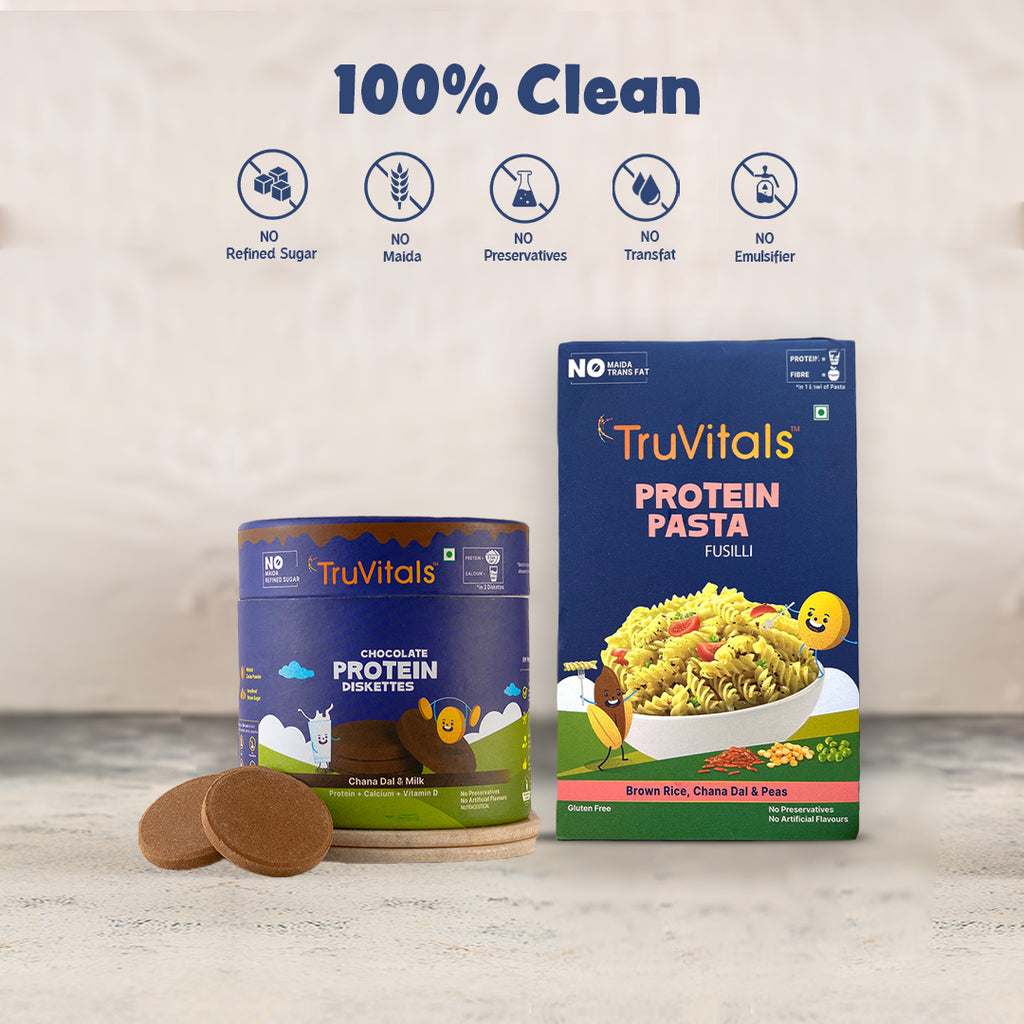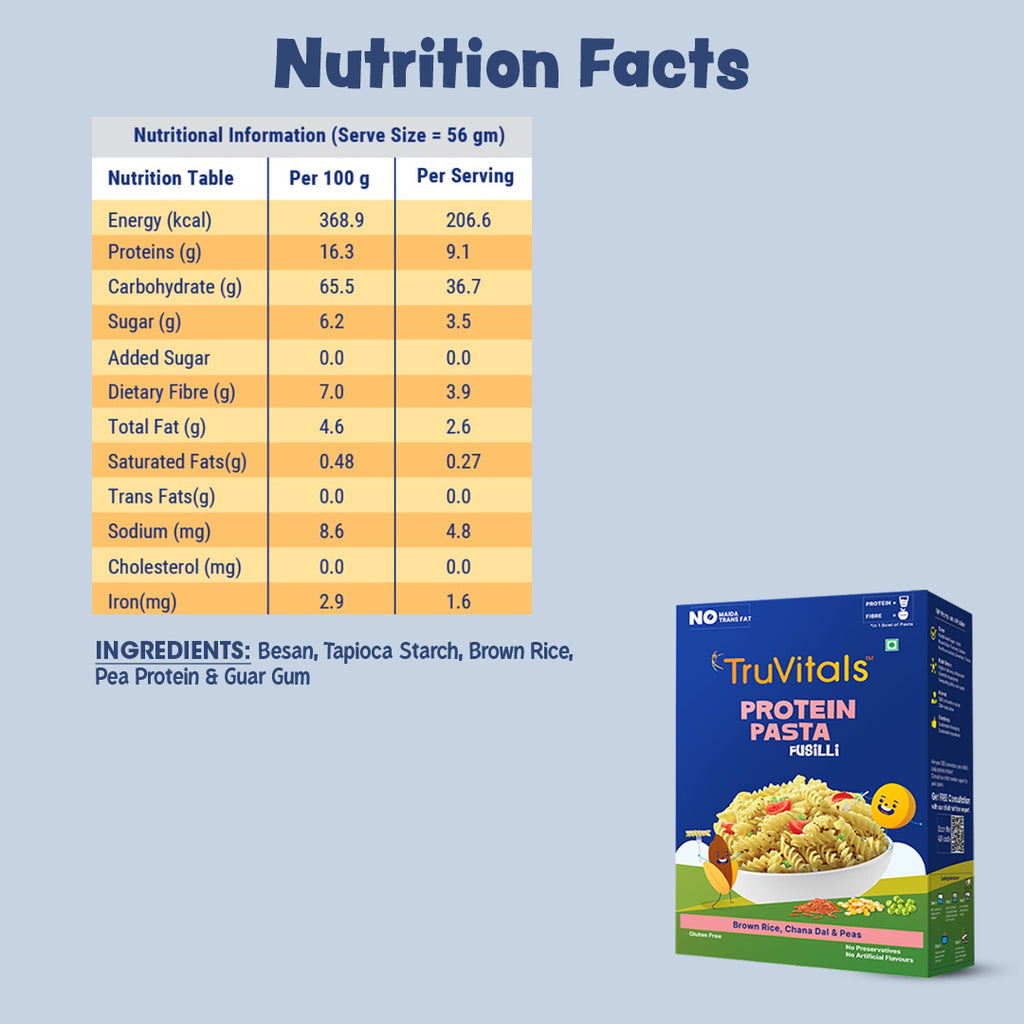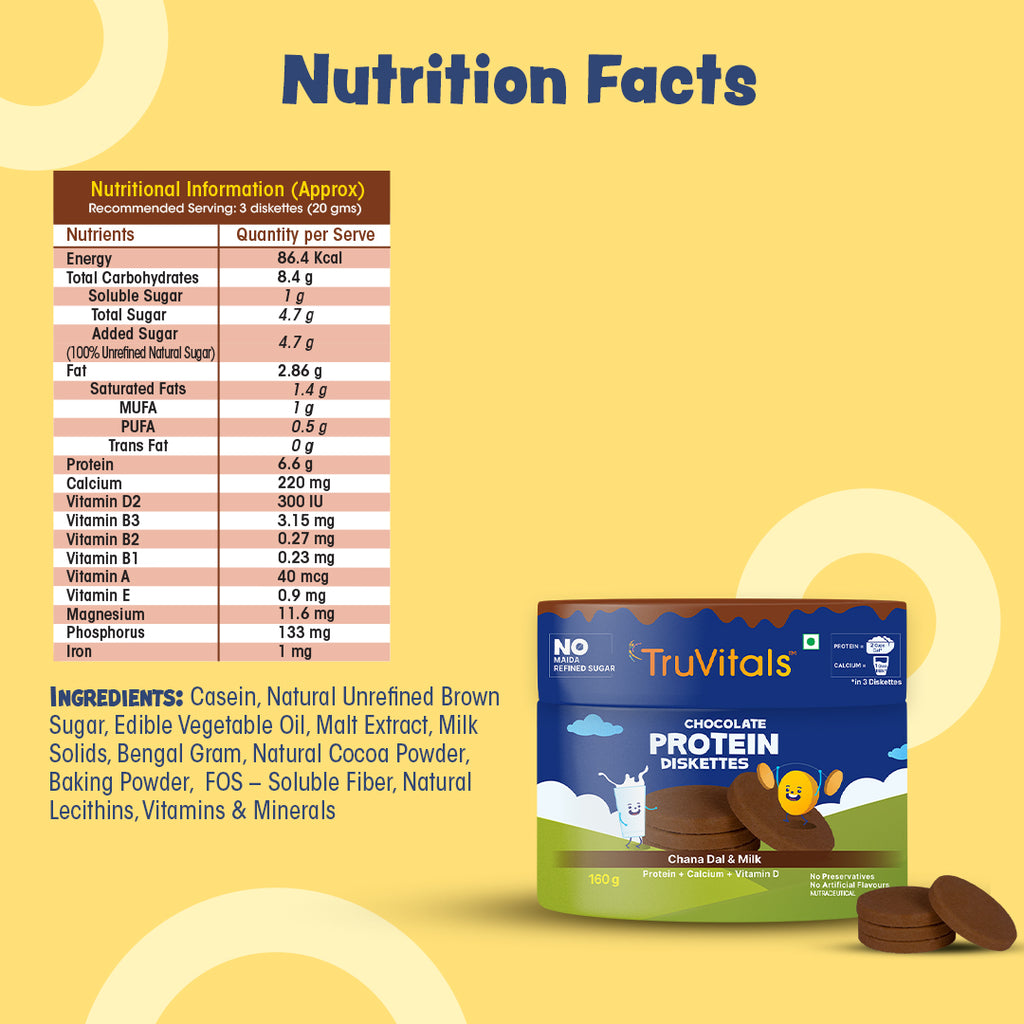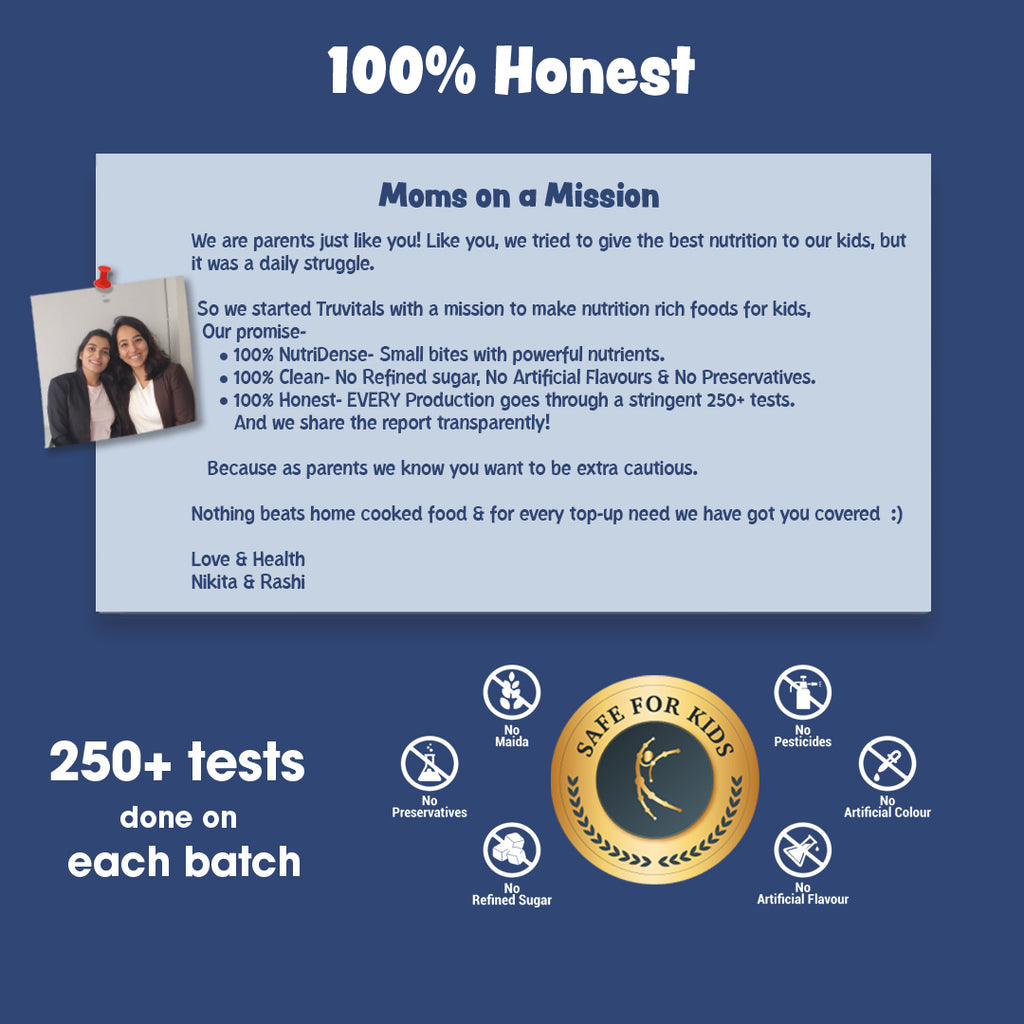 Brown Rice
Brown rice has 2.5X protein of milk & is rich in minerals and antioxidants essential for development in kids
Chana Dal
Chana dal has 5X protein of milk & helps in providing energy & makes the body strong
Peas
Peas has 1.3X protein of milk & has high concentration of vitamins, minerals, phytonutrients which helps in developing immunity
Casein
Casein is the protein from milk. It has 25X protein of milk and 11X calcium of milk. It is easily digested by small tummies
Health Benefits
Protein
Increases Strength
FAQs
Both TruVitals Protein pasta and Protein Diskettes include ingredients that are rich in protein that helps kids in overall growth and development. Our combo of 3 diskettes and 1 bowl of protein pasta provides an amount of protein equivalent to that found in 4 cups of dal.

It can be difficult to offer children a mix of both sweet and savory options, while also ensuring they consume enough protein-rich foods. However, our team of nutritionists has designed a combo that can come to your rescue. This specially curated high protein pasta and protein diskettes has ingredients like Chana Dal , Brown Rice, naturally sweetened cocoa that are high in protein, ensuring that children receive the necessary nutrients.

Protein Diskettes are made of high protein ingredients such as Casein (25X protein of milk) and Chana dal (5X protein of milk) while Protein Pasta is made of Brown Rice (2.5X protein of milk).This unique combination of sweet and savory options ensures that children receive a variety of flavors while meeting their daily protein requirements.
During early years, kids need Protein and fibre for strength and overall development. Kids also need right combination of food groups for healthy growth. TruVitals Sweet & Savory Combo consists of protein rich incredients like brown rice, chana dal, peas which makes it nutridense.
Other pasta in the market is made with maida whereas TruVitals Pasta is made with only brown rice, chana dal & peas. This ensures that the pasta is healthy & rich in fibre which is essential for good gut health and digestion.
TruVitals helps in meeting the daily quota of essential nutrients, designed as per the Indian dietary requirement. Just 3 biscuits have 6.6 g protein, 220 mg calcium & 300 IU Vitamin D required by kids daily. For Pasta, the recommended serve size is 56g/serve.
Kids who are 2+ years old can consume TruVitals Sweet & Savory Combo. It consists of brown rice, chana dal, peas, natural fibre ingredients.
The pasta is full of goodness & the diskettes make evening snack time fun & healthy too
healthy food
No more junk food for my kids. Thanks to this combo, they enjoy nutritious meals. Love it.
My kids ask for the Diskettes every day. Love that they're getting protein too in such a healthy way
must try
I feel like a super mom knowing my kids are eating wholesome foods. Highly recommended.
Delicious, kid loved it
This combo is a fantastic addition to my kids meals. The Pasta is a healthy alternative to regular pasta & the Diskettes are a delicious treat without any unhealthy additives. I highly recommend it!