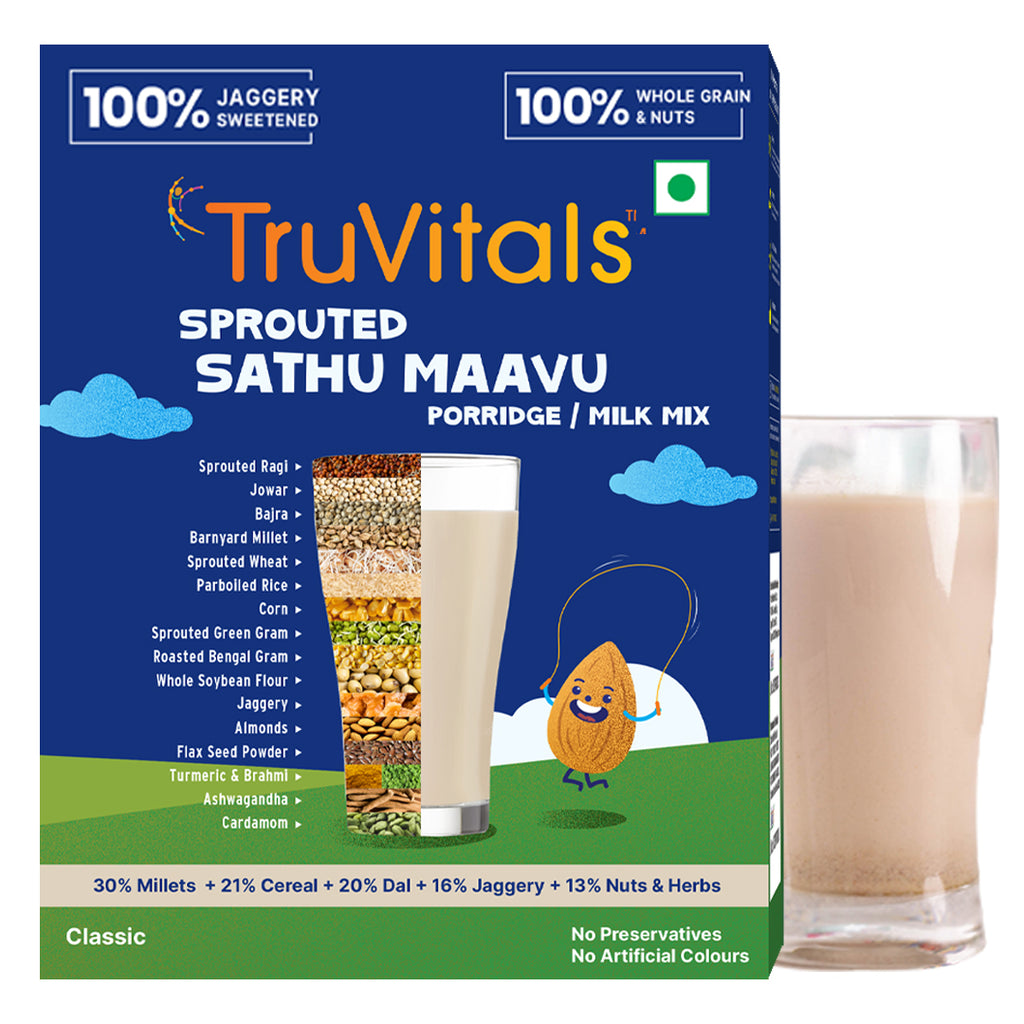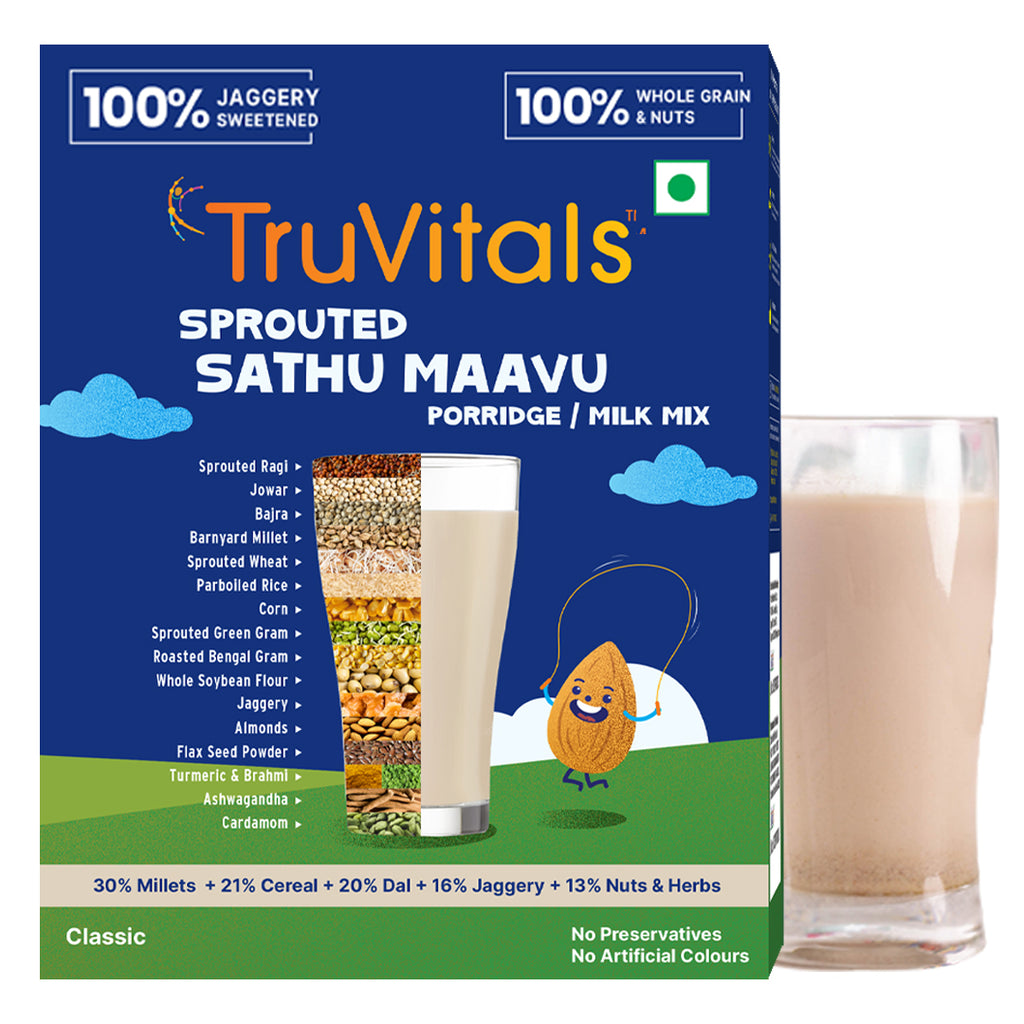 What's Inside
Hero Ingredients
Cereals
Cereals (Sprouted Wheat, Parboiled Rice & Corn) are rich in Group B vitamins & protein and are a good source of antioxidants & phytochemicals.
Millets
Sprouted Ragi, Bajra, Jowar are rich in protein & dietary Fibre, & improves digestive health.
Dal
Plant-based protein containing major essential amino acids - Sprouted Moong Dal, Bengal Gram that supports growth and development.
Nuts & Herbs
Almonds & Flax Seeds helps improve brain memory, offers antioxidants to counteract cognitive decline, and the herbs give natural flavour.
Health Benefits
Protein
Increases Strength
Fibre
Improves Digestive Health
Iron
Supports Muscle Metabolism
Weight Gain
Healthy Weight Gain
FAQs
Healthy weight gain in children can be a concern for parents, especially if it is due to picky eating habits and especially when 5 out of 7 times children don't meet their daily nutri quota. In such cases it is important to encourage children to eat nutridense foods to ensure they receive adequate nutrition for healthy growth and development.

Our multigrain health mix has all essential food groups in the right proportion and hence it is high in protein, calcium, good fats & fiber. These are essential for healthy weight gain.

It also has Sprouted Ragi, Sprouted Wheat, Sprouted Moong dal. Sprouting helps in higher nutrient availability and easy absorption by the body. Flor eg- Sprouted Ragi has 10X iron of non sprouted ragi.

The best part- this health mix has NO refined sugar, NO oil, NO preservatives.
TruVitals Sprouted Sathu Maavu has all essential food groups in the RIGHT , making it nutridense. It has 4.2 g of Protein/serve, and is high in Calcium, Iron and Fiber. These are most essential in initial years. Calcium is required for healthy bones and Iron supports muscle metabolism.

Body needs these nutrients regularly for the required growth to happen. If the weight of the child is not increasing, it simply shows that the complete daily nutrition is not being provided.

When TruVitals Sprouted Sathu Maavu is fed to the child, along with other meals at home, the child's body gets the missing nutrition and hence, shows improvement in weight and growth.
Our Sprouted Sathu Maavu is not a medicine but a food product made with proven ingredients to support healthy growth and development. Many parents have observed positive changes in their children after consistently using this for 3-5 months or more. Add 1 scoop of Sprouted Sathu Maavu in a glass of milk or in any other form every day, and see the results gradually.
During early years, kids need the right combination of food groups for healthy growth and well being. TruVitals Sprouted Milk Mix is scientifically created in PERFECT proportion of various food groups ( cereals, dals, millets , nuts). It is the tastiest, easiest and most versatile way to give sprouts, millets and herbs to kids. These food groups should be part of every child's well rounded diet.
Our Sprouted Sathu Maavu can be consumed as a milk mix or porridge and is designed to be added to hot/cold milk every day, with a recommended serving size of 30g or 1 scoop. It can also be added in dough to cook various recipes, including cheela, idli, dosa, etc. You can check out our page - (https://www.instagram.com/truvitals.in/ ) for more interesting recipes like sathu maavu sandwich, pancake, chhas etc 🙂
Our Sprouted Sathu Maavu is made from 100% natural ingredients ,ensuring its safety for consumption by kids. This is a FSSAI Certified Food product. It has undergone rigorous testing and meets the required standards for quality and safety.

Every ingredient in the Sprouted Sathu Maavu is carefully selected based on scientific research and evidence of its ability to provide sustained benefits. We prioritize sourcing high-quality ingredients that are potent, pure, and easily absorbed by the body. Our product is free from artificial colours, flavours, and sweeteners. You can trust that your child is getting a safe and wholesome product to support their brain health.
Our product is absolutely natural and devoid of any artificial flavors, colors, preservatives. It can be given as soon as the baby can have textured food.
TruVitals Milk Mix can be consumed by any kid. It can also be consumed as tasty porridge/sathu maavu.
Sattu Mavy
It is very tasty, healthy and nutritious too
I liked it very much as it is a good alternative in place of other milk powders and safe for kids to have in their daily diet
Recipes
Hi,
The product that I ordered is super nutritious. However my kid did not liked the taste, specially in milk. Are there any other suggested recipes for Sathu Maavu intake by kids (10-11 years age)?
Thanks