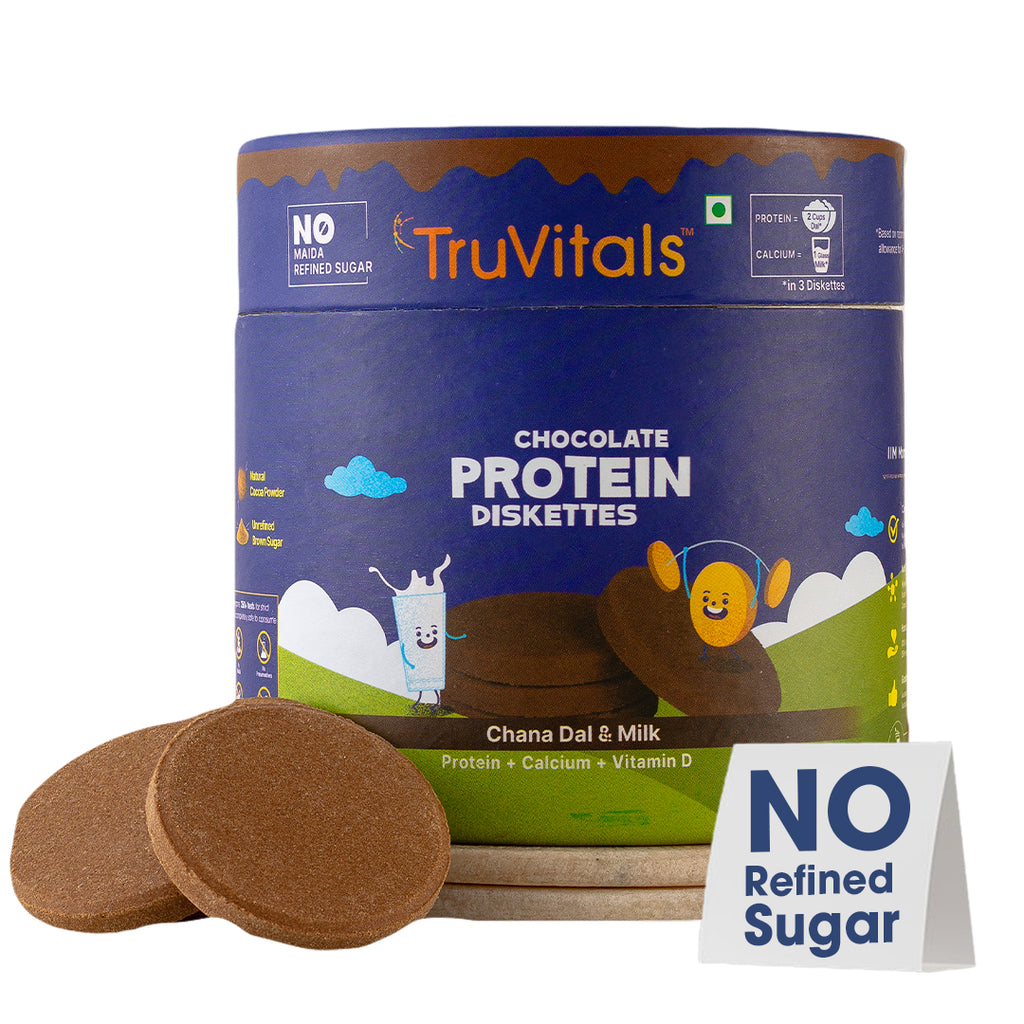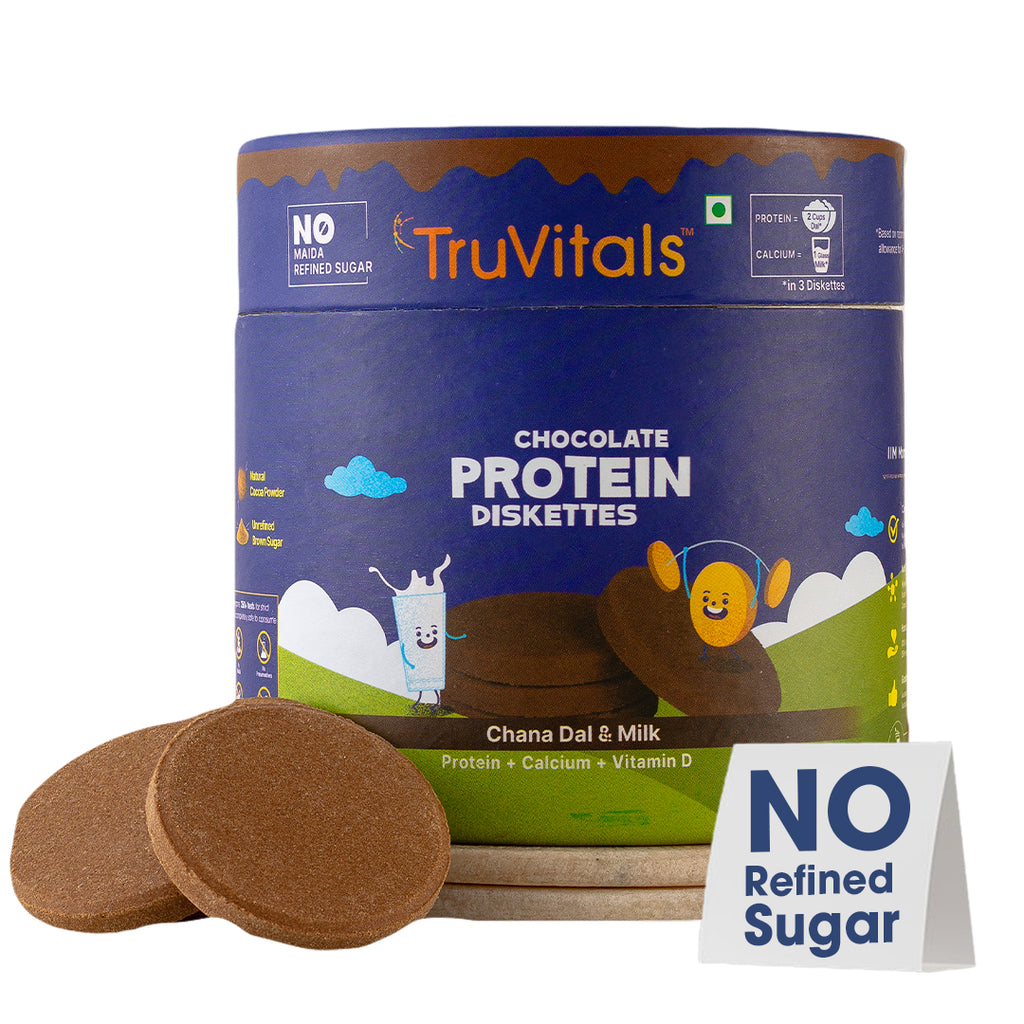 What's Inside
Hero Ingredients
Chana Dal
Chana Dal or Bengal gram is a great source of Protein, which also helps build immunity.
Casein from Milk
Casein protein is a protein found in milk. 80% of the protein in Cow's milk comes from Casein.
Cocoa Powder
Tasty chocolate flavour delivered with natural cocoa powder without the cocoa butter!
Natural Sugar
Unrefined brown sugar has trace vitamins & minerals and is not refined with chemicals!
Health Benefits
Protein
Increases Strength
Vitamin B Complex
Energy & Metabolism
FAQs
Getting enough protein & calcium in your child's diet can be a challenge, especially when it comes to finding protein rich sources that kids actually enjoy. Our Chocolate flavored Protein Diskettes are made with chana dal and casein, and highly nutridense. Just 3 biscuits give protein of 2 cups dal (6.6 g), calcium of 1 Glass of milk (220 mg) & 300 IU Vitamin D required by kids daily. They are easy to carry, and provide a quick on-the-go snack.
Most high protein powders and biscuits are disliked by kids due to taste. Moreover, they are full of refined sugar, preservatives and artificial flavors. Our Protein Diskettes- 1) Have no junk ( no refined sugar, no additives) , 2)Have highest protein content ( 33gm/100gm) , 3) Made of casein , which is slow digesting and suitable for kids ( unlike whey) , 4) Come in tasty chocolate flavour which has been approved by kids!
Our diskettes is not a medicine but a nutrition top up made with proven ingredients to support healthy growth and development. 3 biscuits a day will help complete your child's protein and calcium requirements for the day. This in turn ensures proper growth & development.
During growing years, kids need protein for strength and calcium for strong bones. These are essential nutrients for their formative years. TruVitals biscuits are nutridense, which means only 3 biscuits give enough protein equivalent to 2 cups of dal, calcium equivalent to 1 glass of milk and vitamin D equivalent to 50% of daily requirement. As a result, these biscuits are the ideal high-protein food for picky eaters, students, athletes, and even babies who are 1 year old. They're also a great option for parents looking for the best protein powder or high-protein foods for their toddlers.
Our Protein diskettes can be consumed as an easy and convenient snack that will fulfill your child's daily protein requirements. TruVitals biscuits make a perfect addition to your kid's lunchbox or as a quick snack on the go.
Made from 100% natural ingredients ,this is a FSSAI Certified Food product. It has undergone rigorous testing and meets the required standards for quality and safety. Every ingredient in our Protein Diskettes is carefully selected based on scientific research and evidence of its ability to provide sustained benefits. We do not use artificial colors, flavors, and sweeteners. You can trust that your child is getting a safe and wholesome product to support their growth & development.
Our product is absolutely natural and devoid of any refined sugar, artificial ingredients, or preservatives. All kids, of any age can have these biscuits. For the ones who cannot chew properly, you can blend this with milk and make it nutritious.
My kid loves the protein diskettes.
My opinion on chikki s
Jagry peanut chikki , the jaggery ratio should be reduced - more sweety presently . Chocklet peanut chikki felt very good . Earlier tasted seasome chikki , liked it ...U can see brand sirmiti also
Good for kids
The biscuits have no maida and refined sugar. These are rich in protein, calcium & Vitamin D. Superb !!
Must Try
Unlike other kids biscuits, these gummies do not have a maida or refined sugar. It is reassuring to get a report as part of the pack.