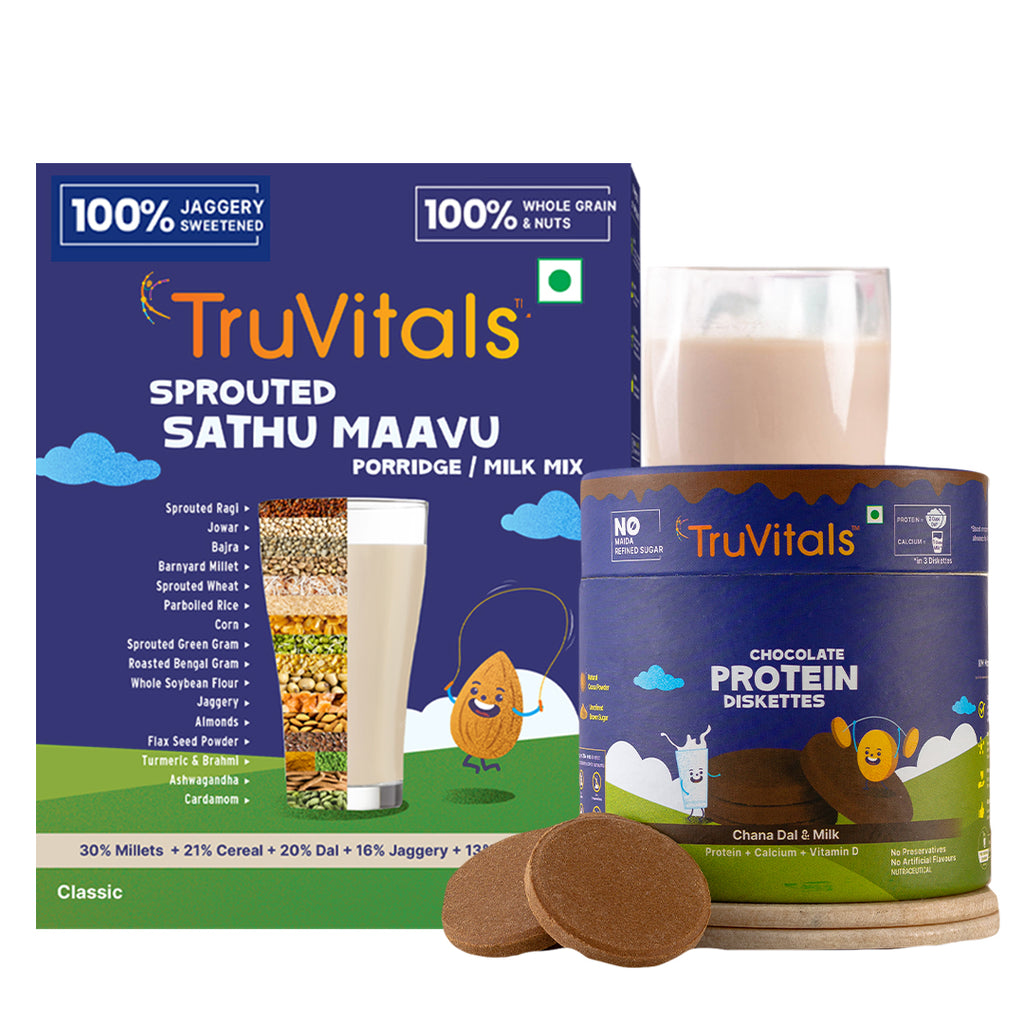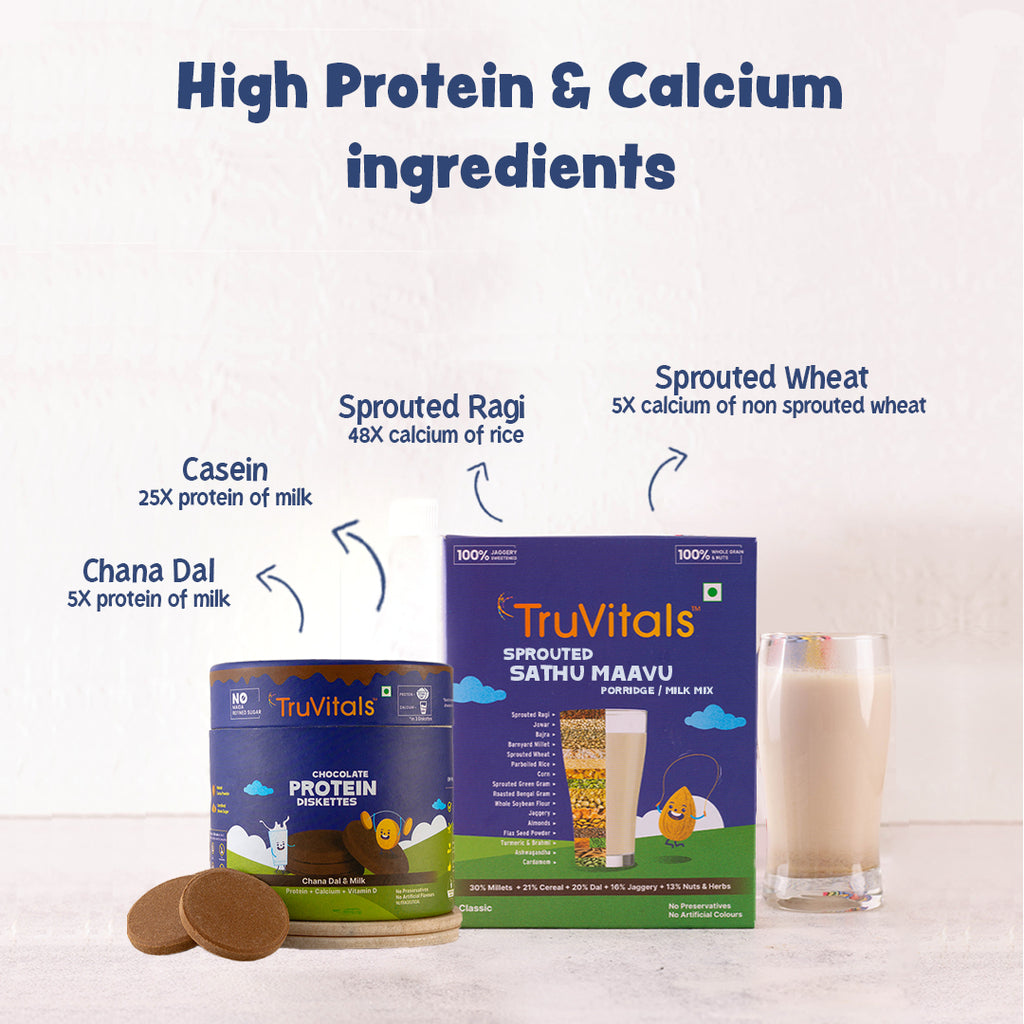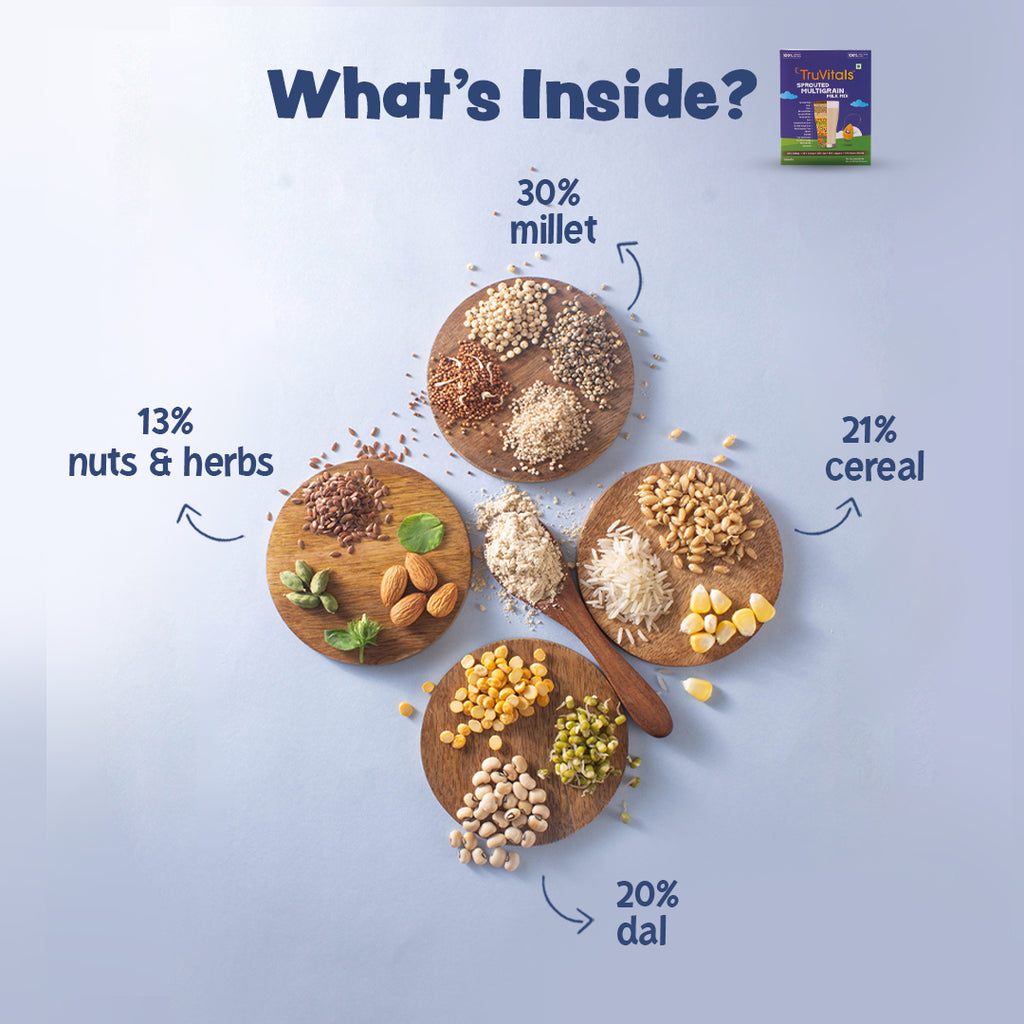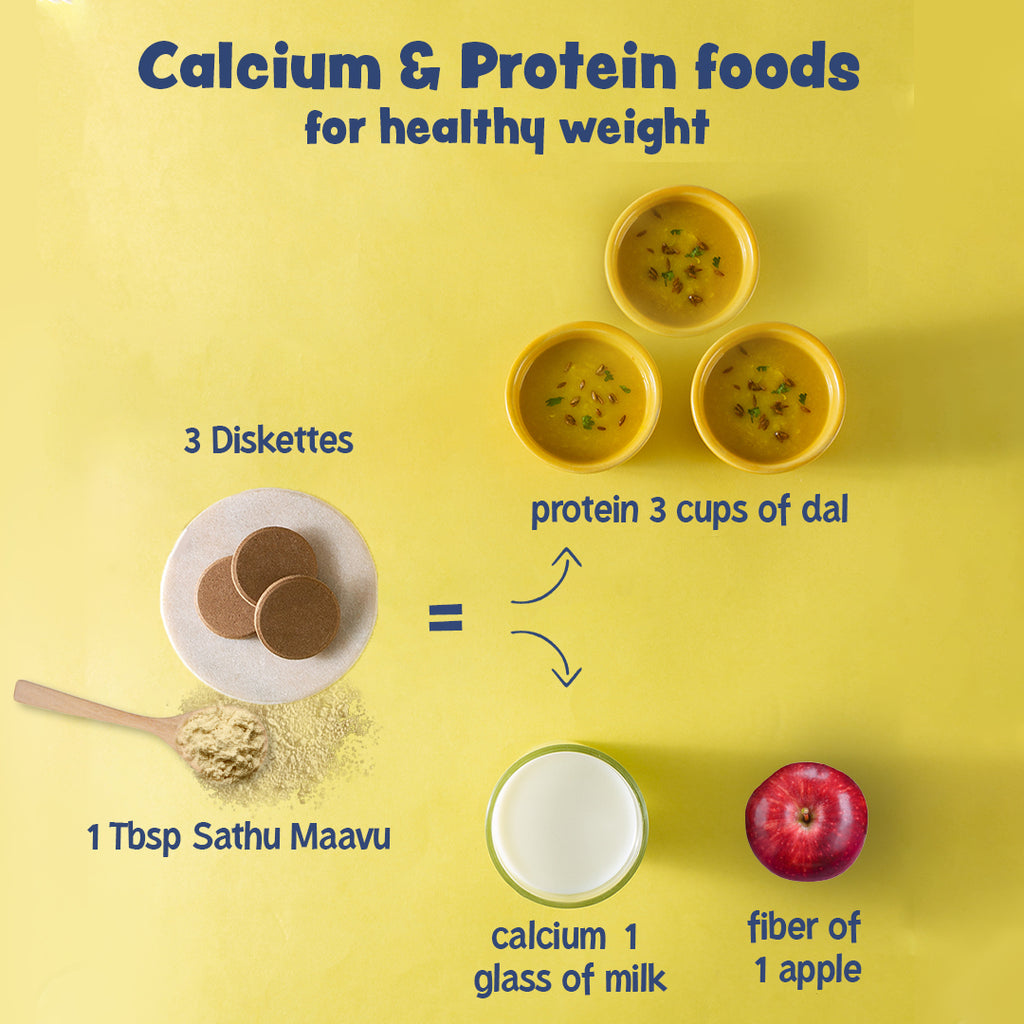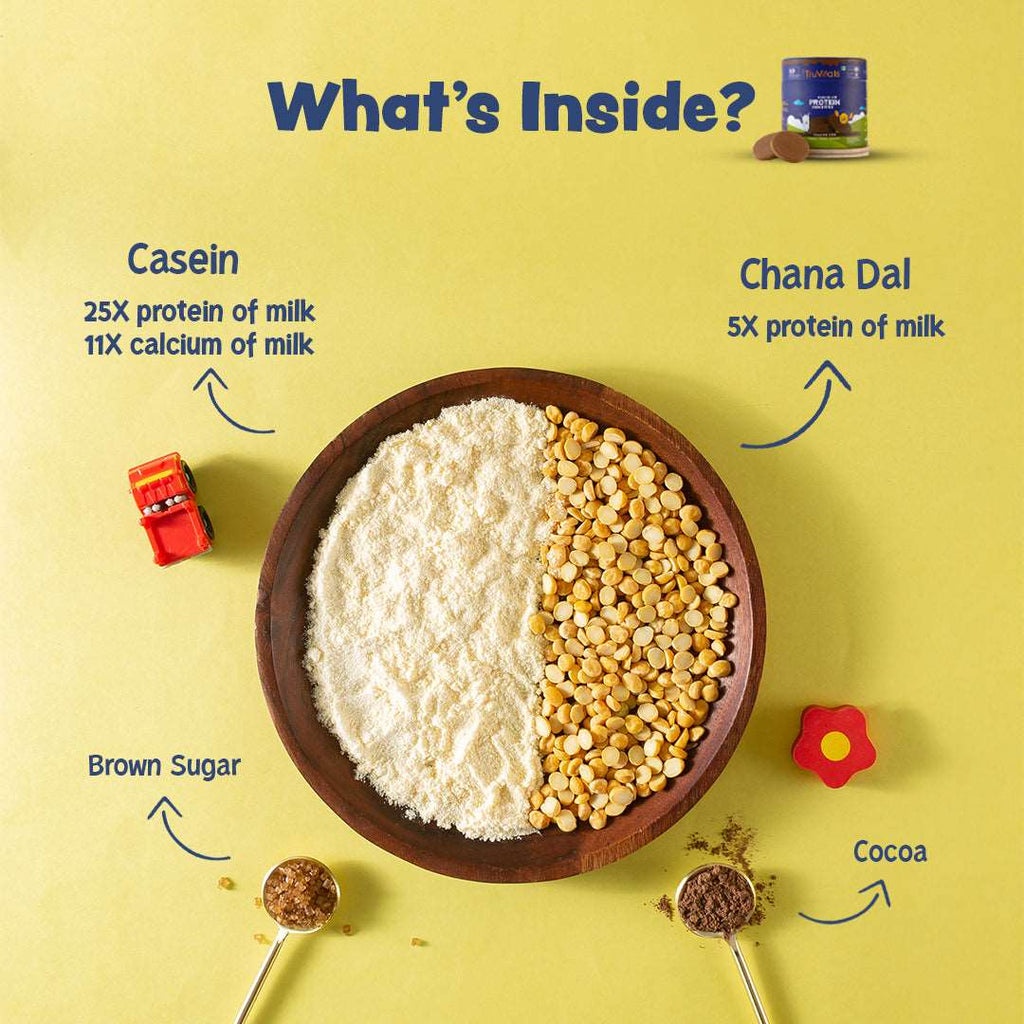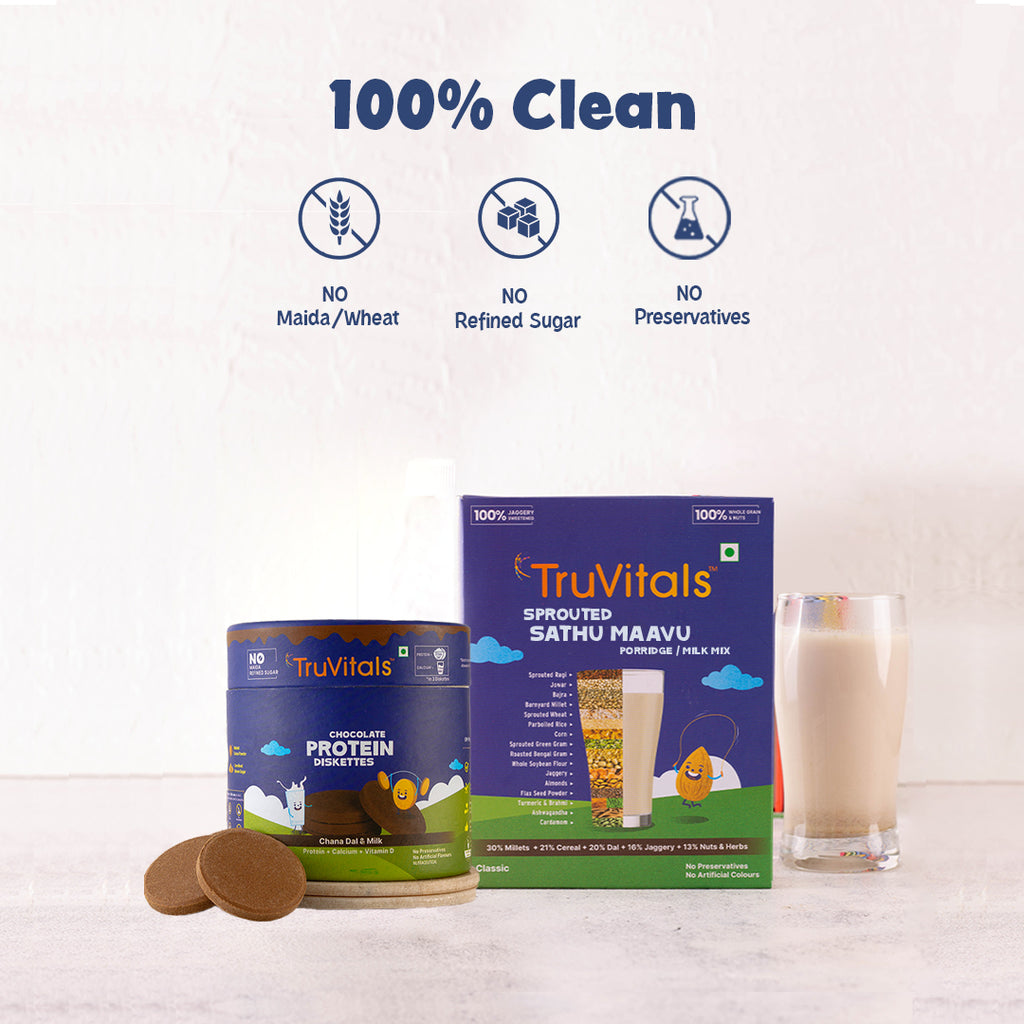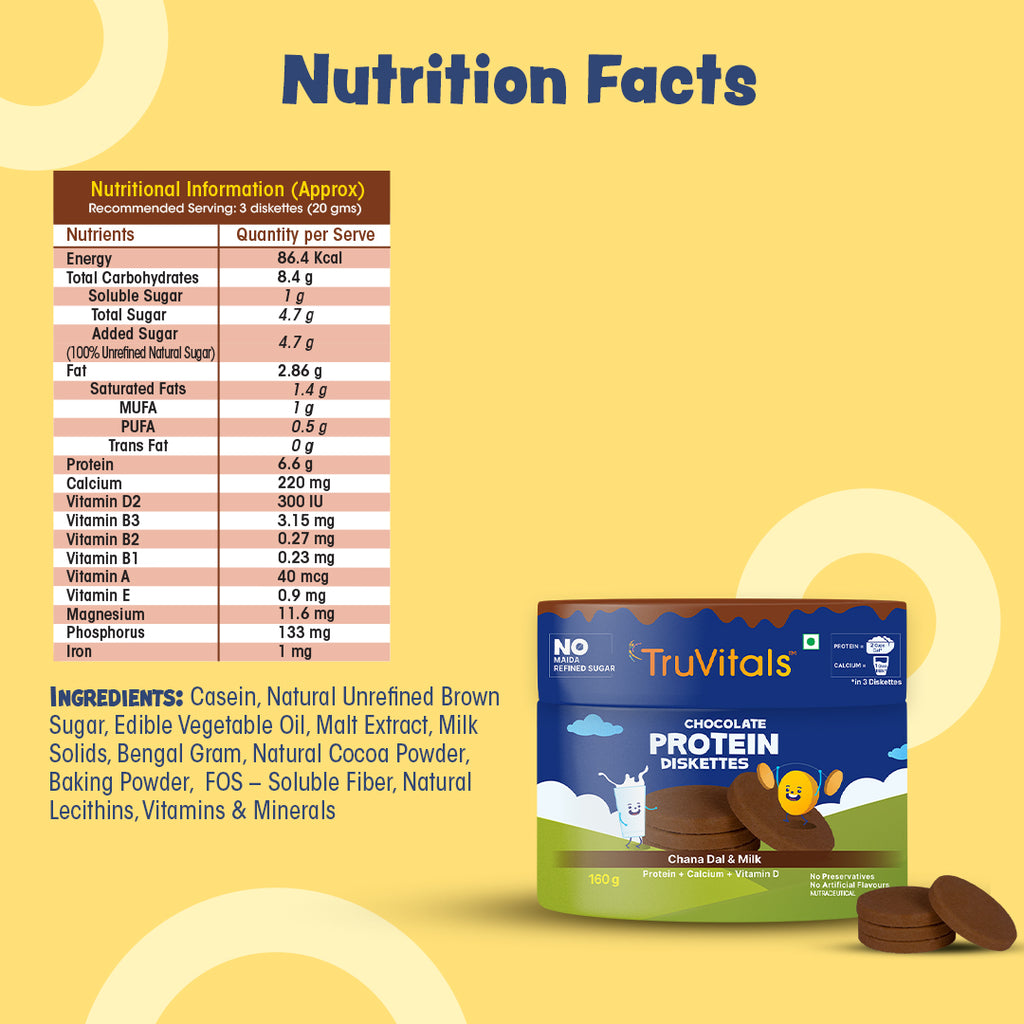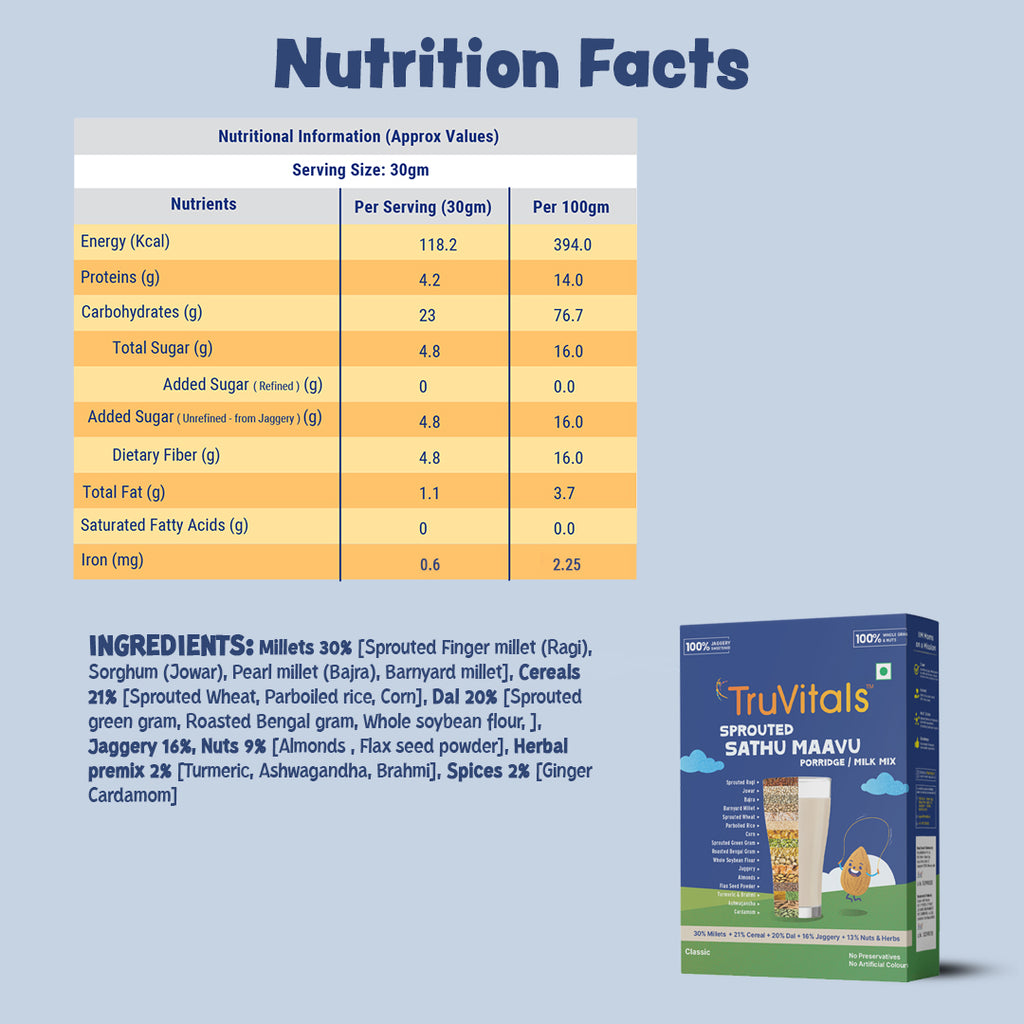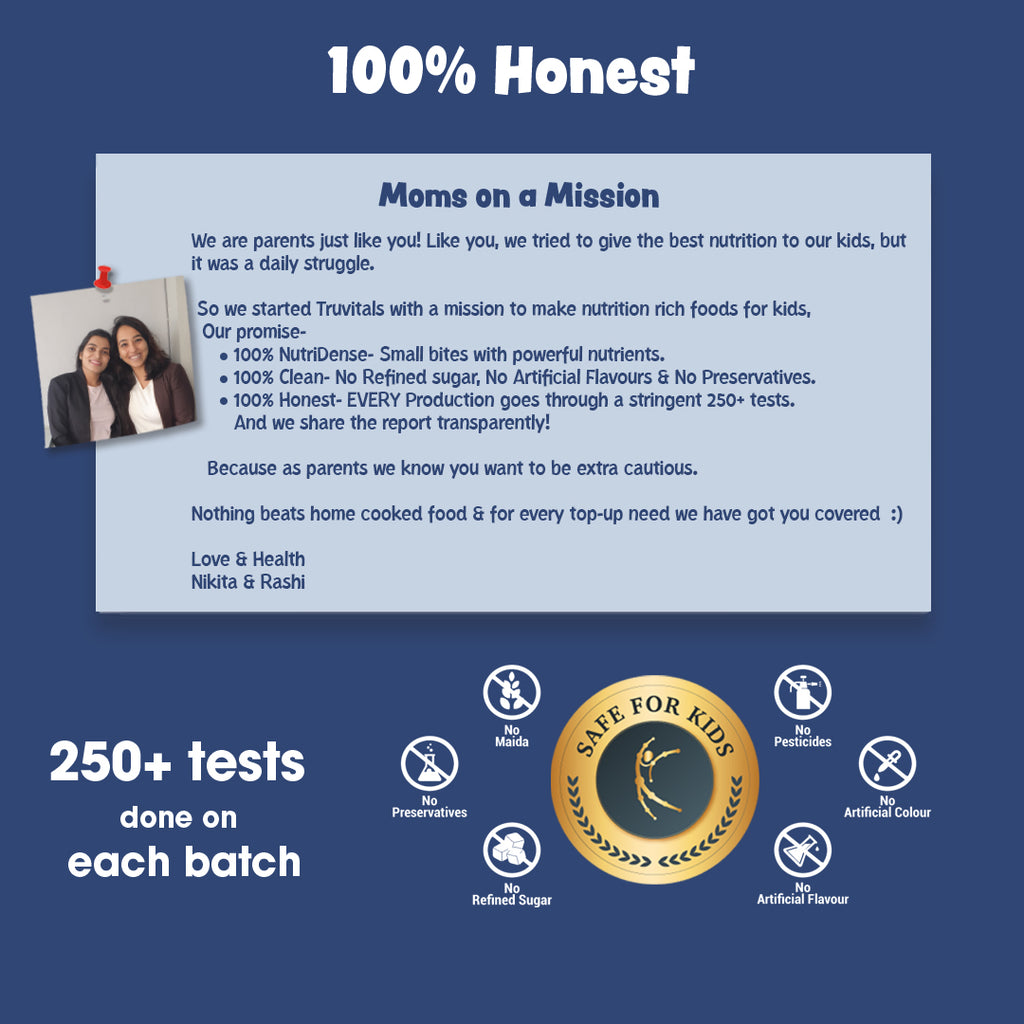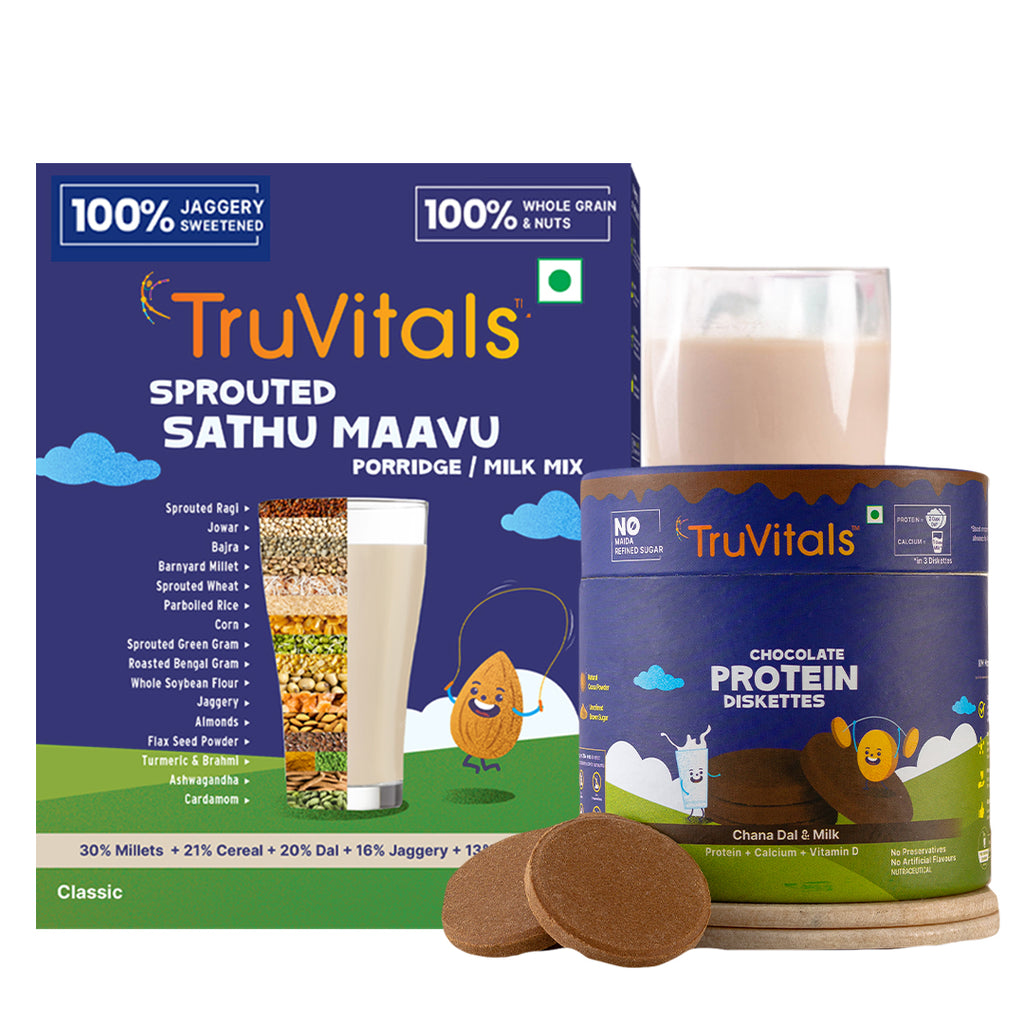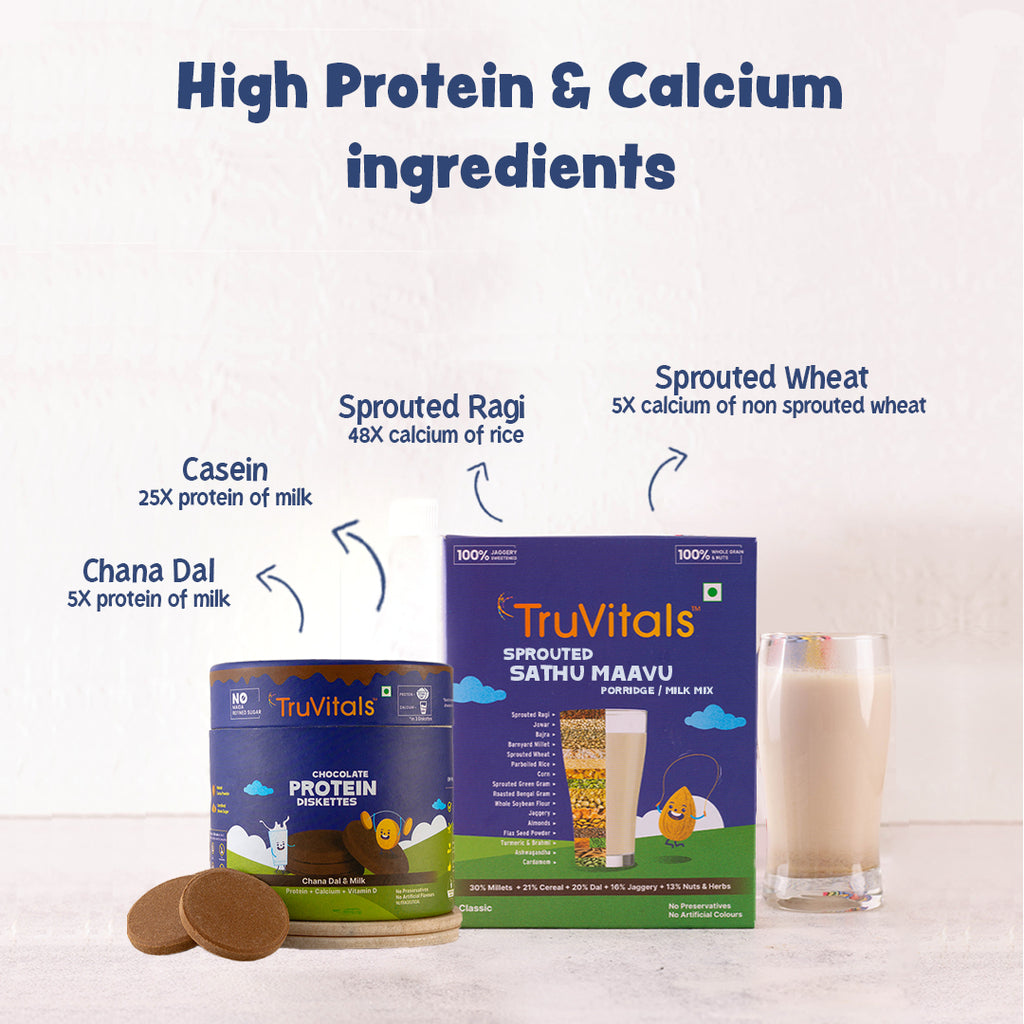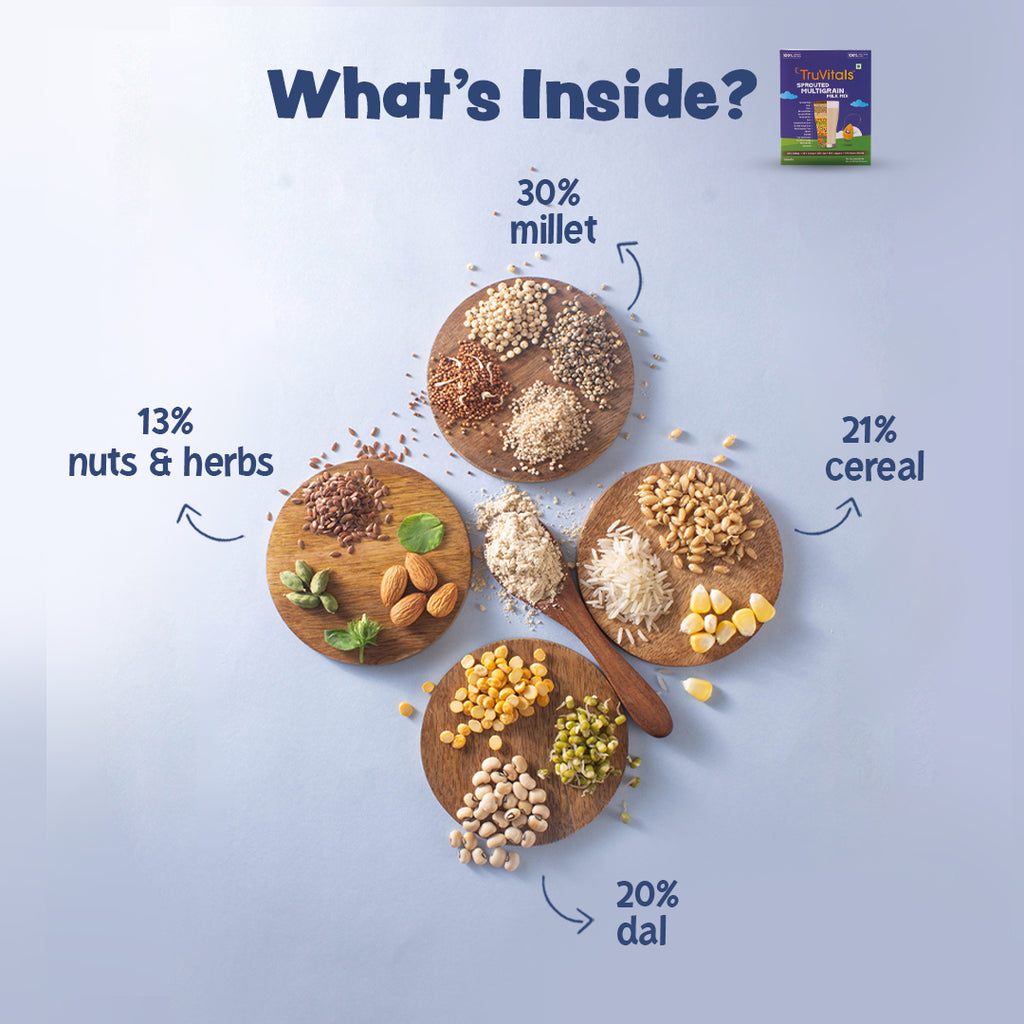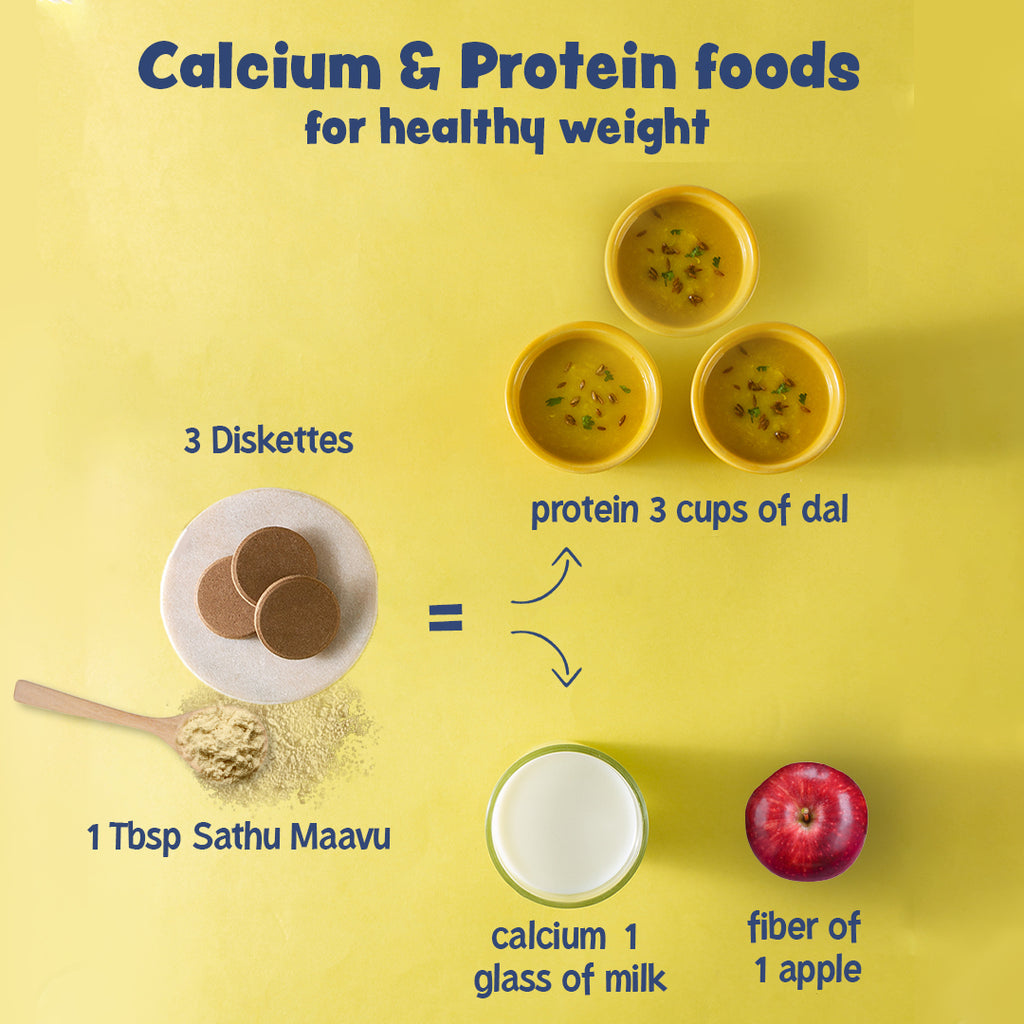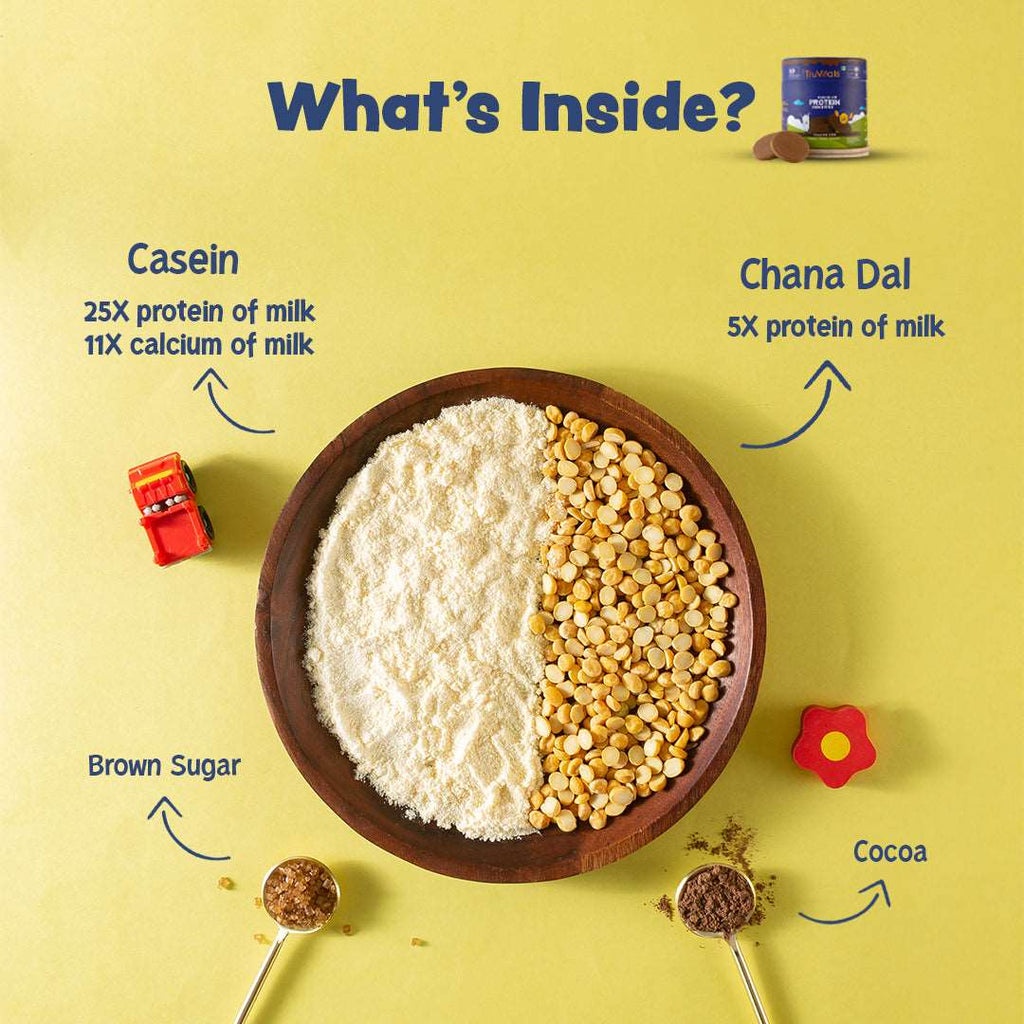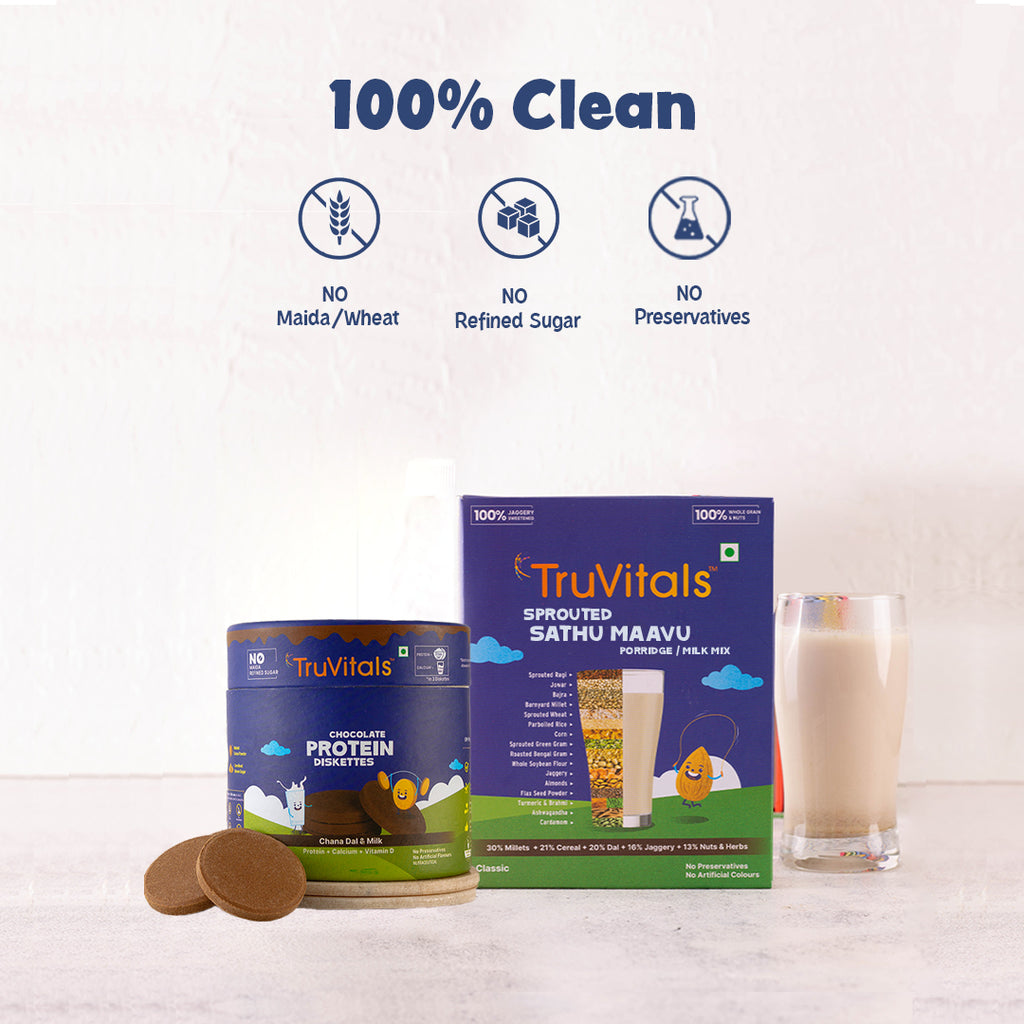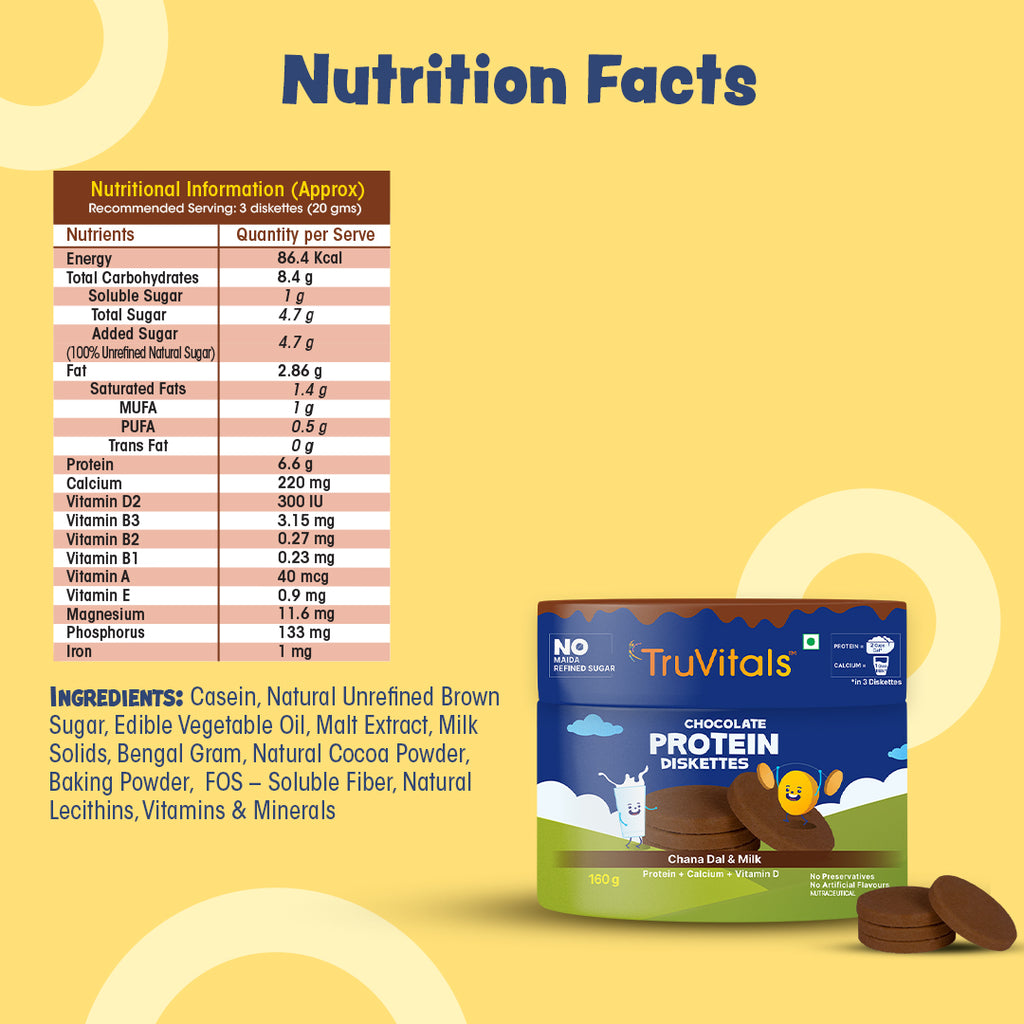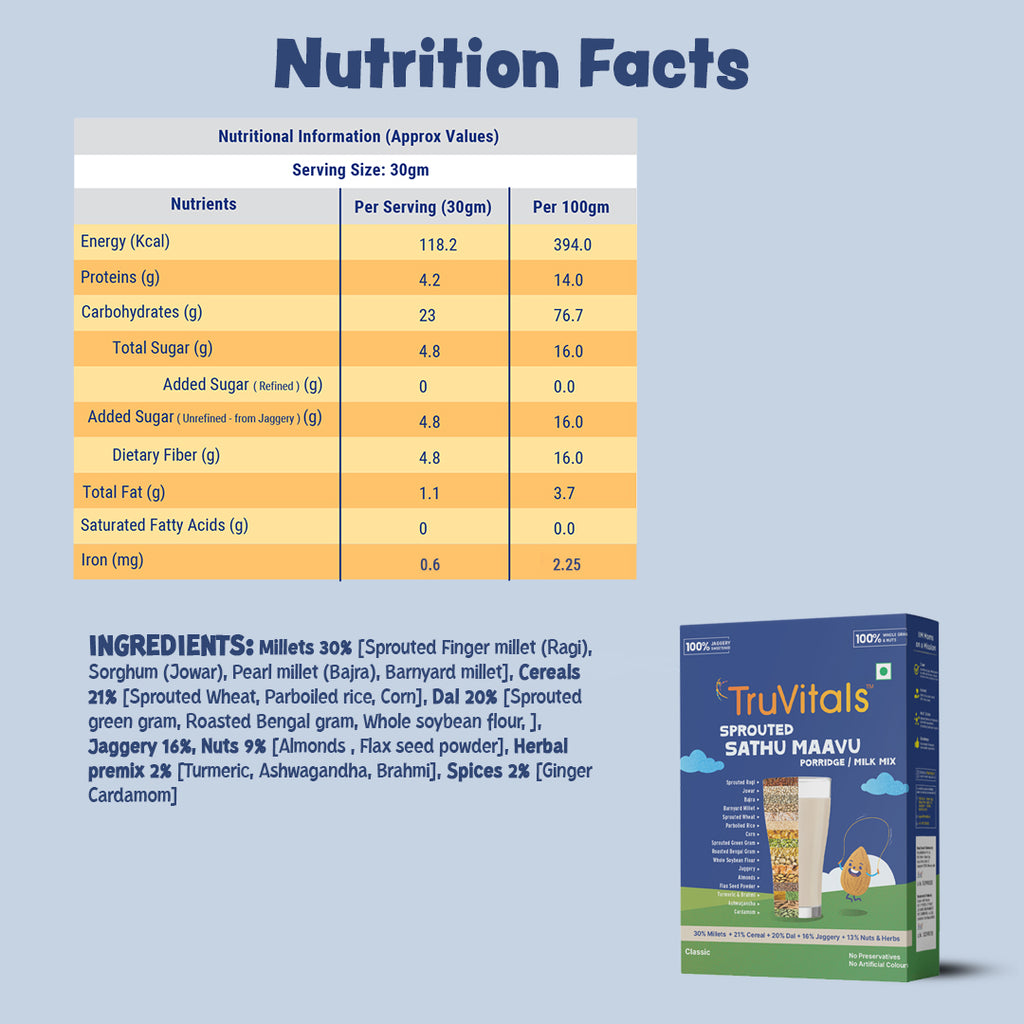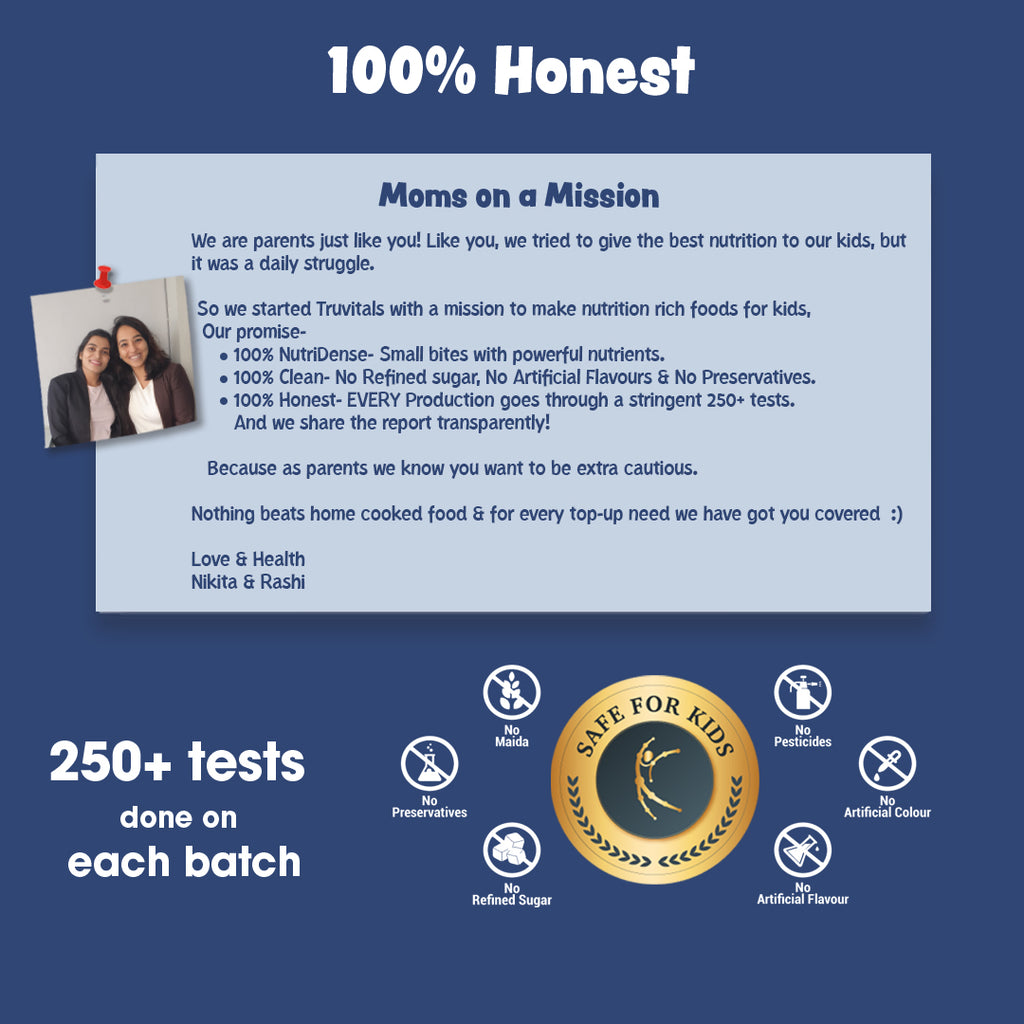 What's Inside
Hero Ingredients
Sprouted Grains
Sprouted ragi, moong dal & wheat enhances nutrient availability and easy absorption. Sprouted Ragi has 10X calcium of wheat/rice
Millets/Cereals
Sprouted Sathu Maavu is 30% Millets, 21% Cereal, 20% Dal, 9% Nuts which provides all essential nutrients for growth & development
Casein
Casein is the protein from milk. It has 25X protein of milk and 11X calcium of milk. It is easily digested by small tummies
Chana Dal
Chana dal has 5X protein of milk & helps in providing energy & makes the body strong
Health Benefits
Weight Gain
Healthy Weight Gain
Protein
Increases Strength
Iron
Supports Muscle Metabolism
FAQs
TruVitals Sprouted Multigrain Milk Mix and Protein Diskettes are carefully chosen protein rich multigrain combos to help children in gaining weight healthily.The ingredients are nutrient-dense and support overall growth and development.

Healthy weight gain in children can be a concern for parents, especially if it is due to picky eating habits and especially when 5 out of 7 times children don't meet their daily nutri quota. In such cases it's important to encourage children to eat protein rich and nutridense foods to ensure they receive adequate nutrition for healthy growth and development.

Our Sprouted sathu maavu is made from Sprouted Ragi, Sprouted Wheat, Sprouted Moong dal and Protein Diskettes has Chana dal (5X fiber of white rice). 3 Diskettes and 1 tbsp sathu maavu gives 3 cups of dal, calcium 1 glass of milk and fiber of 1 Apple. Ingredients used are not only high in protein but also beneficial for healthy weight gain and free from preservatives, artificial colors, and flavors.
During early years, kids need Protein and fibre for strength and overall development. Kids also need right combination of food groups for healthy growth. TruVitals Healthy Weight- Multigrain Combo is made with Sprouted Millets, Sprouted Cereals and Dal which makes it Nutridense.
TruVitals helps in meeting the daily quota of essential nutrients, designed as per the Indian dietary requirement. Just 30g/serve of Sprouted Sathu Maavu is sufficient to take care of their daily requirement of healhy weight gain. Just 3 protein biscuits have 6.6 g protein, 220 mg calcium & 300 IU Vitamin D required by kids daily.
Kids who are 2+ years old can consume TruVitals Healthy Weight- Multigrain Combo. It consists of sprouted whole grains, brown rice, peas, nuts, seeds, natural fibre ingredients.
Excellent
It is an excellent product my small kiddo liked it and having well. I have one small request Chana is not suited to my kiddo he get rashes with out Chana any other product is available with you please suggest.
Recommended
Looking for a weight gain solution? Then I would highly recommend this combo, it has been working well for my kid.
good for weight gain
Never thought that weight gain could be so easy and fun for aarav. He loves the taste and enjoys eating the sathu maavu as kheer and diskettes as his evening snack.
great job
Such healthy products yet great in taste. You guys have done a great job
good combo
Really happy with the combo, the diskettes are rich in protein and the fibre rich sathu maavu keeps my daughter fuller for longer.