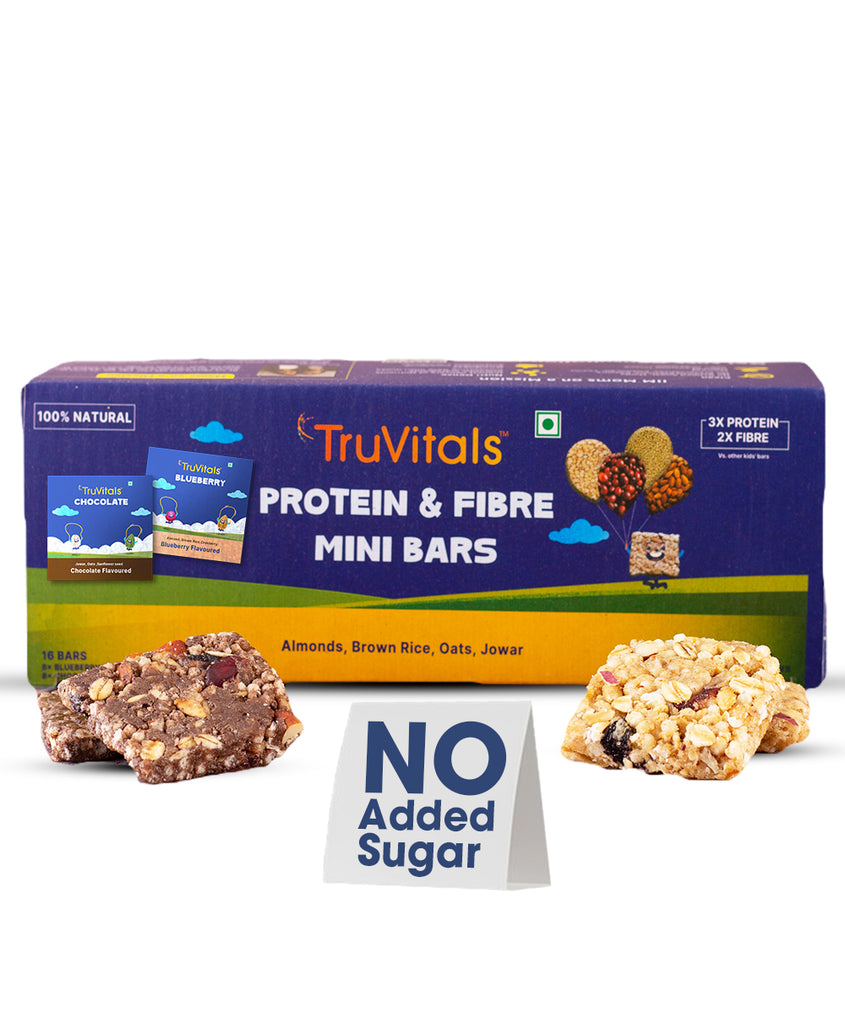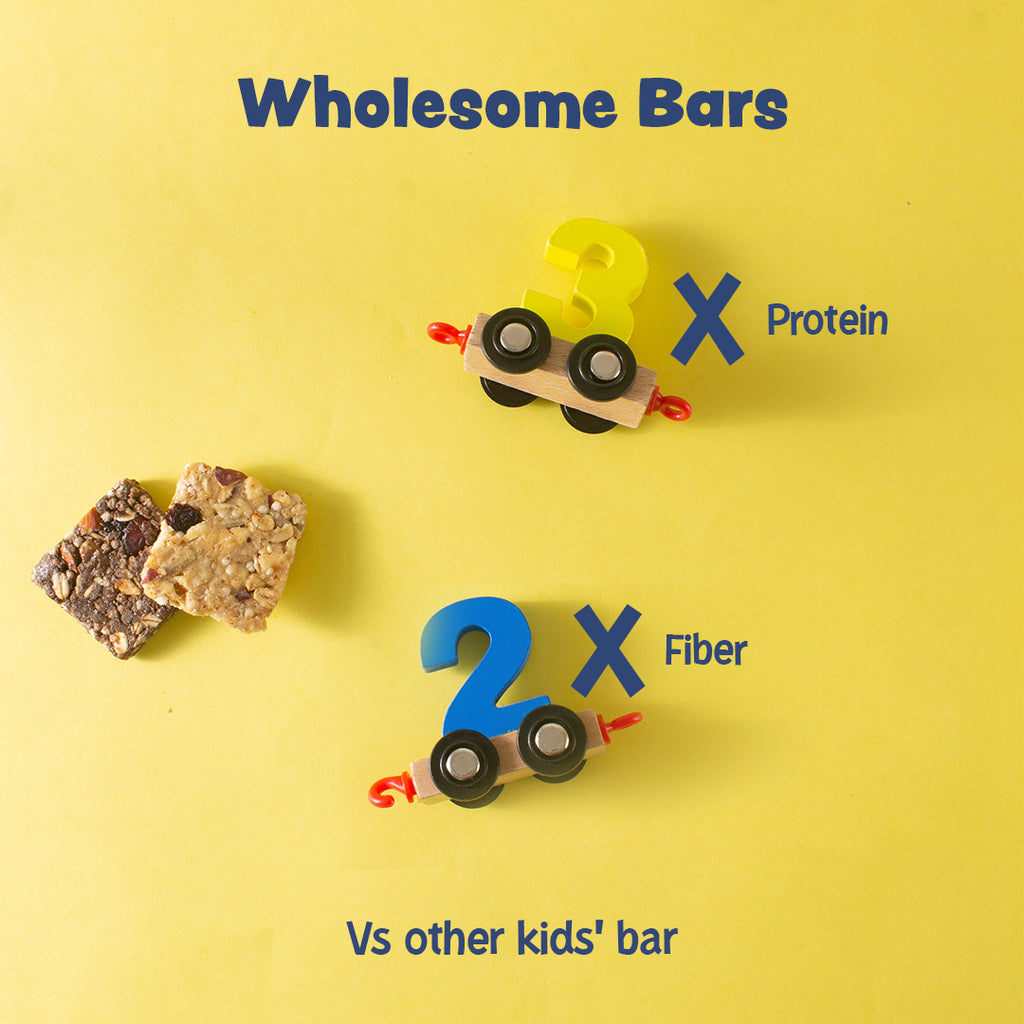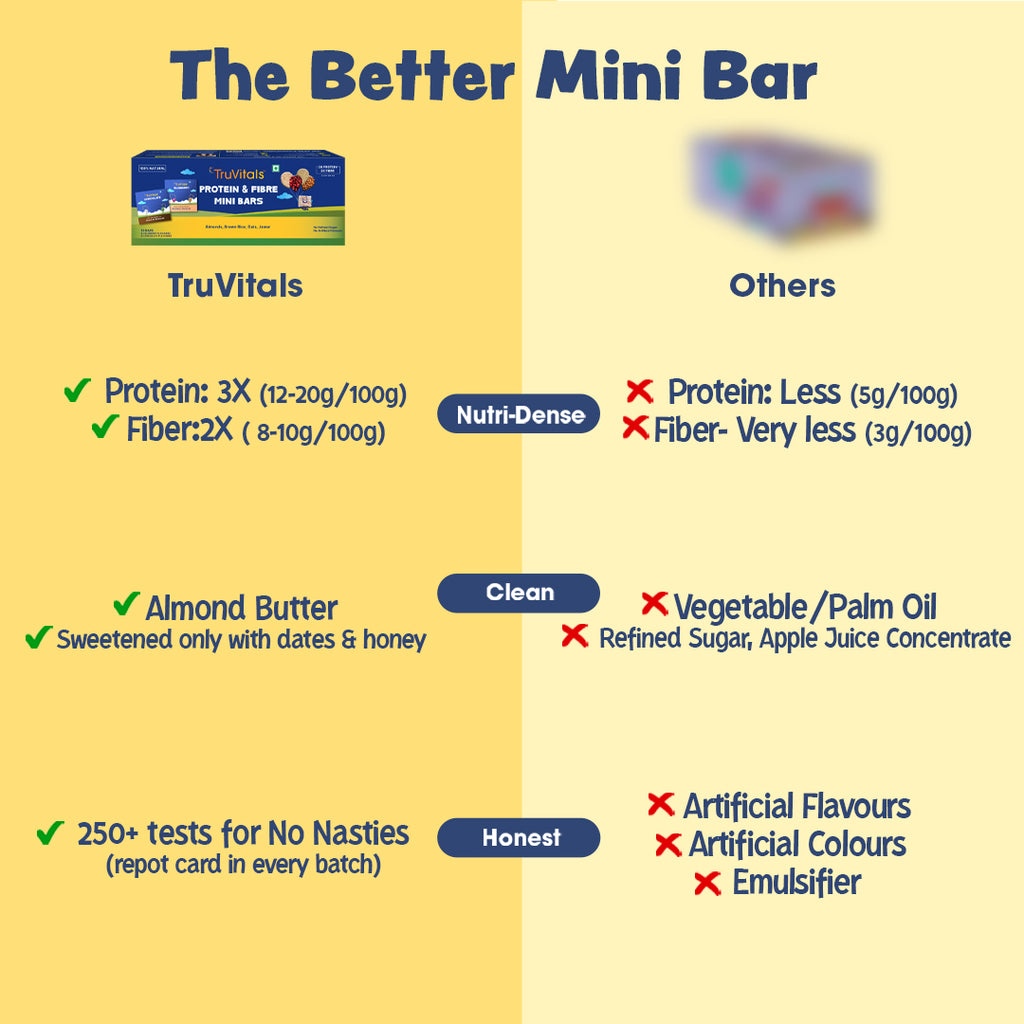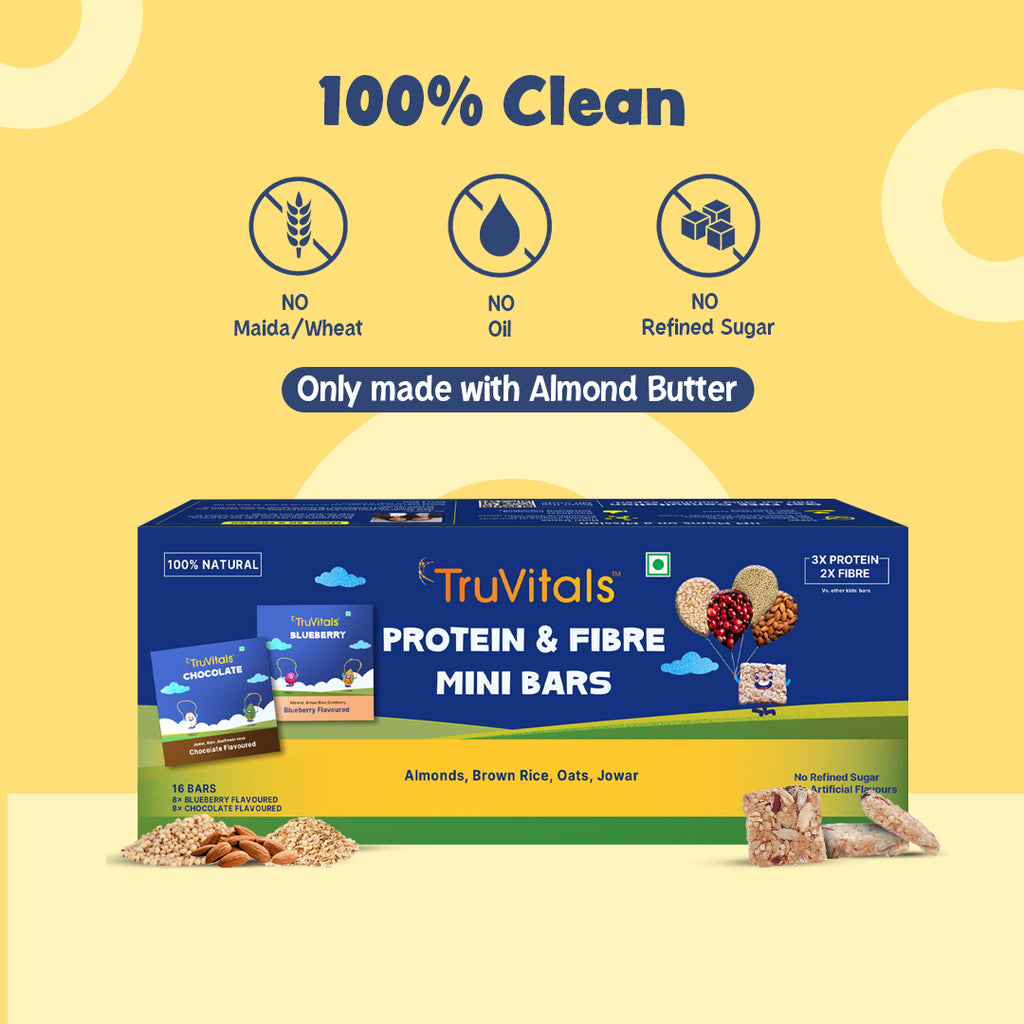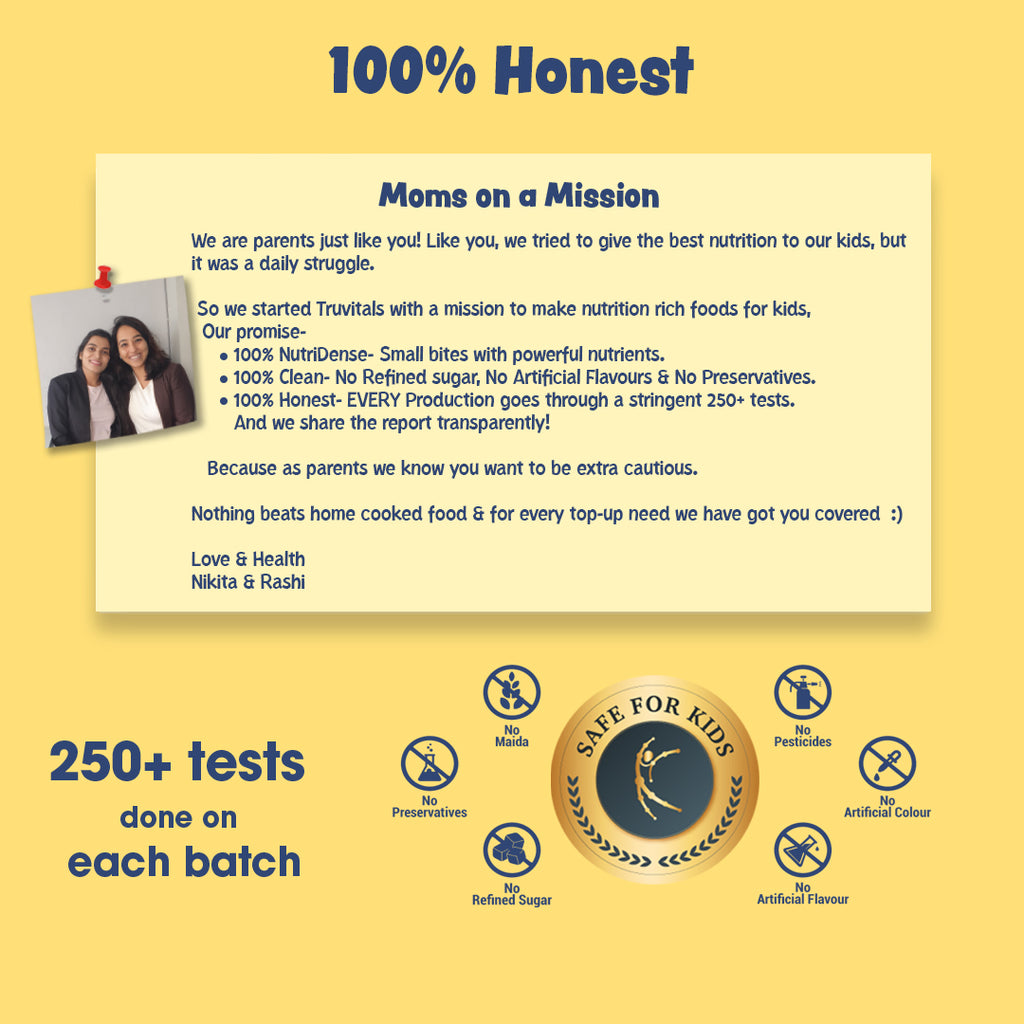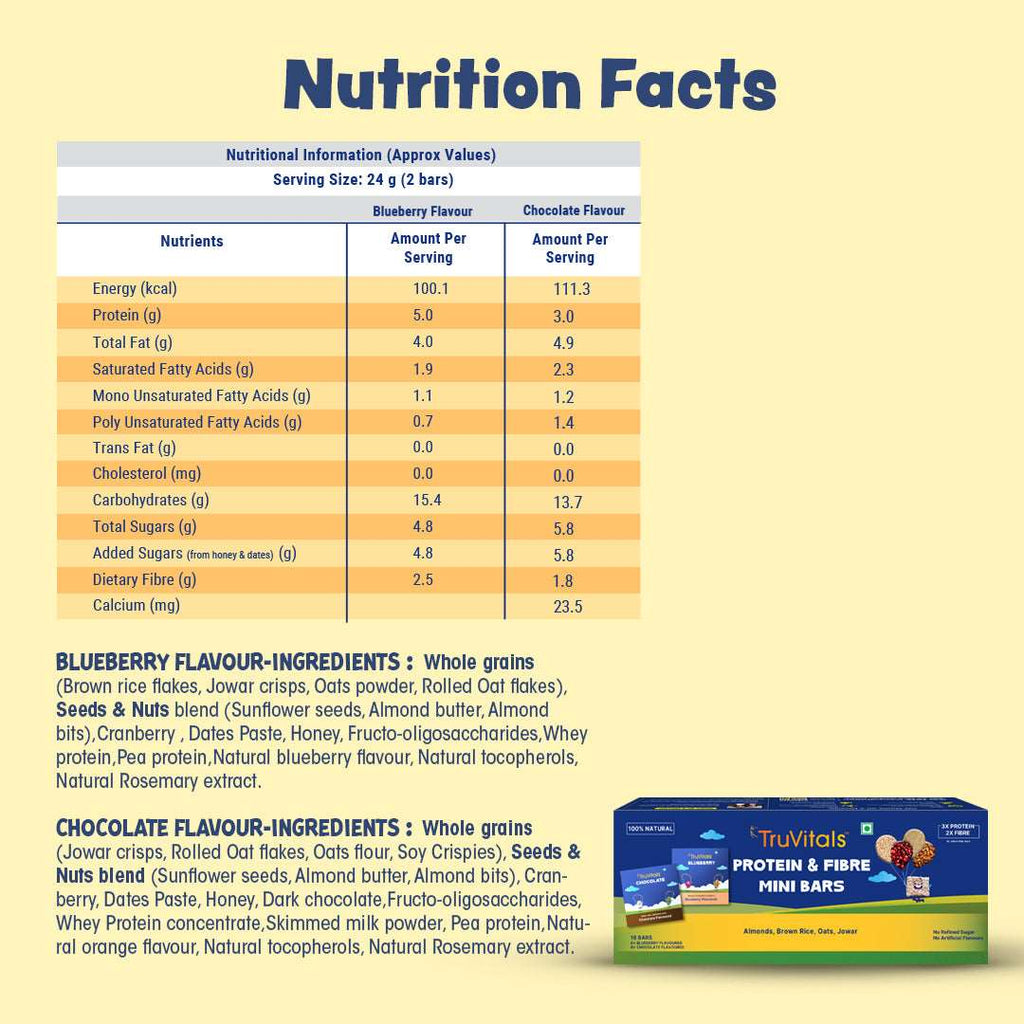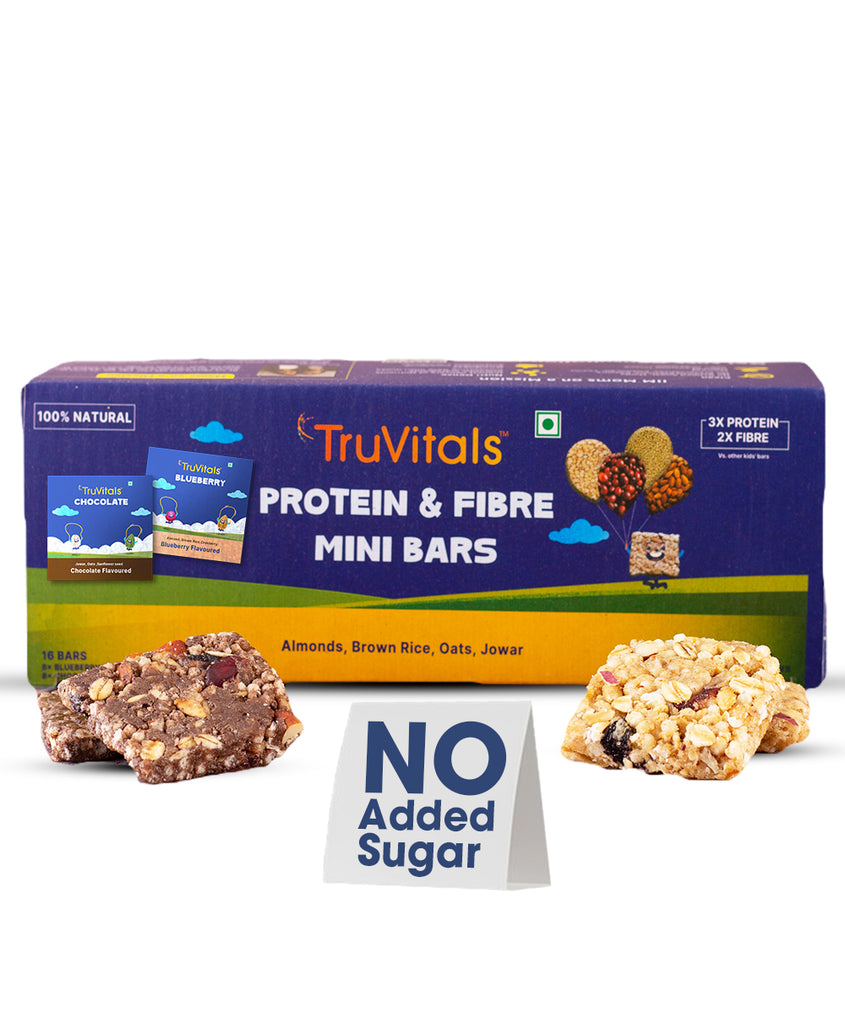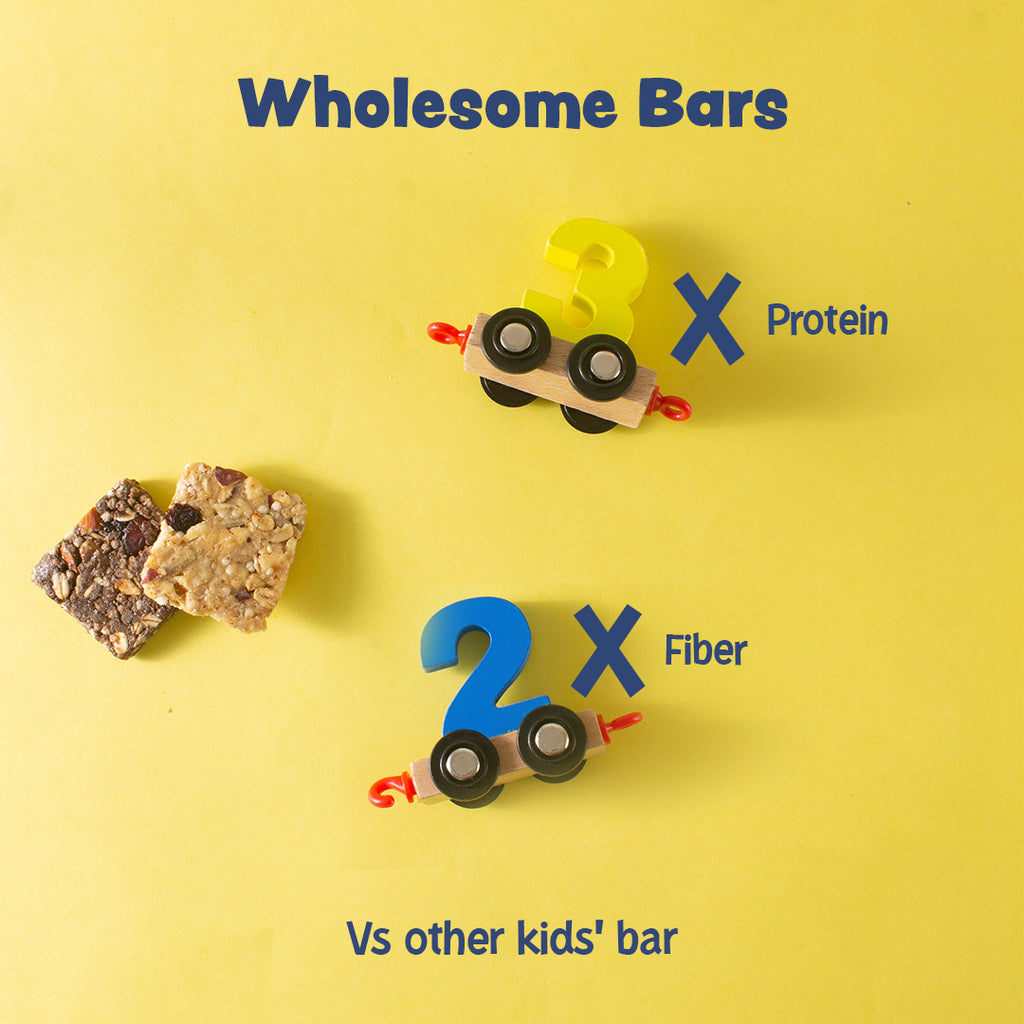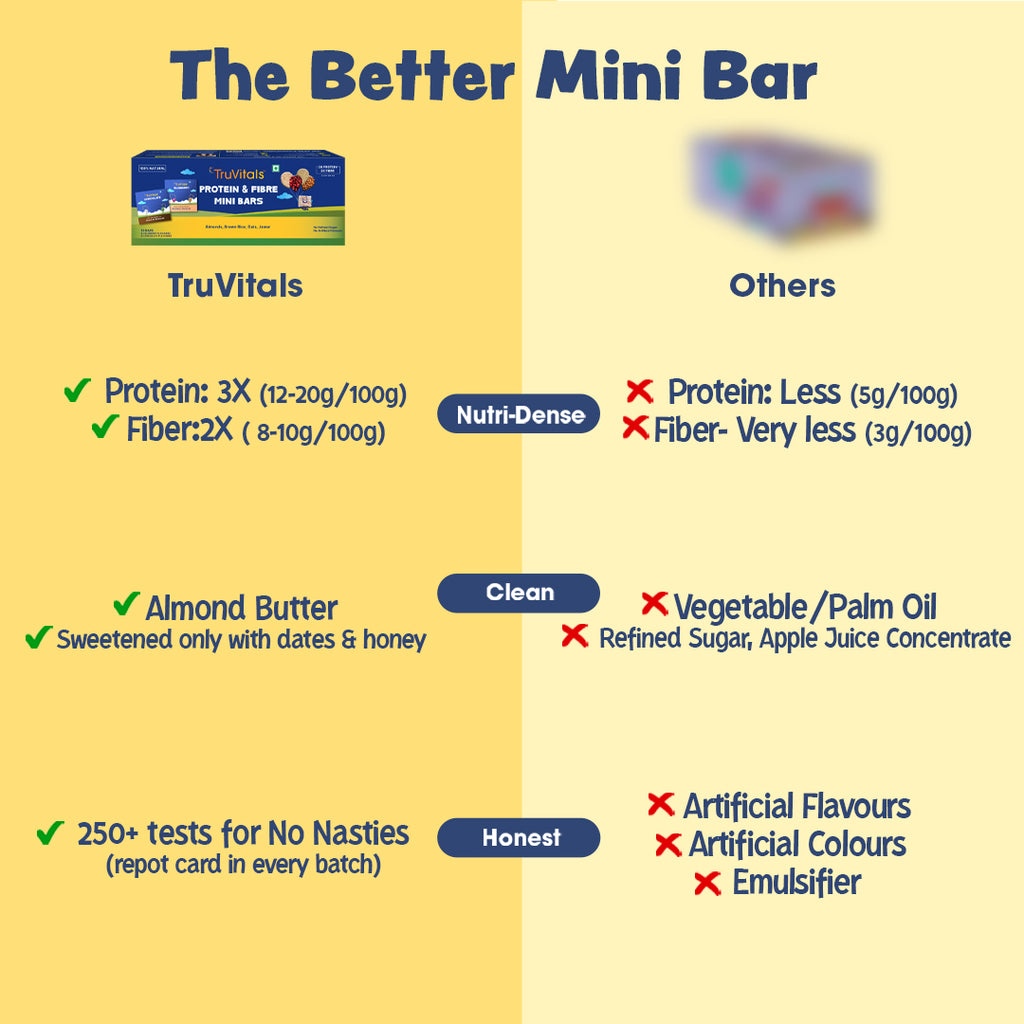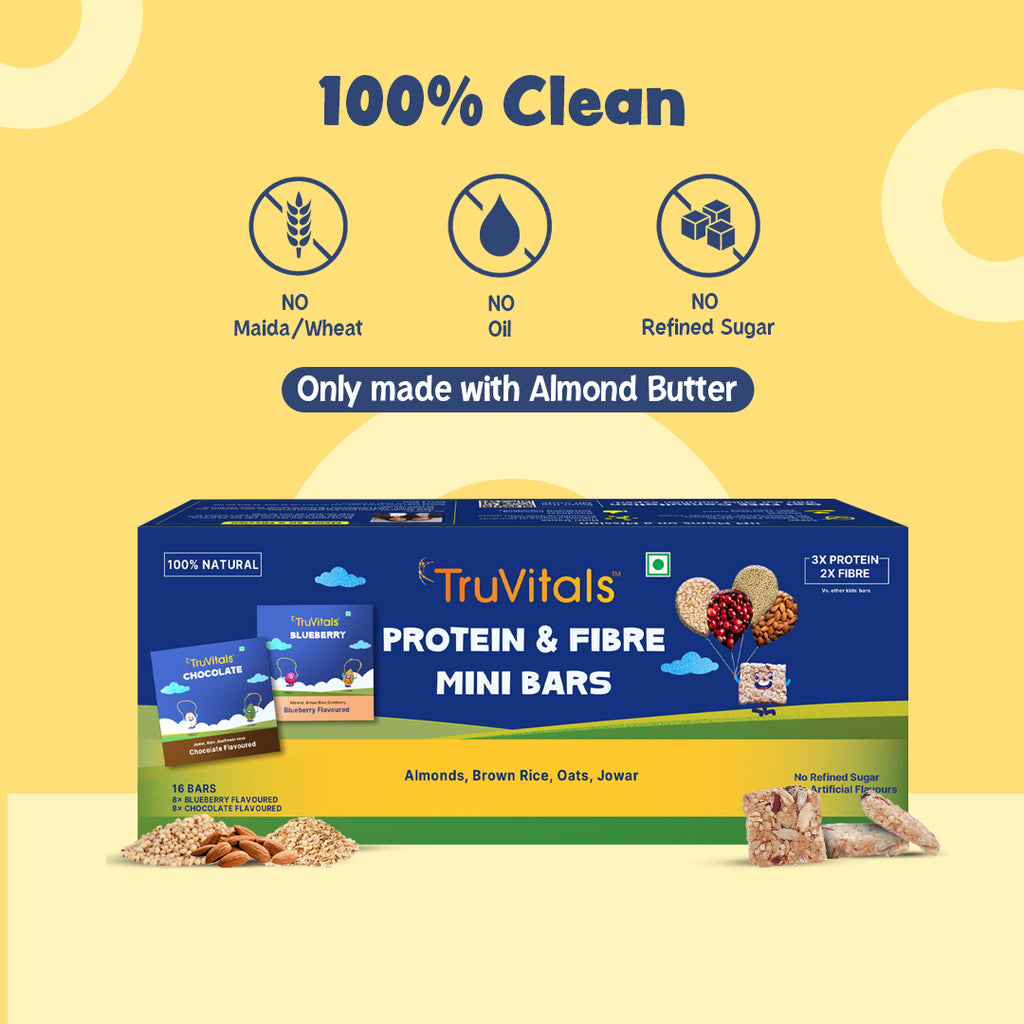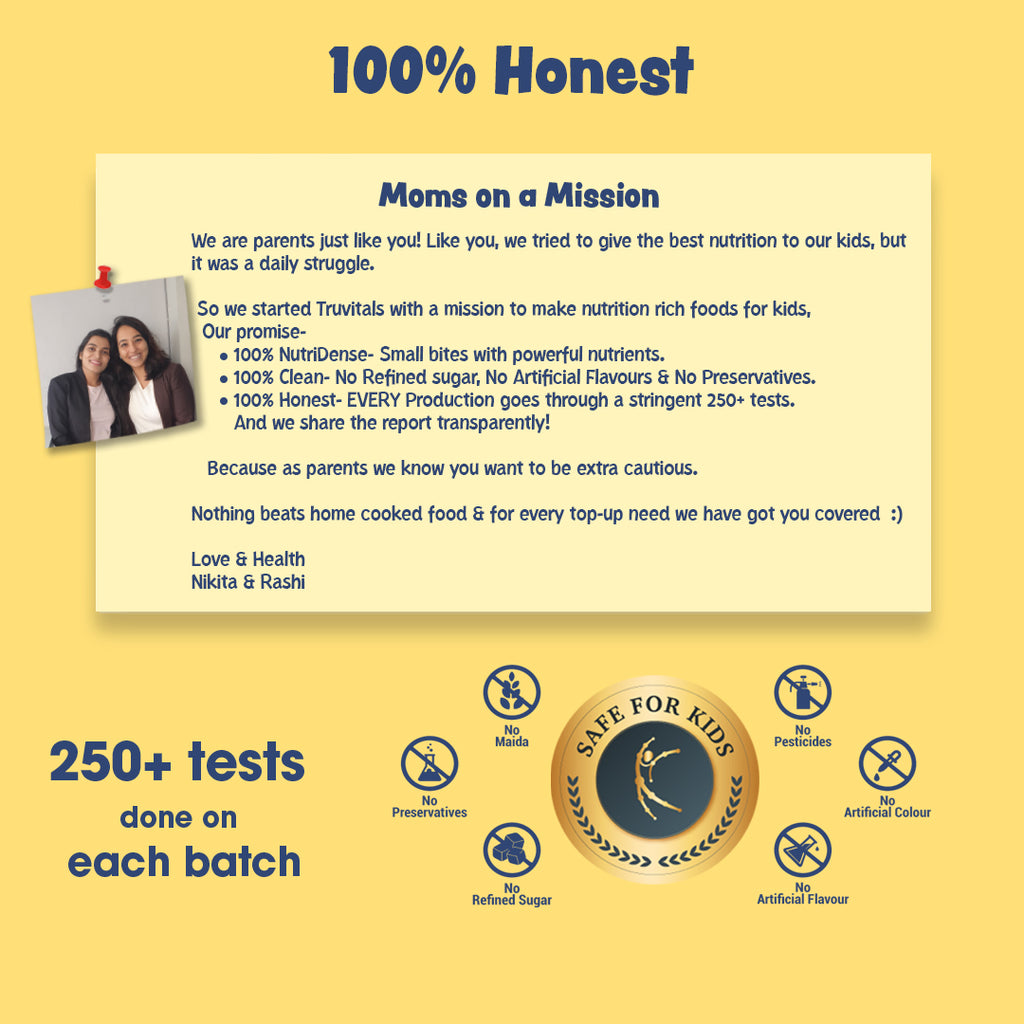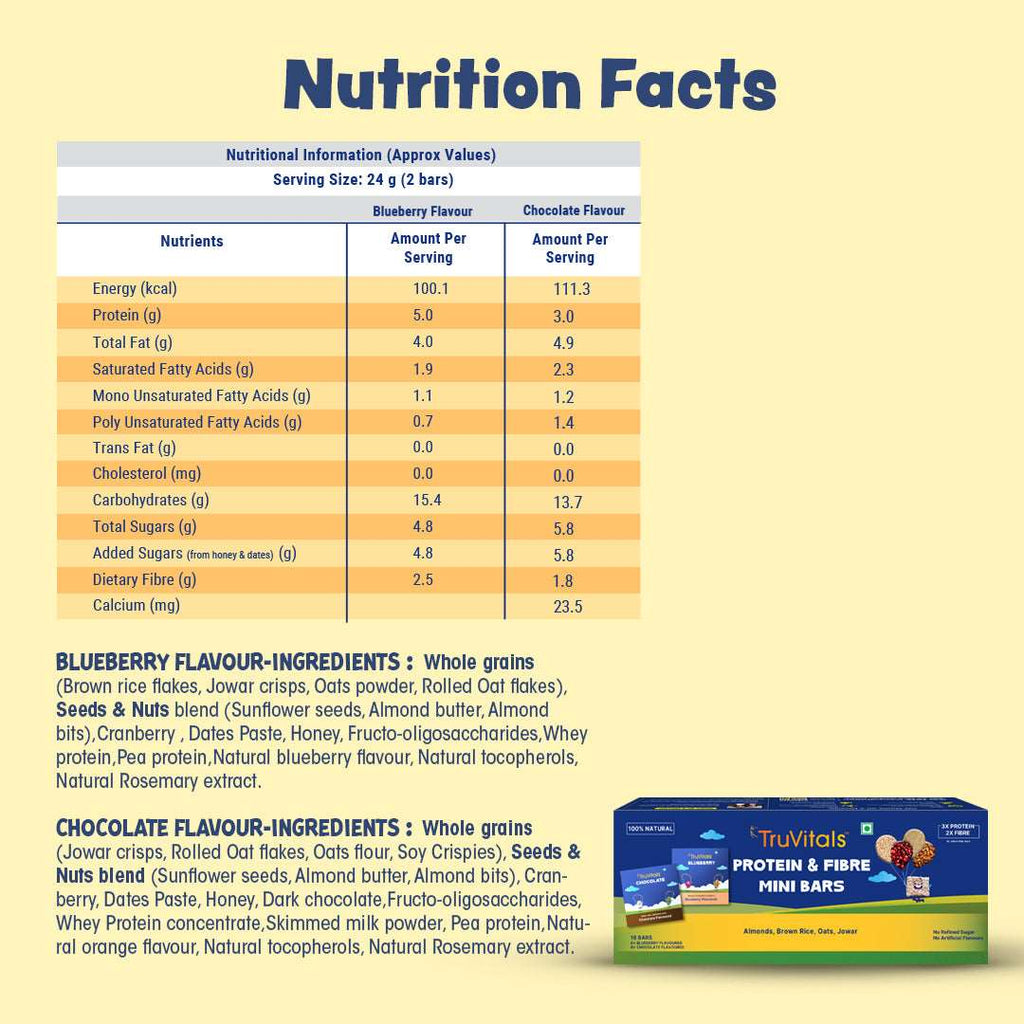 What's Inside
Hero Ingredients
Brown Rice
Brown rice has protein 2.5X of milk, fibre 1.5X of apple & is rich in antioxidants that promotes feeling of satiation
Jowar
Jowar has protein 2.5X of milk, fiber 3X of apple & magnesium which helps in bone formation
Oats
Oats has protein 3.5X of milk, fiber 3X of apple & it helps in feeling full for longer & promotes healthy bacteria in gut
Nuts & Seeds
Almonds & Sunflower seeds have protein 6X of milk, fiber 5X of apple which supports immune system & boosts energy
Health Benefits
Protein
Increases Strength
Fibre
Improves Gut Health & Aids in Digestion
FAQs
TruVitals Protein & Fibre Minibars are made with brown rice flakes, jowar crisps, rolled oat flakes, nuts & seeds. It is enriched with almonds, sunflower seeds, cranberry & dates. It has no maida, no refined sugar. It is a rich source of protein & fibre.
Yes, have it as a healthy snack & tiffin bites.
Absolutely! TruVitals minibars are delicious and are an absolute favourite amongst kids.
TruVitals Protein & Fibre Minibar are soft in texture and can be consumed by any kids who has learnt to chew properly. There is no age limit for our tasty yet super healthy minibar !
Most minibars in the market are made with refined sugar, vegetable/palm oil, artificial flavors. Our minibars are made of natural ingredients like brown rice, oats, jowar & almonds. Hence our minibars are super nutritious.
Yummy and healthy
I tried the bars for the first time. They are yummy and healthy. Highly recommended 👌
Great Product! Go for it!!
This is a really good and healthy snack to give to kids. No added sugar, preservative or artificial ingredients. Made with Oats, cashews, almonds etc. It really is a good option for kids. Comes in a bar form which makes eating it easier.
Must try!
I just love the flavours and it actually satisfies my craving for sweets, and it's healthy too!!
Worth it!!
My 10 years old enjoys it very much. You can taste the berries and almonds. It tastes safe and delicious. At the same time, it's filling too. When you're traveling n you have a fussy eater, these bars can save you.