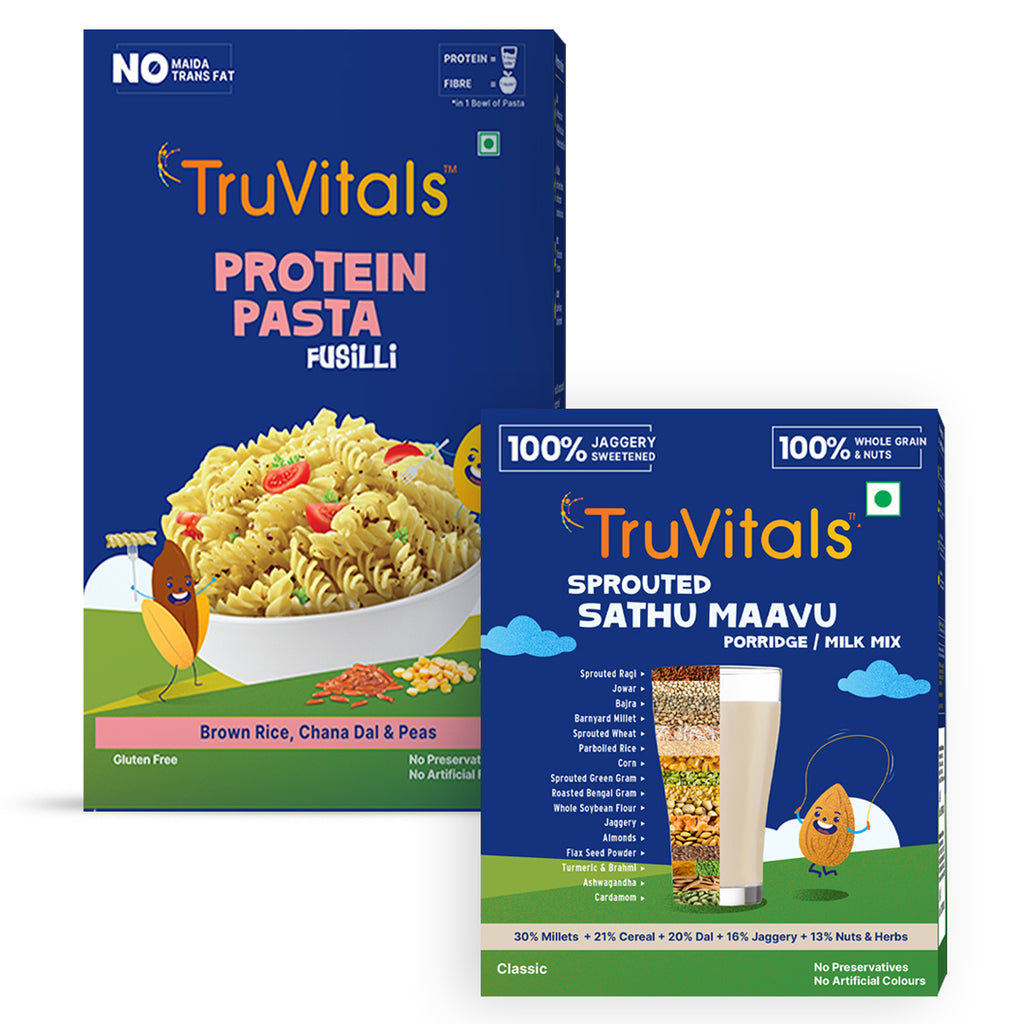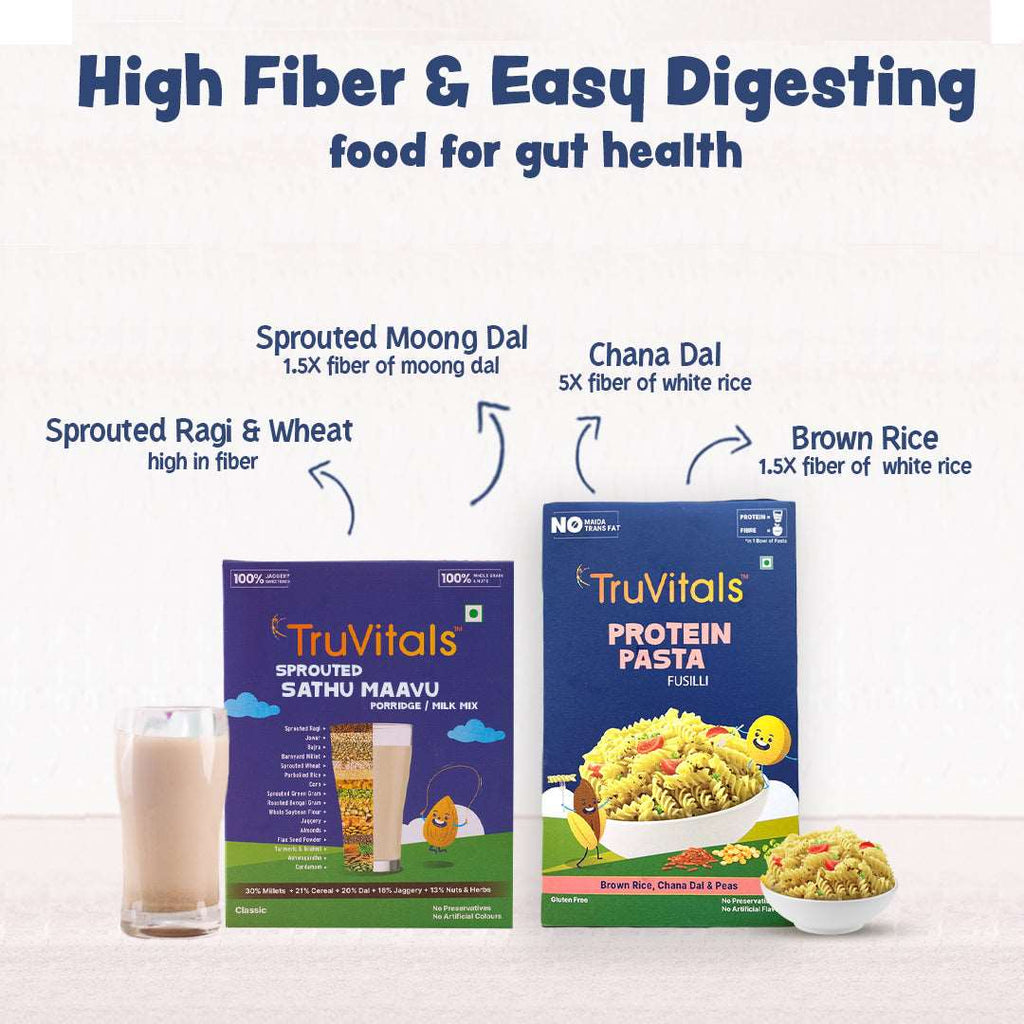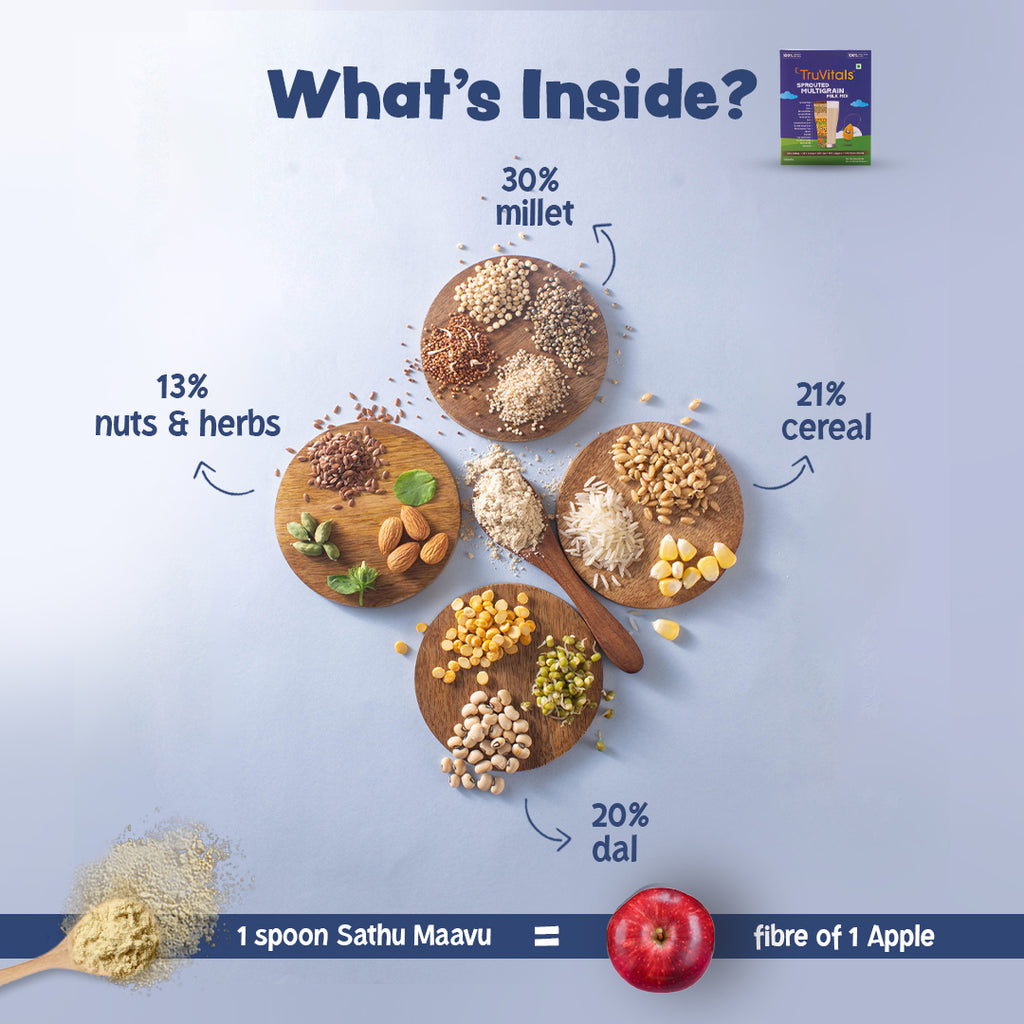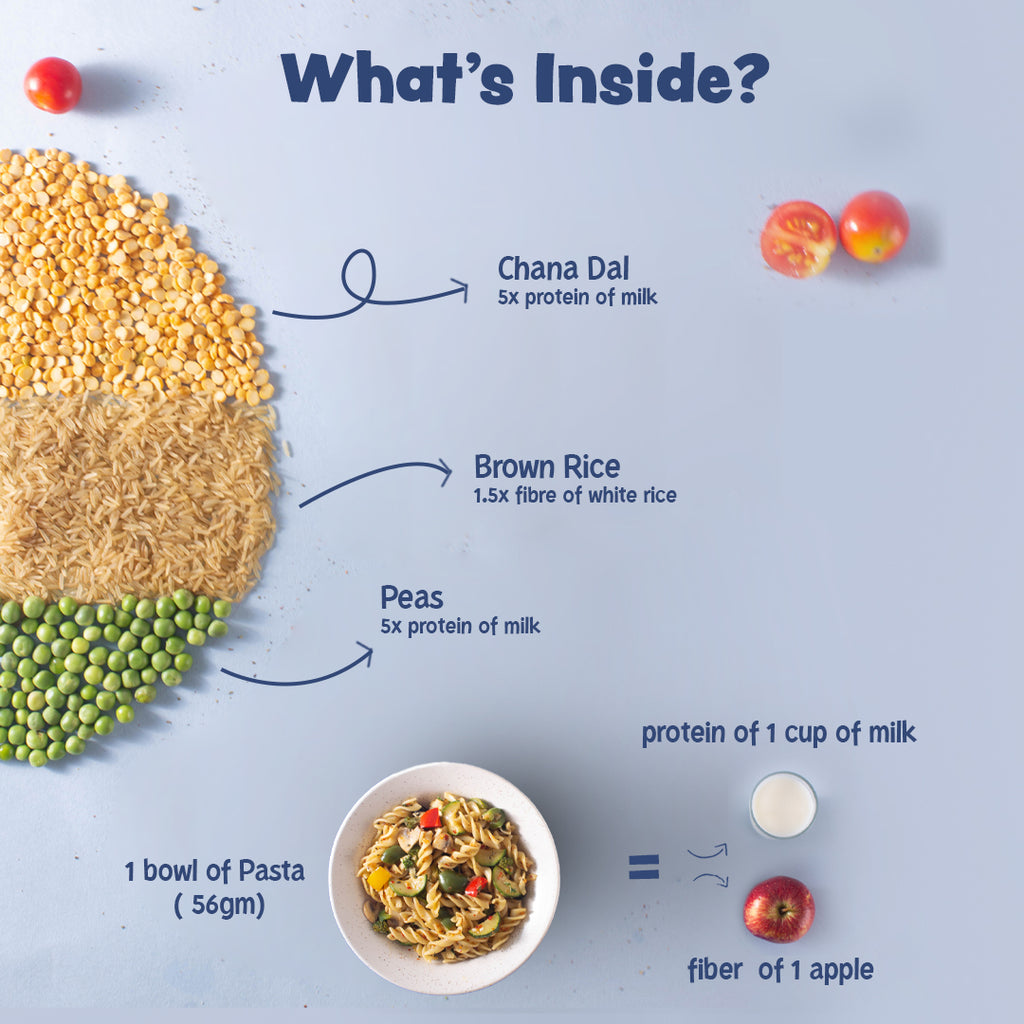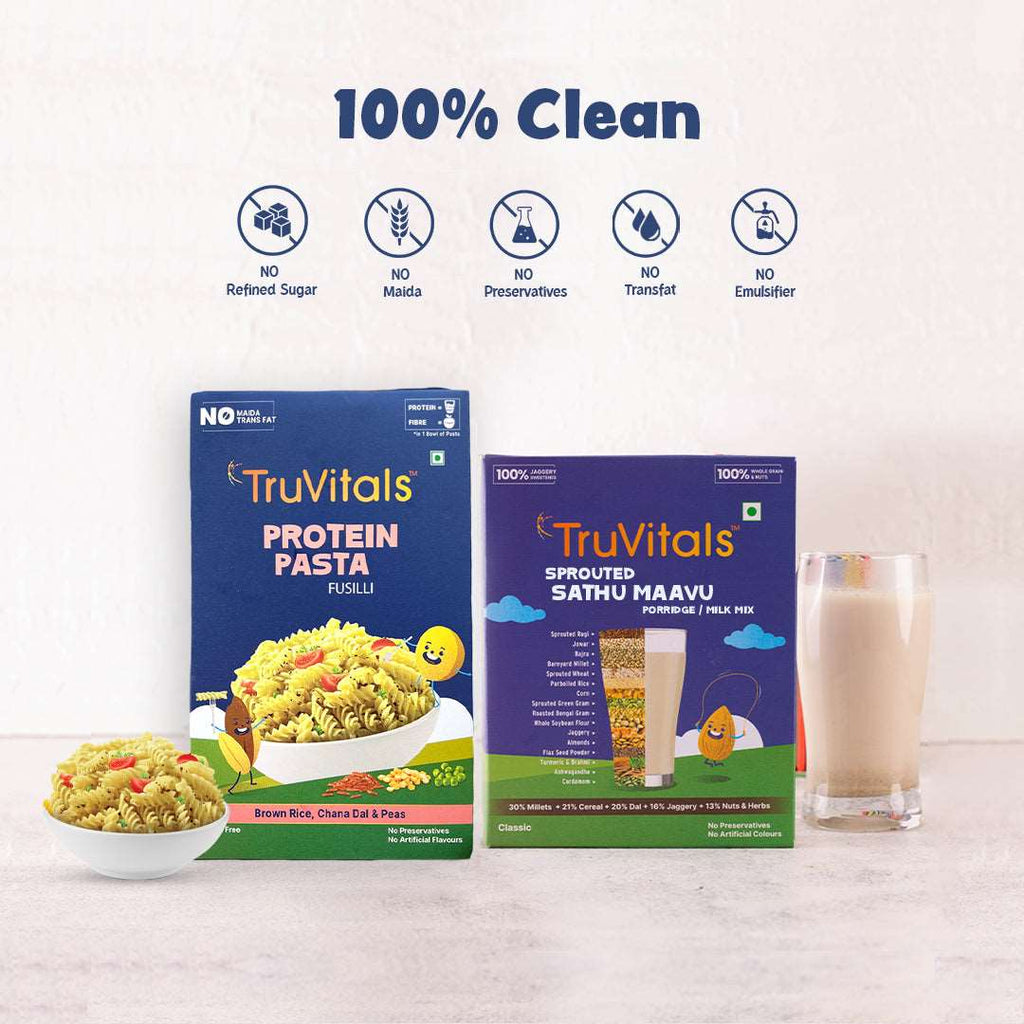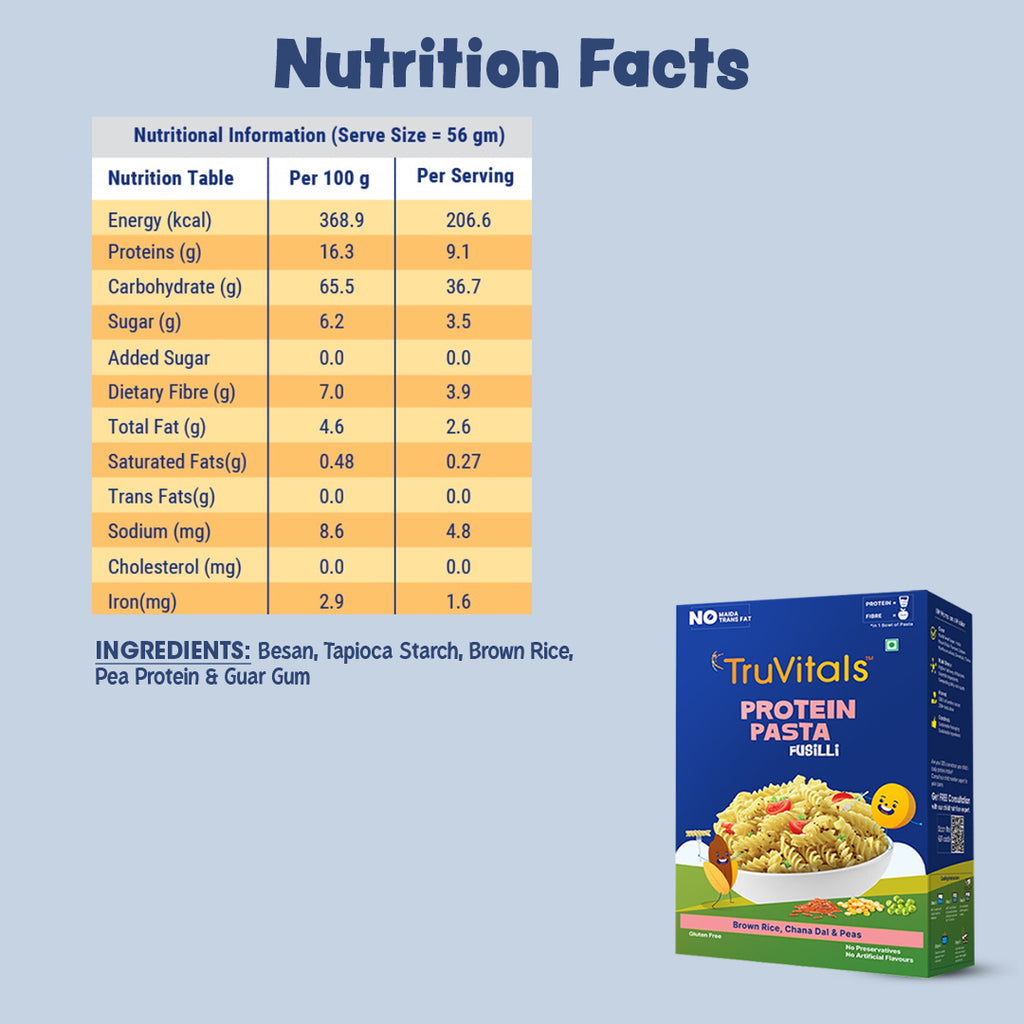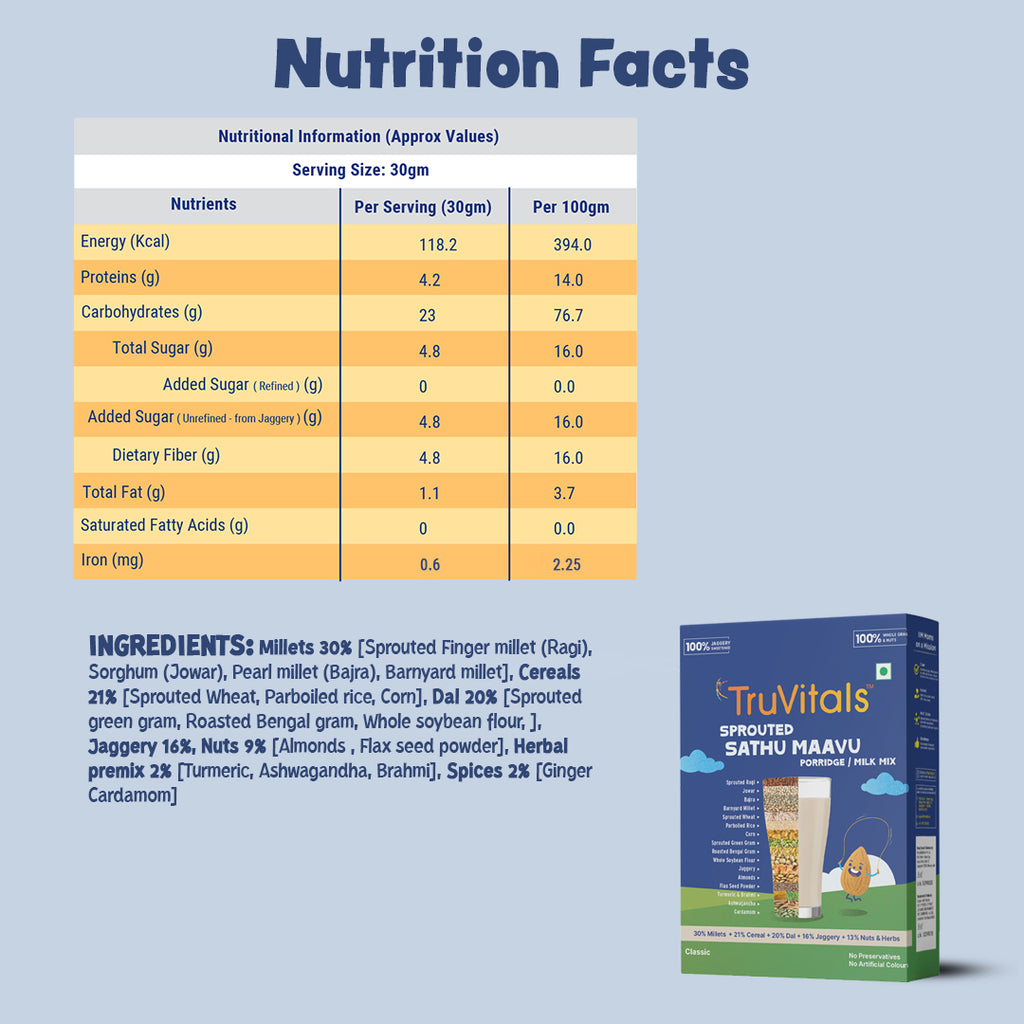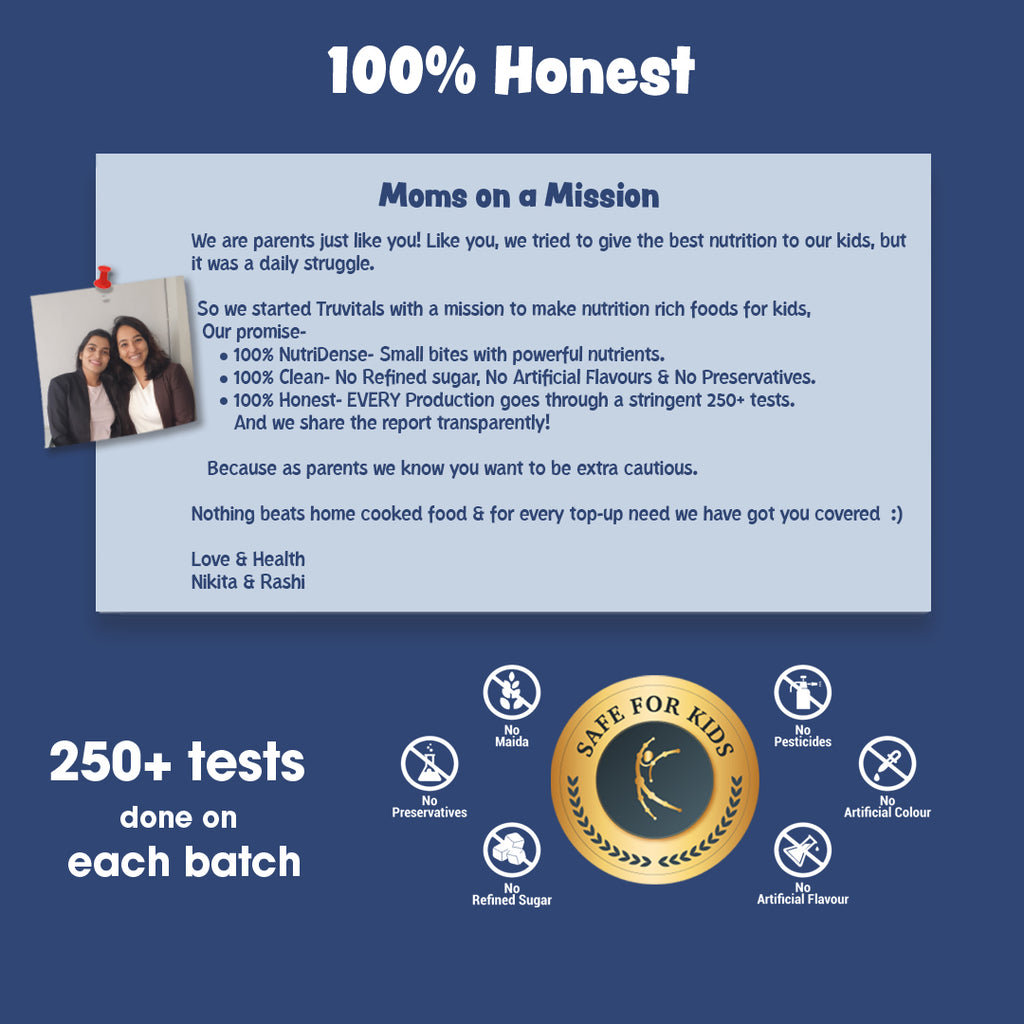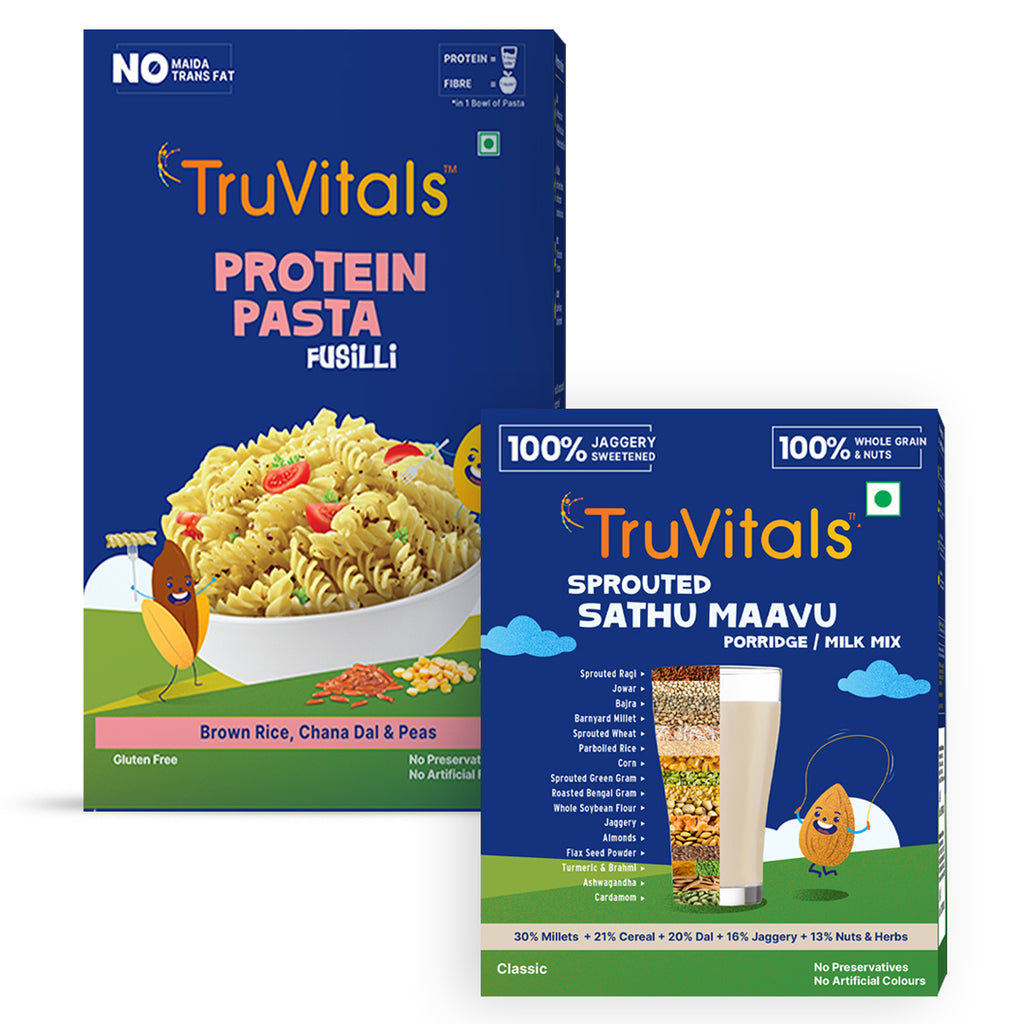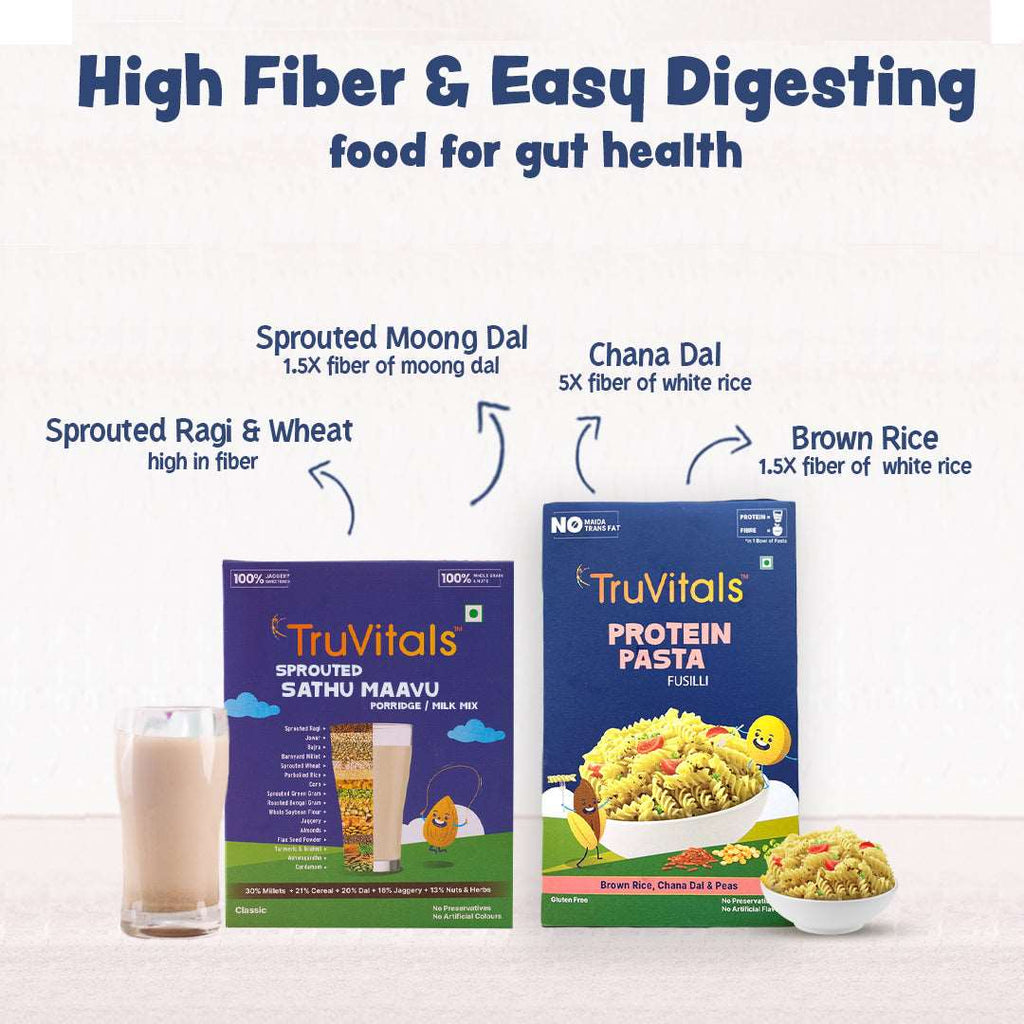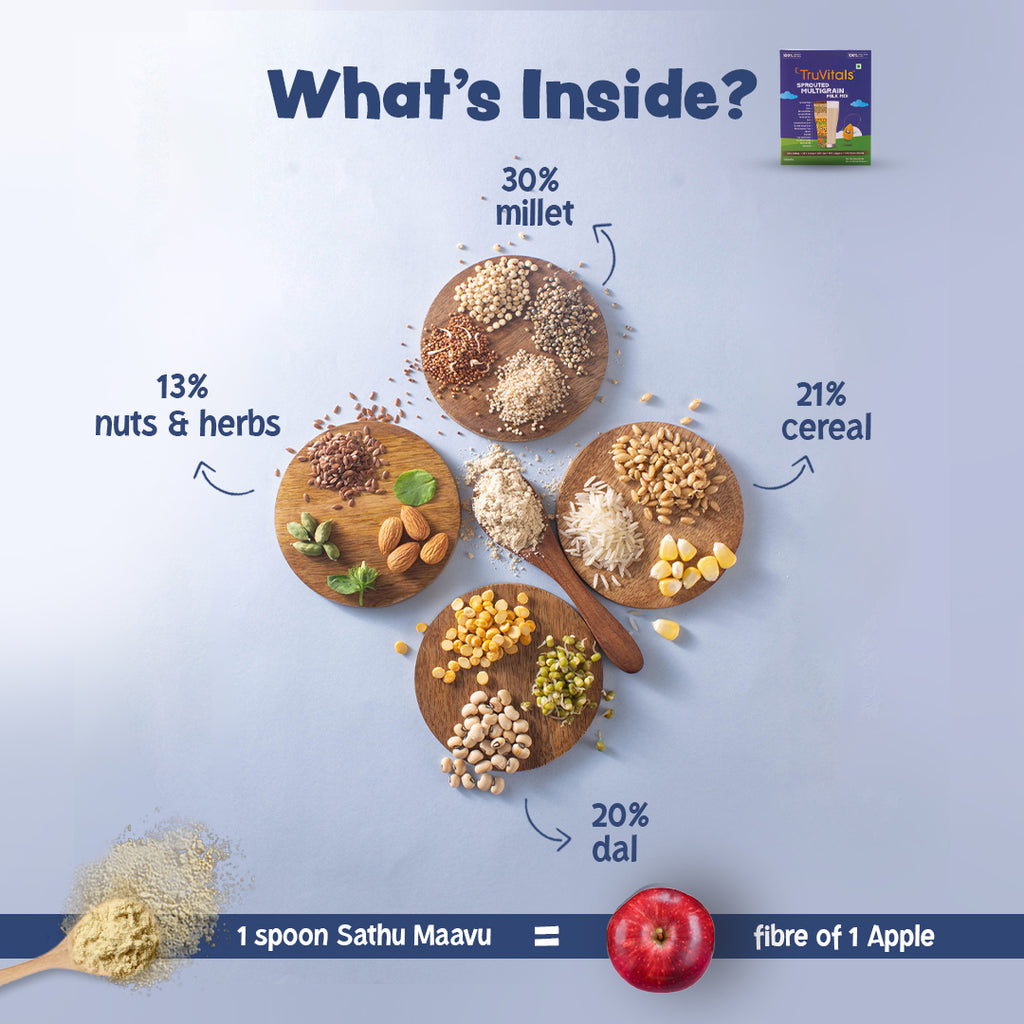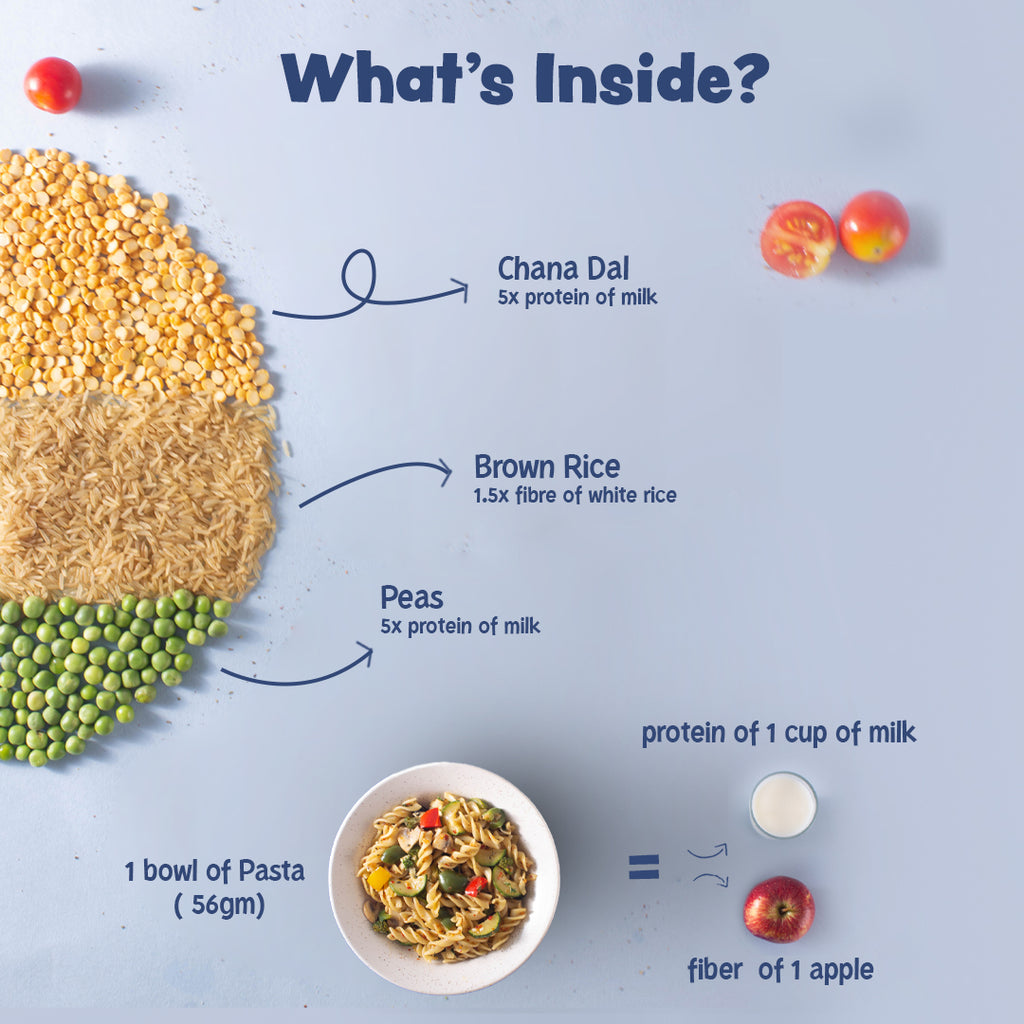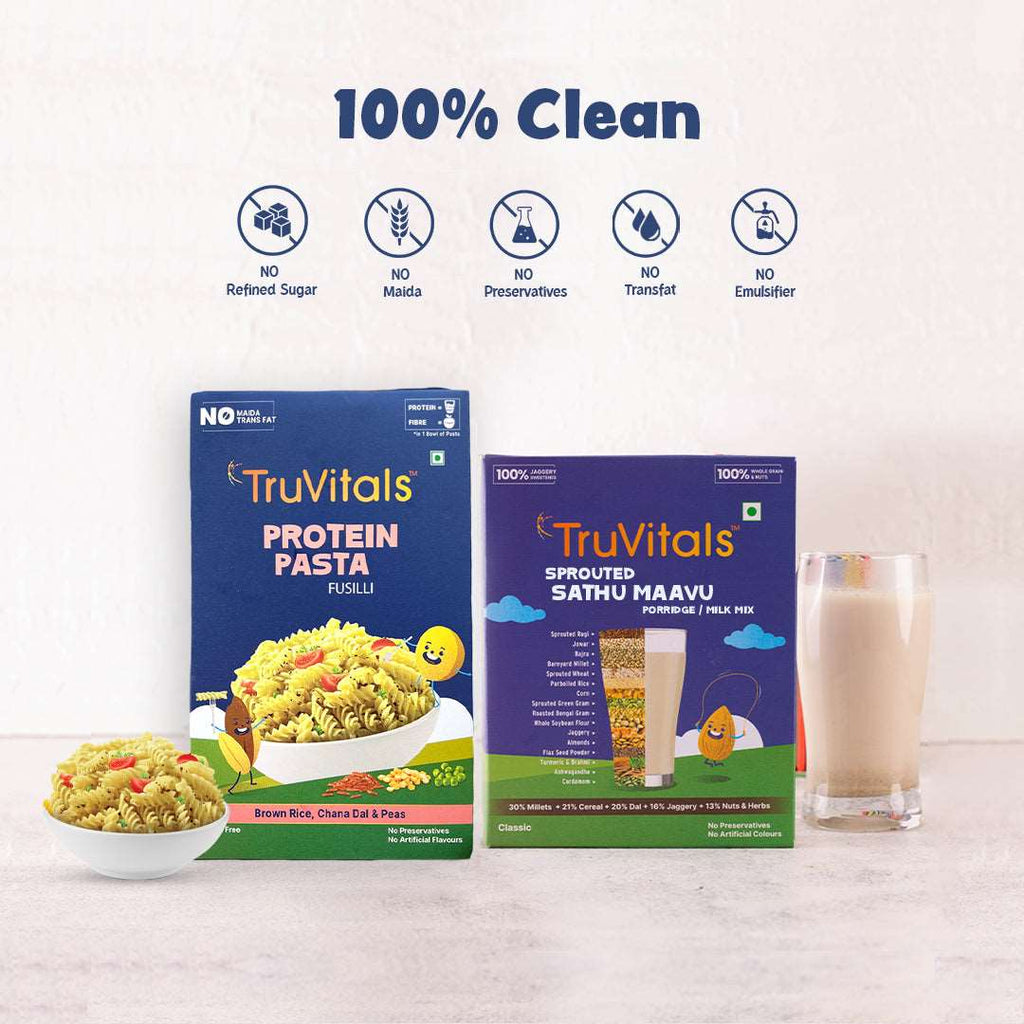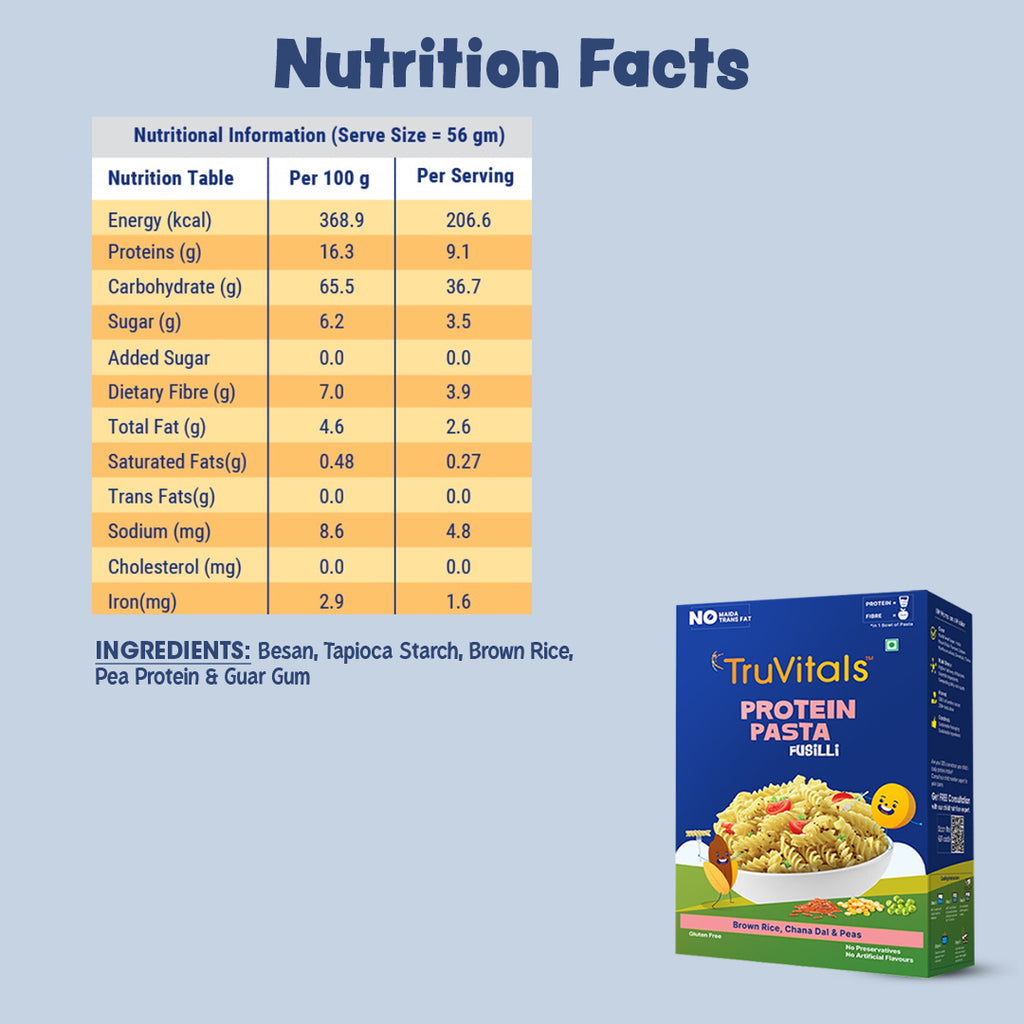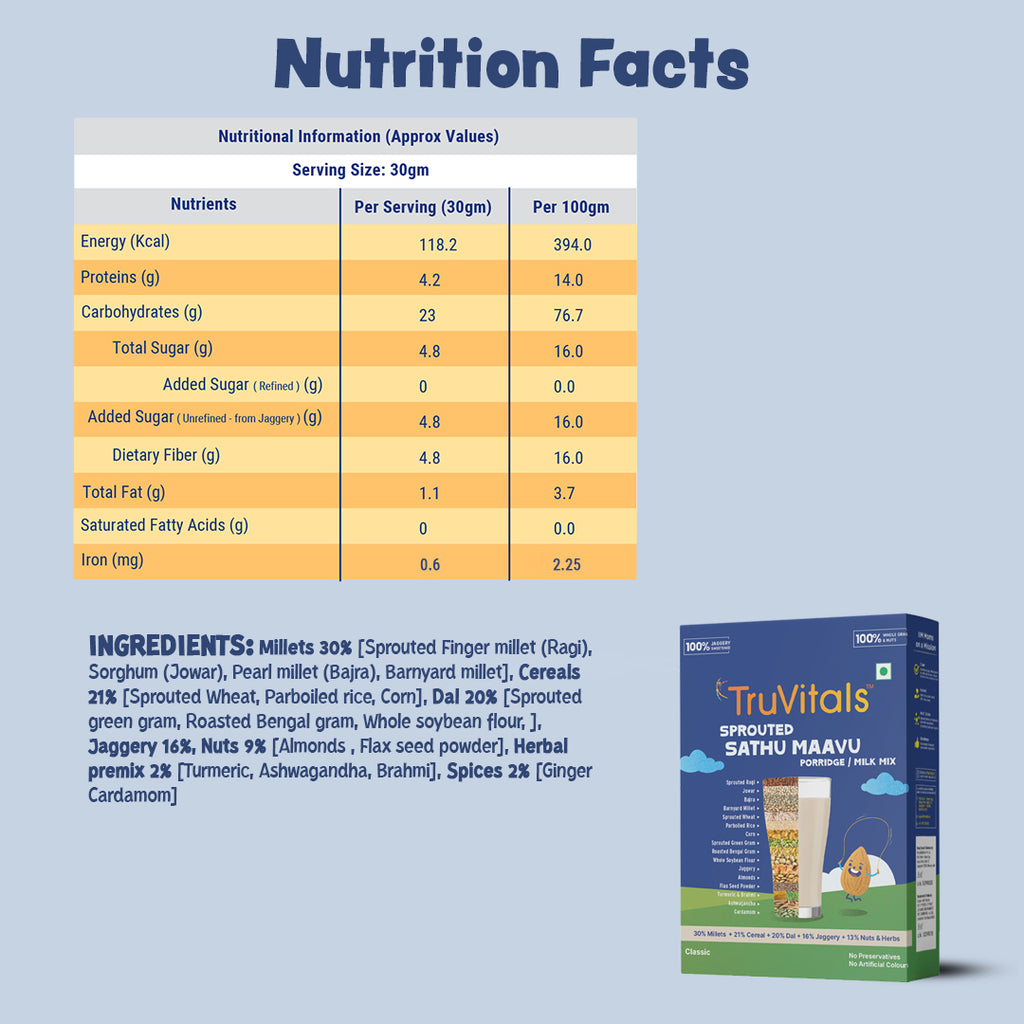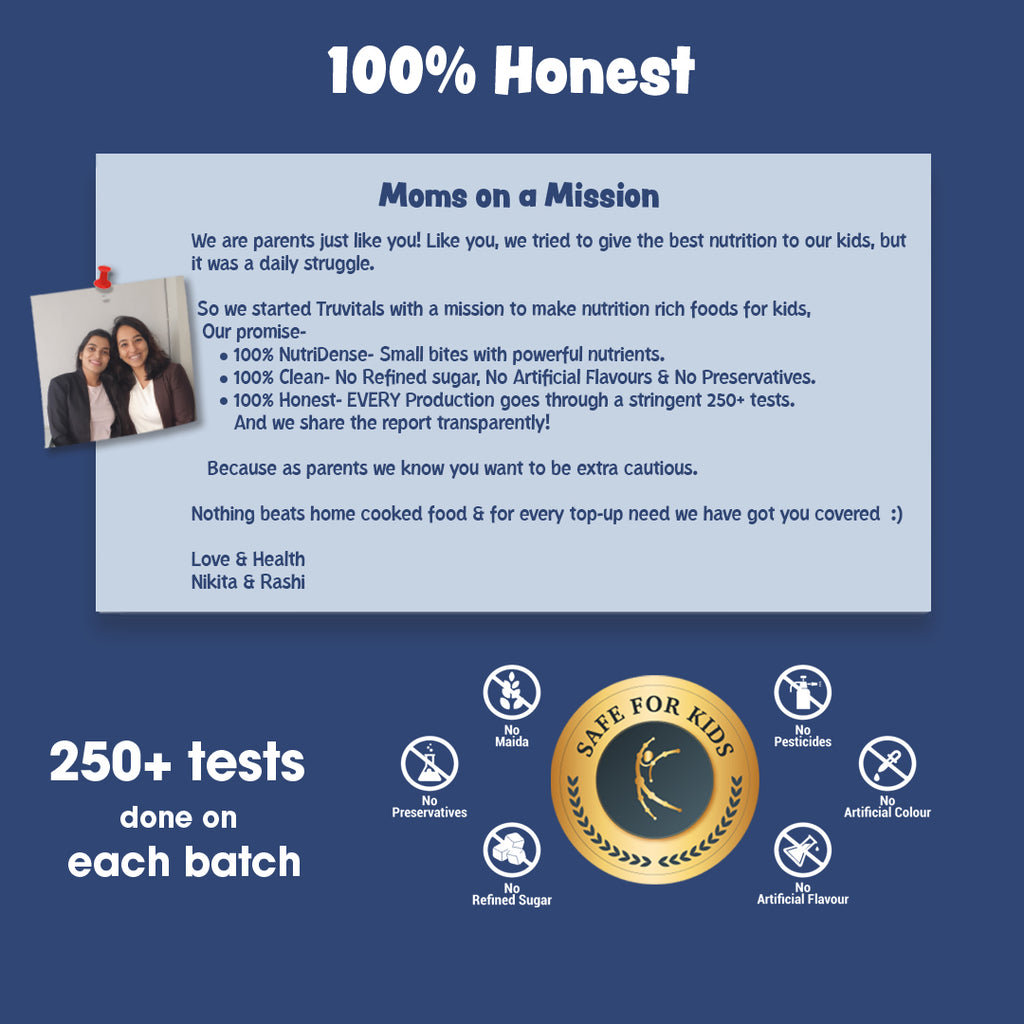 Sprouted Grains
Sprouting enhances nutrient availability and easy absorption. Sprouted ragi has 10X calcium of wheat/rice
Millets/Cereals
Sprouted Sathu Maavu is 30% Millets, 21% Cereal, 20% Dal, 9% Nuts which provides all essential nutrients & is rich in fibre
Brown Rice
Brown rice has 2X fibre of an apple & is rich in minerals and antioxidants which promotes feeling of satiation
Chana Dal
Chana dal has 7X fibre of an apple & which improves gut health & aids digestion
Health Benefits
FAQs
Sprouted Sathu Maavu has 16 gm fiber per 100 gm (higher than fresh peas/carrots) and Protein pasta has 7 gm dietary fiber per 100 gm (higher than fresh peas and carrots). A good fiber content is beneficial for promoting digestive health,feeding the good bacteria in the gut and maintaining healthy weight in children.

Fiber intake can be a problem in kids, as many traditional Indian diets are high in refined carbohydrates and low in fiber. Another challenge is that children may be resistant to trying new foods, particularly if they are not used to eating a lot of fiber.

And hence, we have consciously made our Protein pasta to ensure that we give sufficient fiber in the meal. It is made of brown rice (1.5X fiber of white rice), chana dal ( 5X fiber of white rice) and peas (6X fiber of white rice), which are all high in fiber and also protein. This makes it a good alternative to traditional pasta, which is typically low in fiber and protein.

Sprouted sathu maavu is made from Sprouted Ragi, Sprouted Wheat , Sprouted Moong dal, millets, dals & grains. All of these are high in fiber and protein. Sprouting increases the nutrient content of these ingredients and makes them easier to digest and hence it is good for gut.

Opting for a combo of fiber-rich foods that are free from preservatives, artificial colors, and flavors can be a great way to help your child meet their daily fiber needs and support a healthy gut.
During early years, kids need Protein and fibre for strength and overall development. Kids also need right combination of food groups for healthy growth. TruVitals Gut Health High Fibre Combo is made with Sprouted Millets, Sprouted Cereals and Dal which makes it Nutridense.
Other pasta in the market is made with maida whereas TruVitals Pasta is made with only brown rice, chana dal & peas. This ensures that the pasta is healthy & rich in fibre which is essential for good gut health and digestion.
TruVitals helps in meeting the daily quota of essential nutrients, designed as per the Indian dietary requirement. Just 30g/serve of Sprouted Sathu Maavu is sufficient to take care of their daily requirement of fibre. For Pasta, the recommended serve size is 56g/serve.
Kids who are 2+ years old can consume TruVitals Gut Health High Fibre Combo. It consists of sprouted whole grains, brown rice, peas, nuts, seeds, natural fibre ingredients.
Rich in fibre
This combo is rich in fiber and aids digestion... Made with all natural ingredients so safe for kids.. the pasta is made with brown rice and not maida... The sathu maavu helps in keeping kids fuller for long.. Totally loved it
Tasty and healthy
Made with all natural ingredients... it has no maida, preservatives, etc... Rich in fiber and protein.. must try for kids
Must try!
Try This gut friendly combo... its rich in fiber and made with natural ingredients.. the pasta takes around 6-8 mins to cook i think... overall good
Try it!
Loved the combo. It rich in fiber and made with clean ingredients.. recommended for kids..