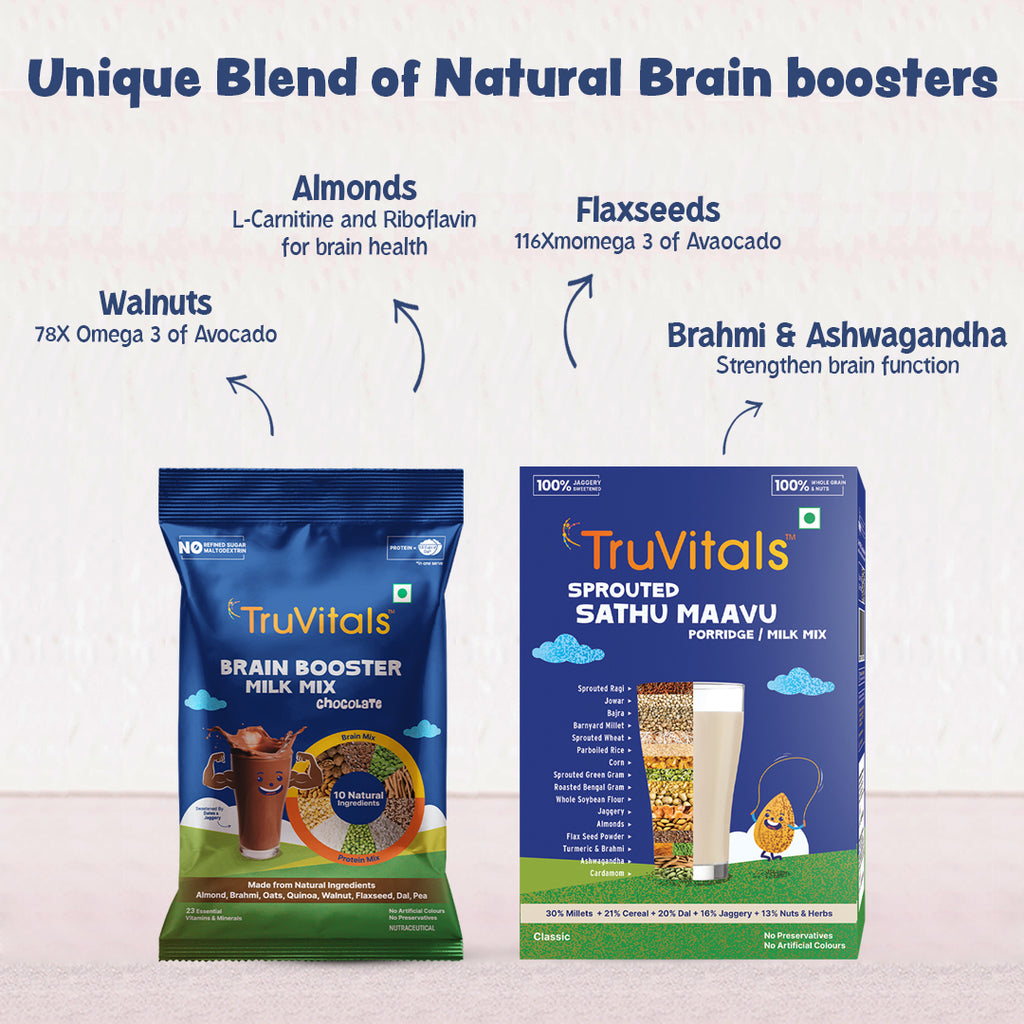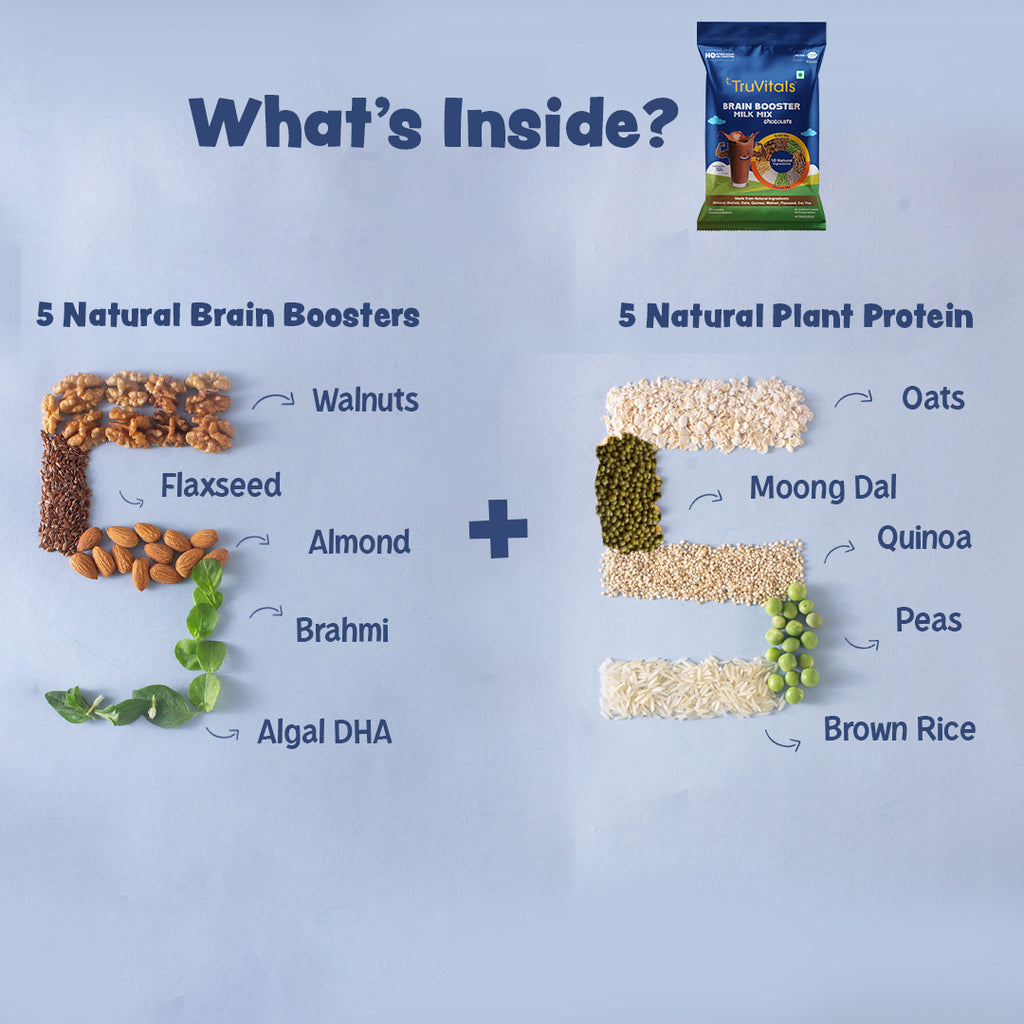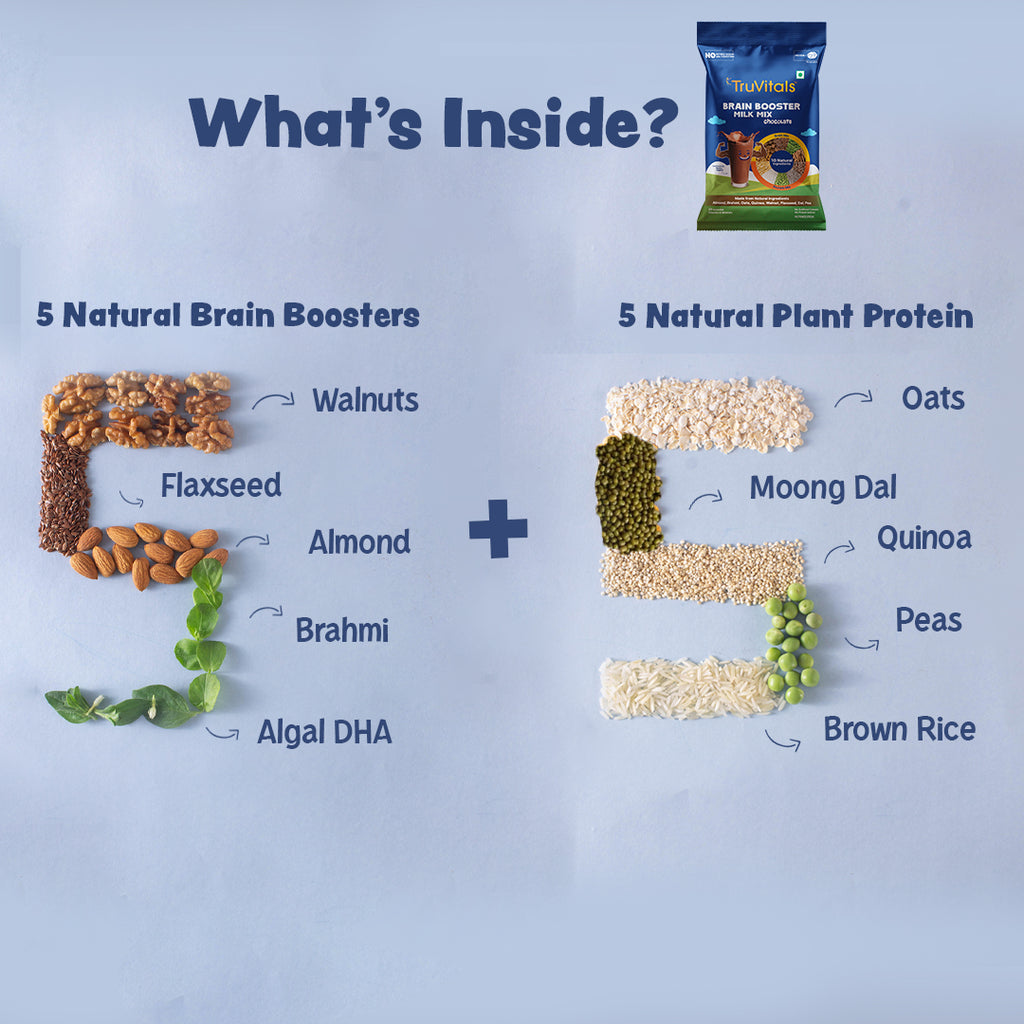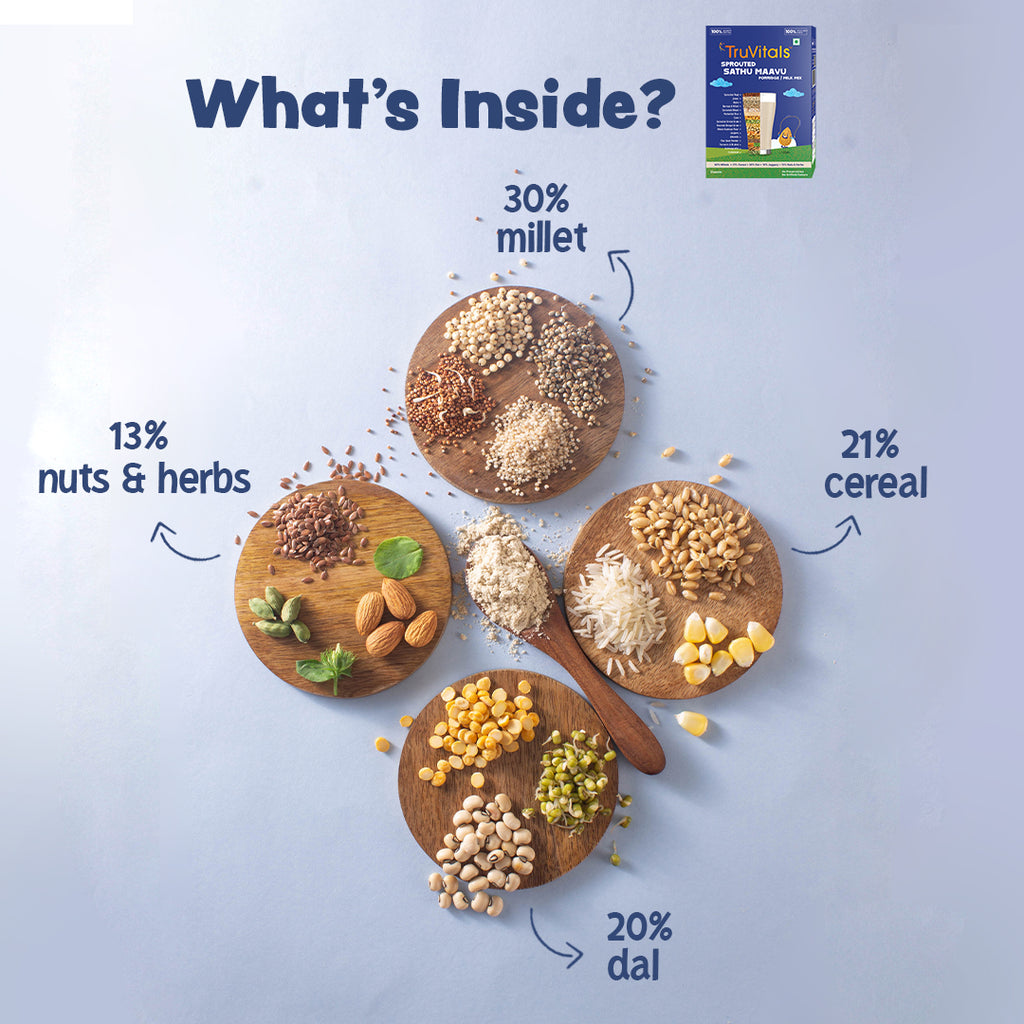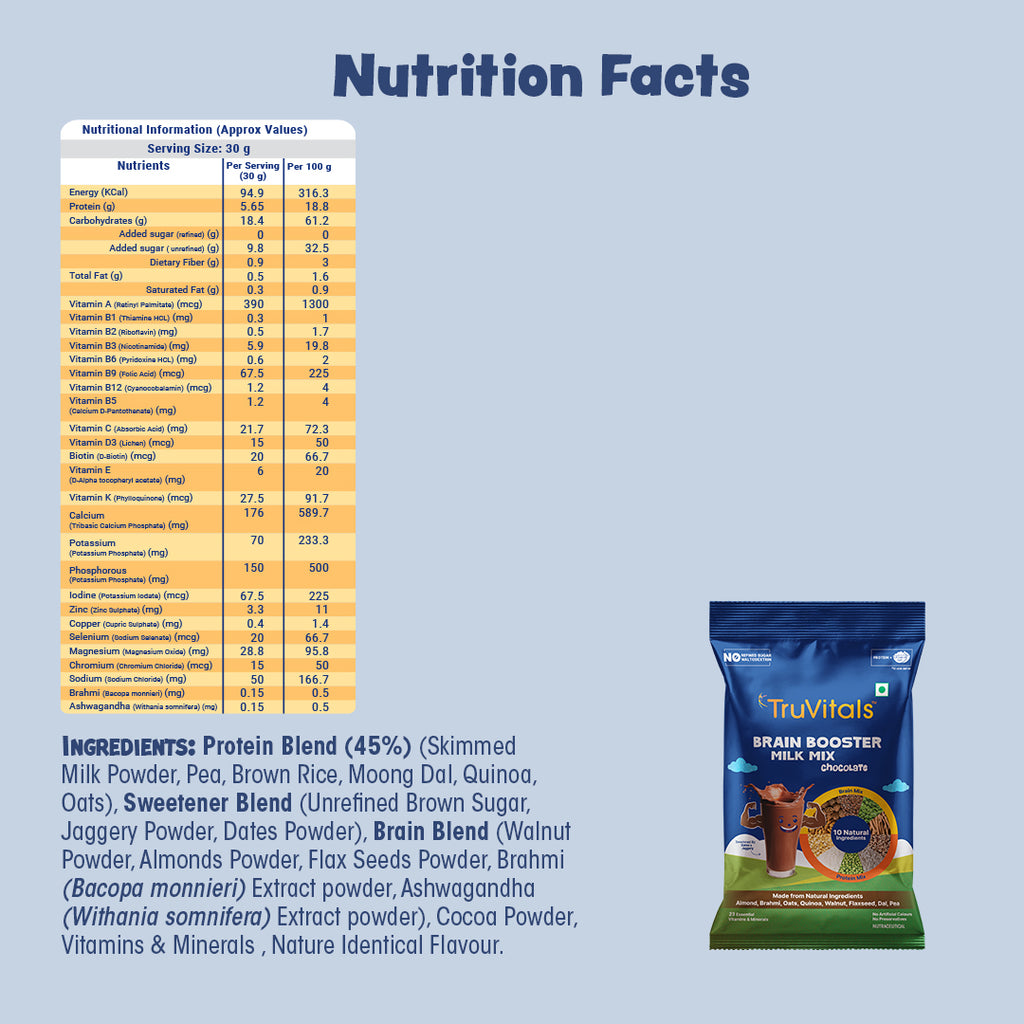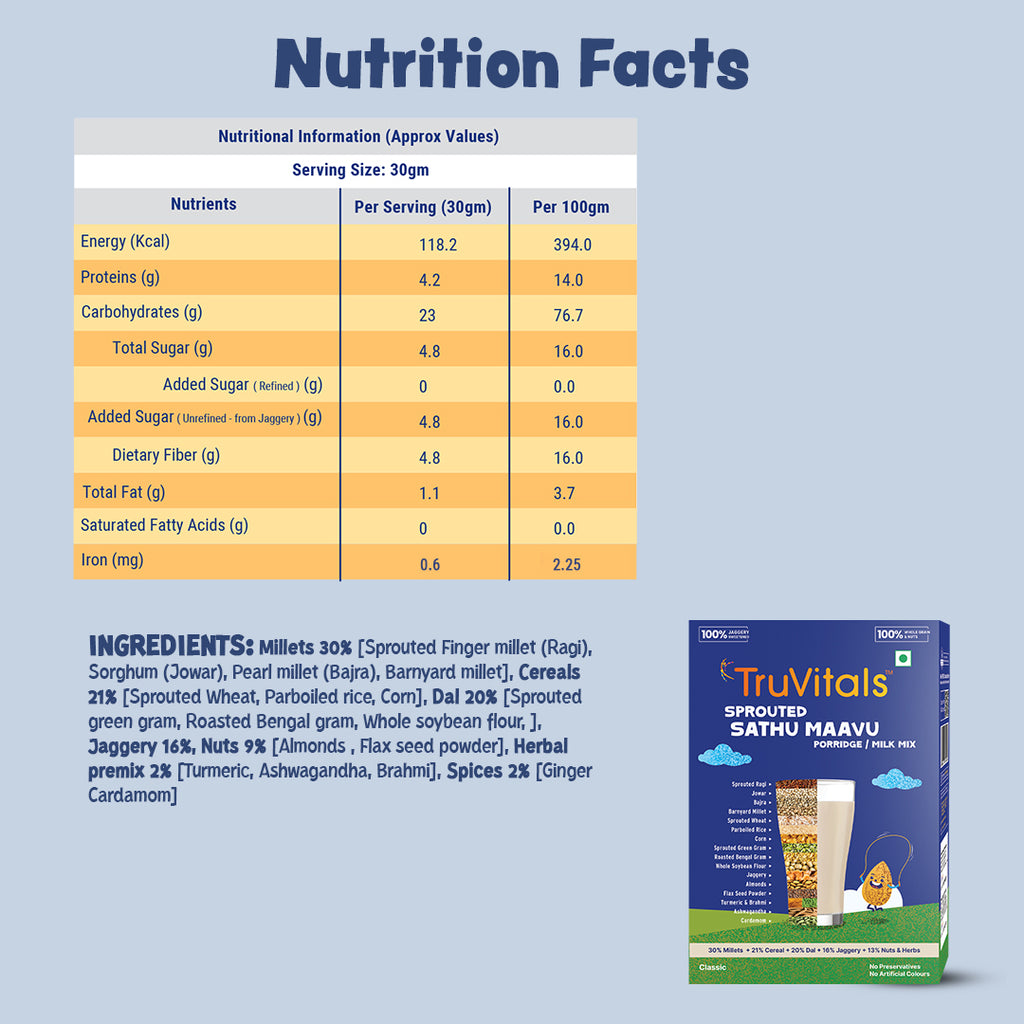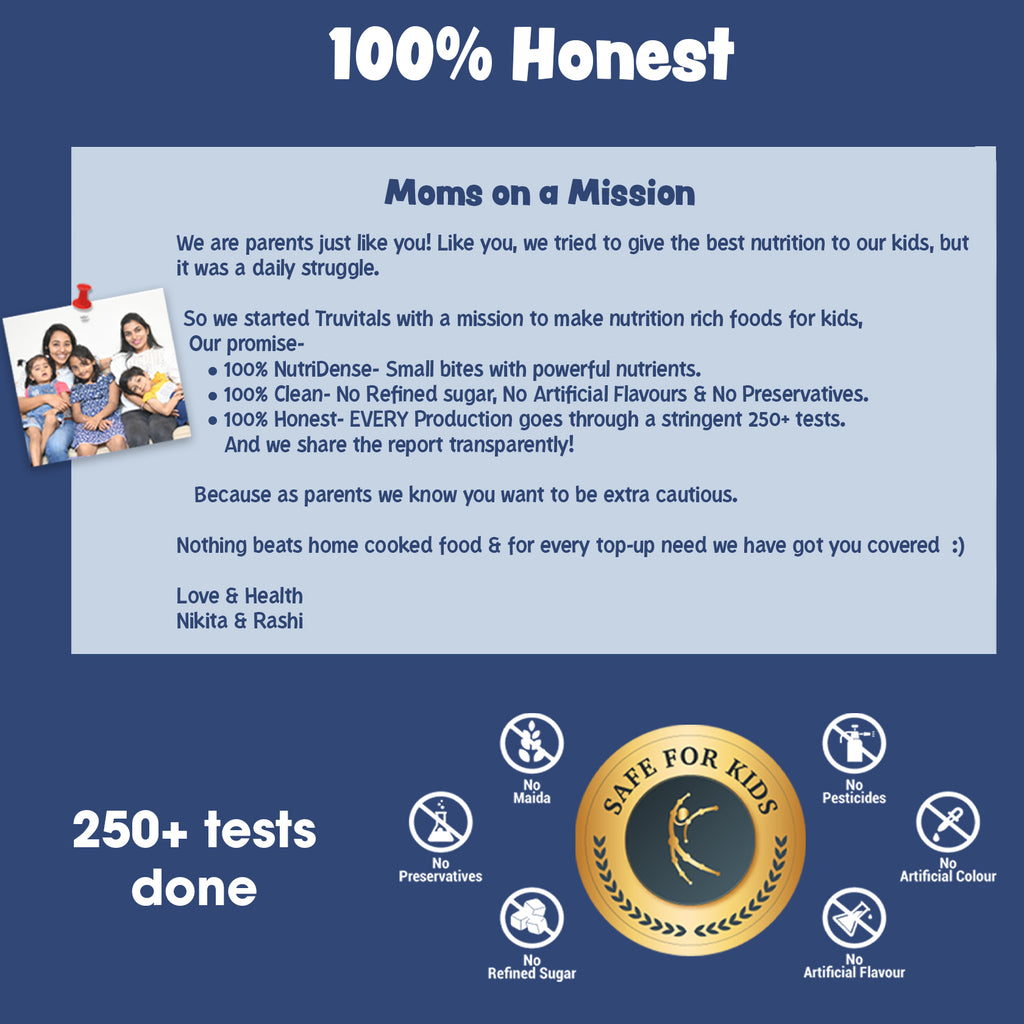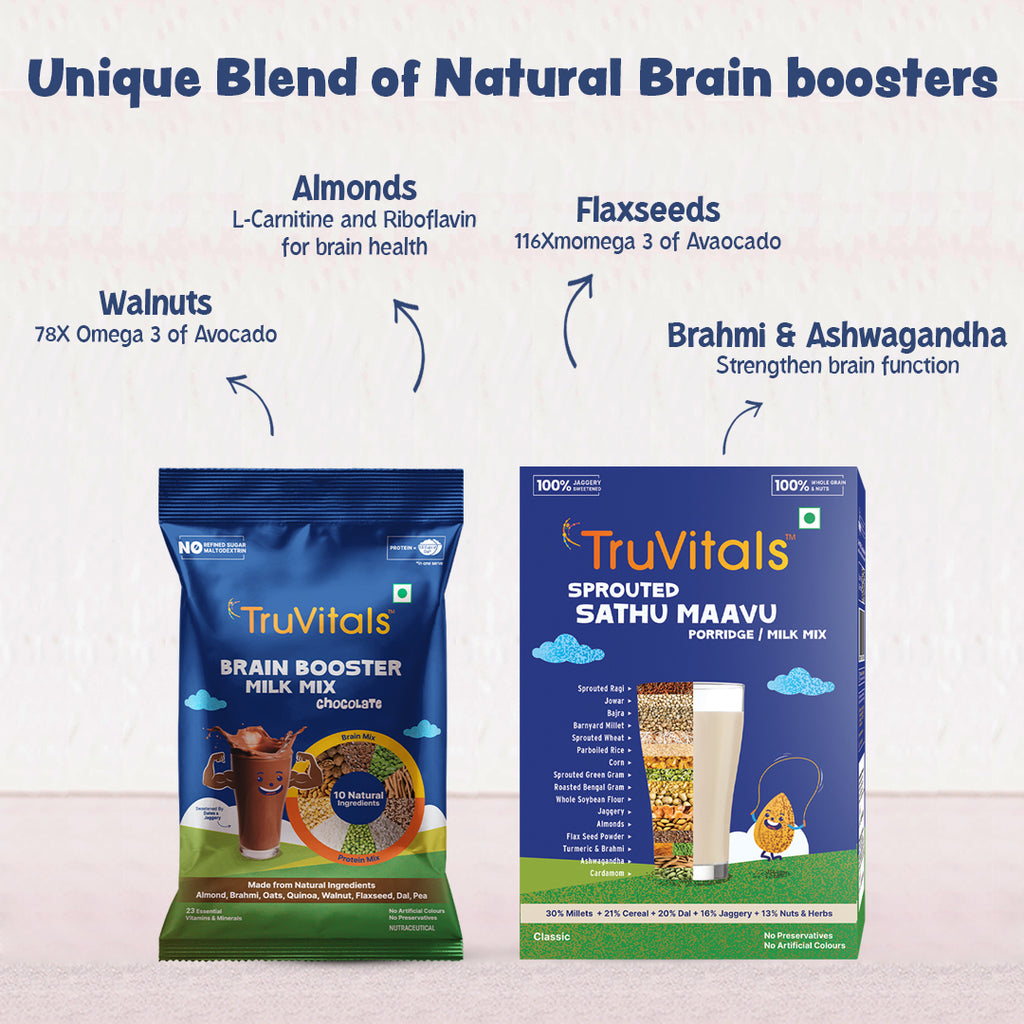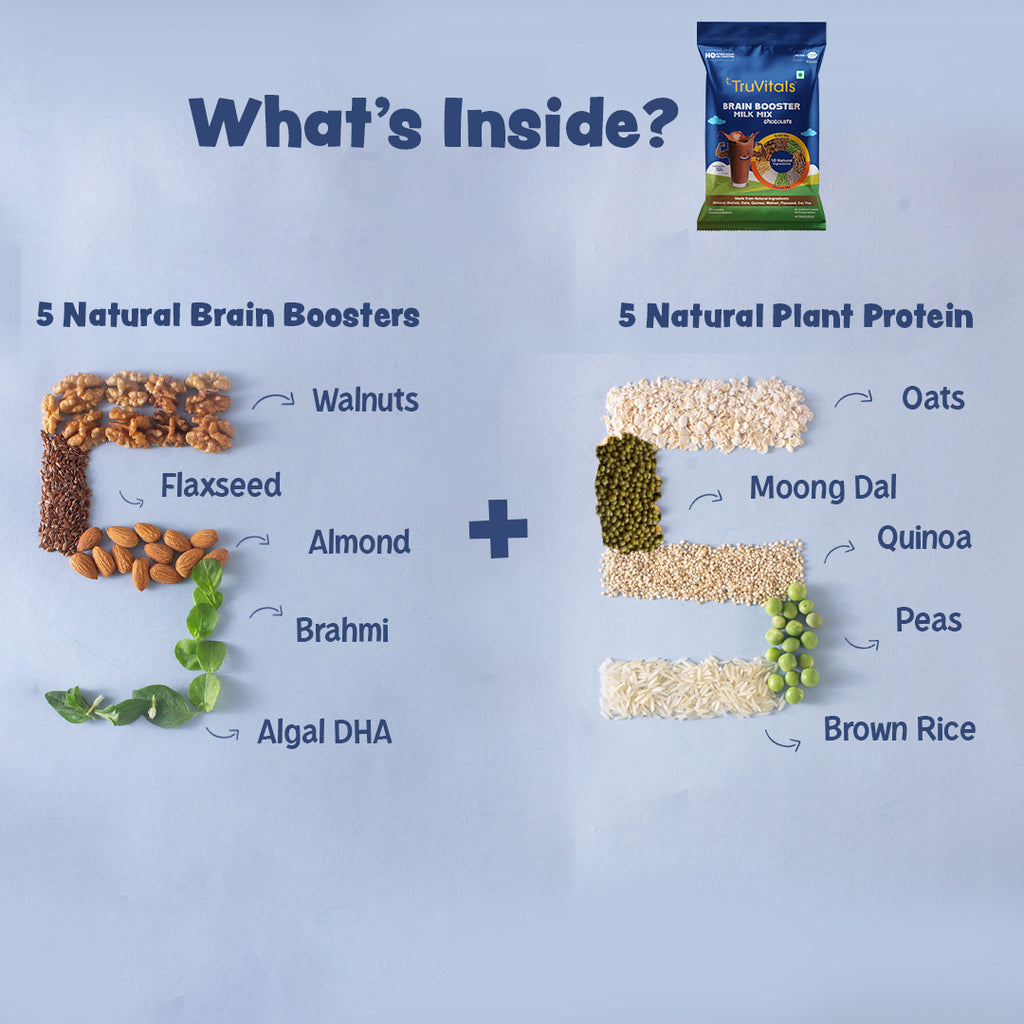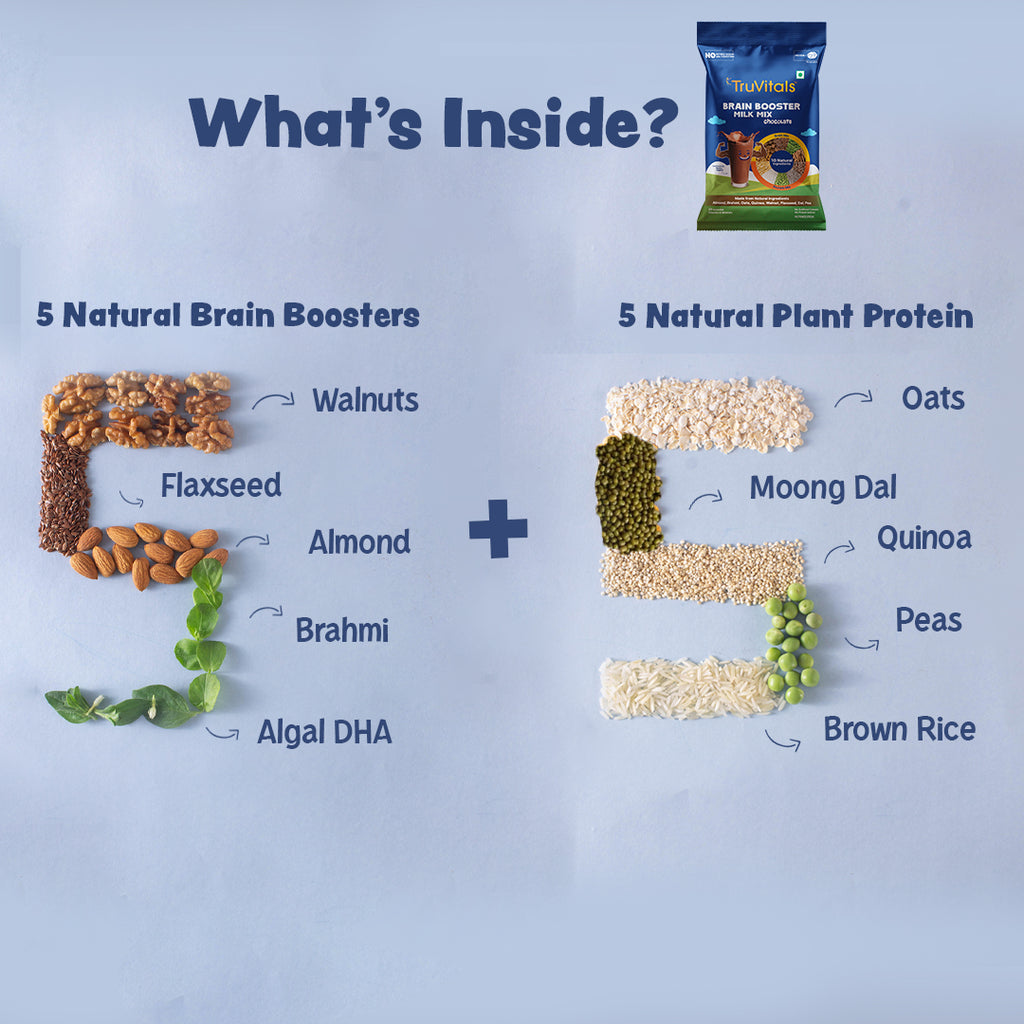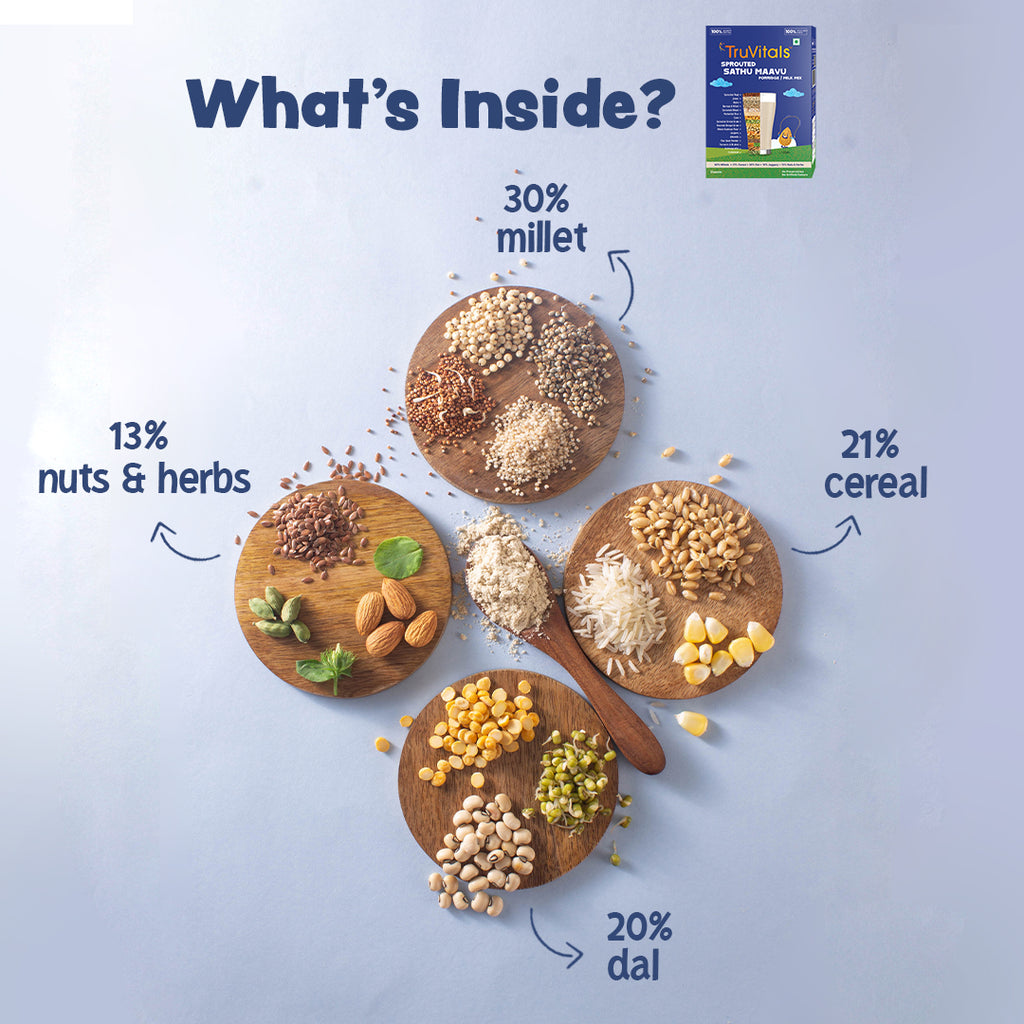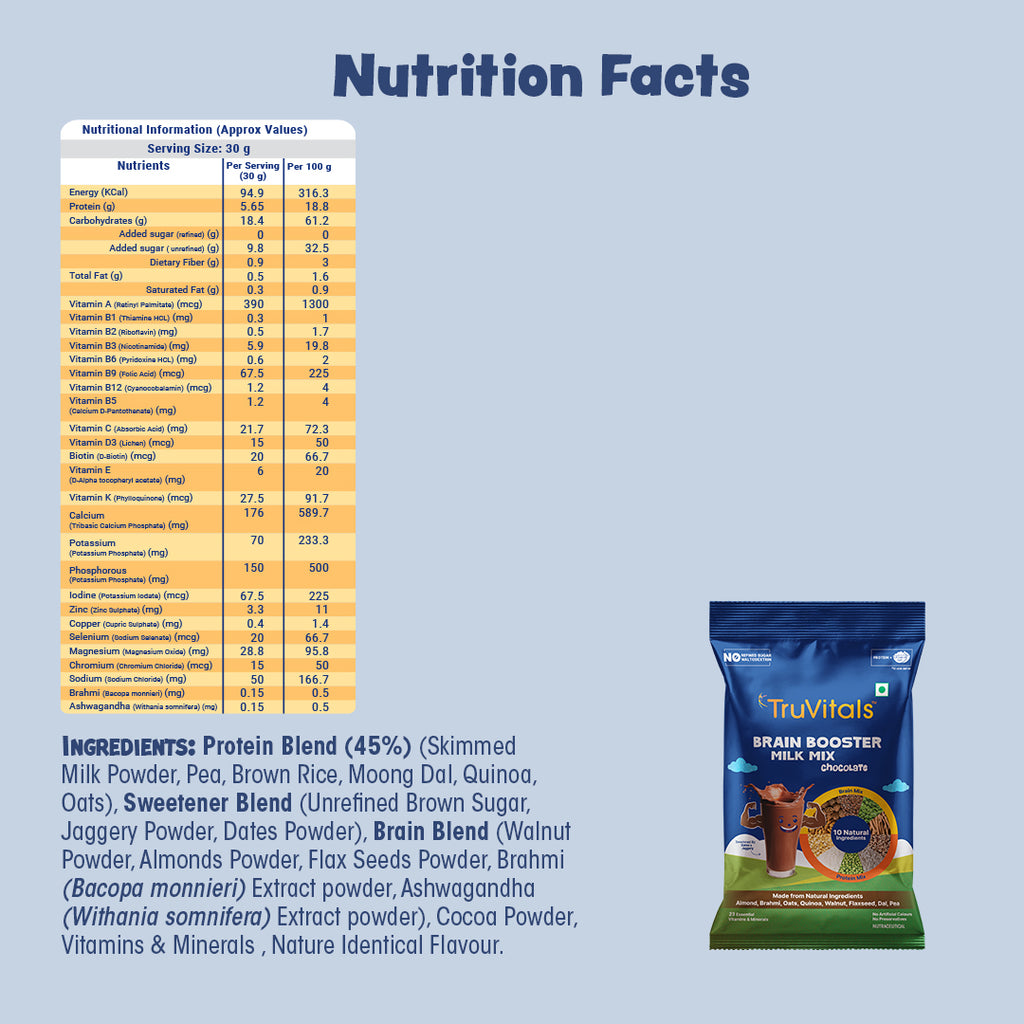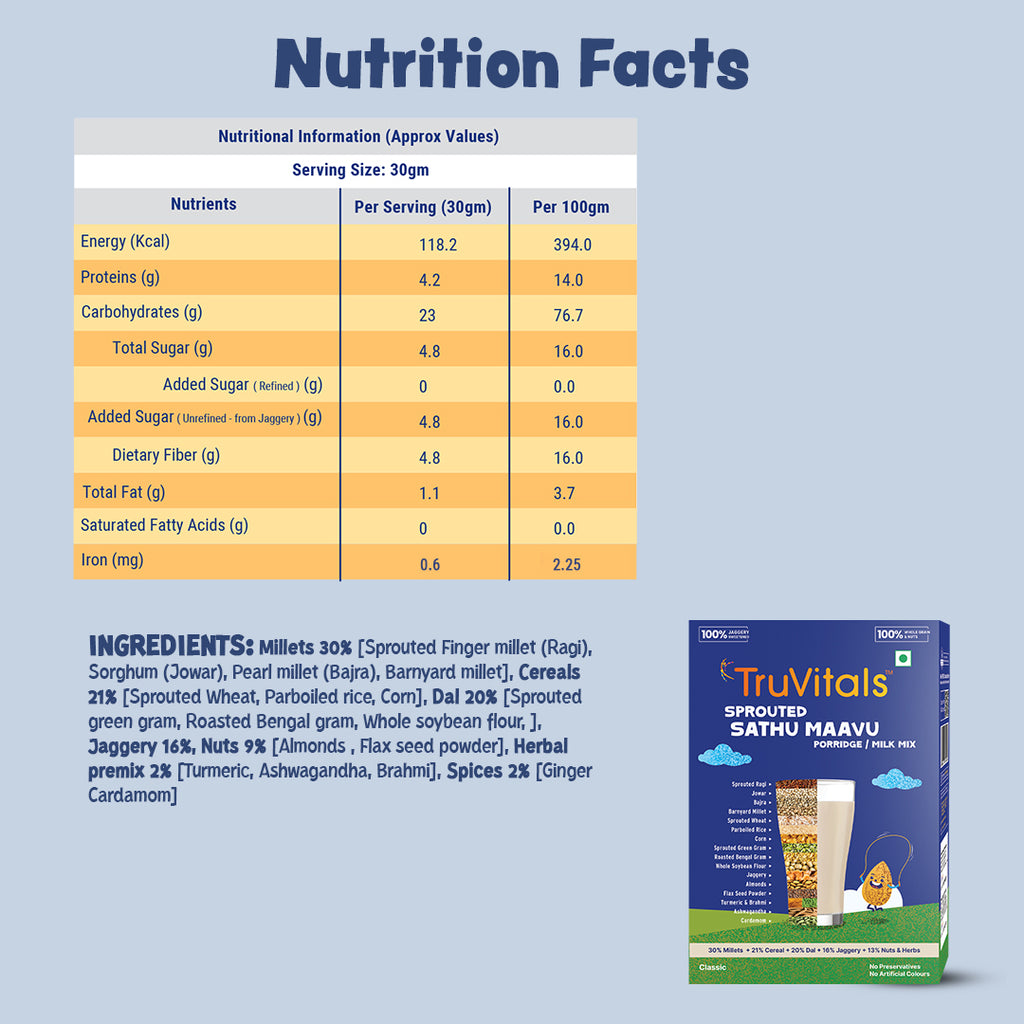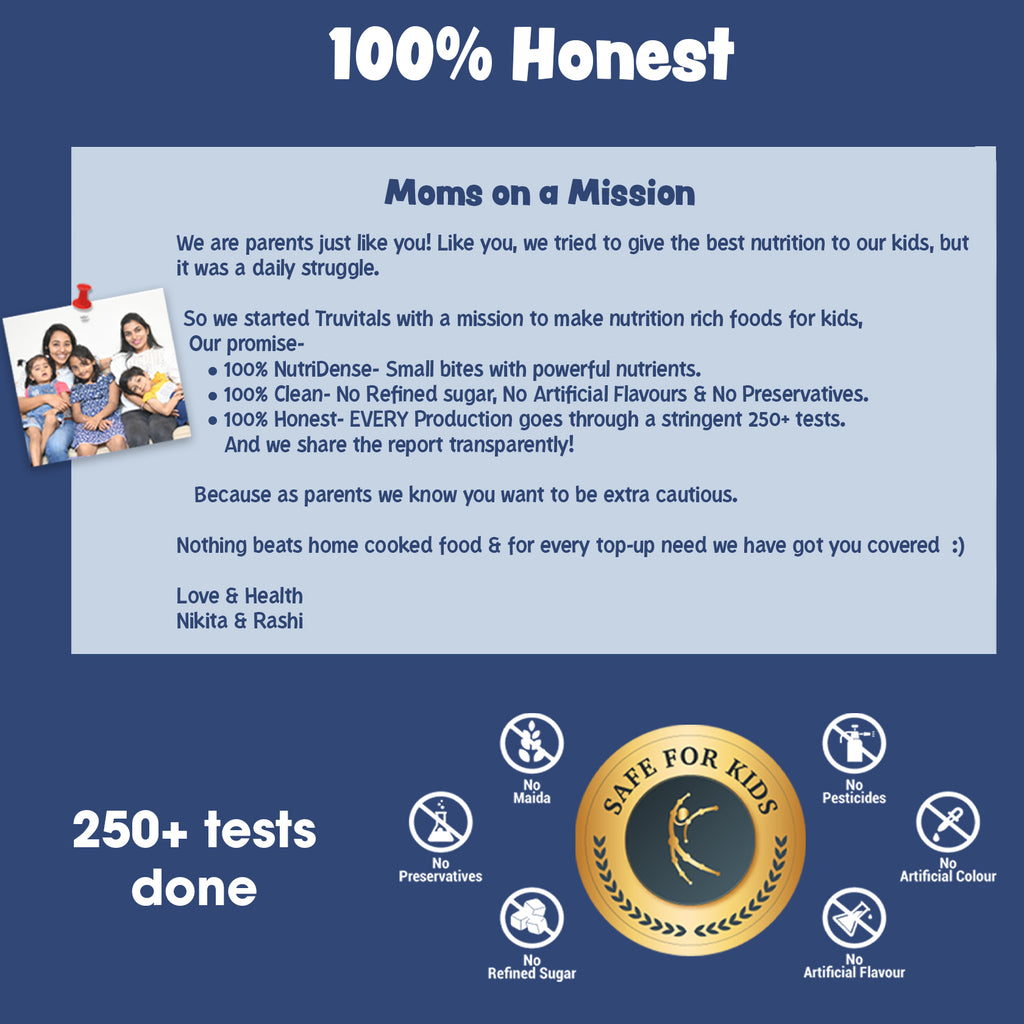 What's Inside
Hero Ingredients
Nuts & Seeds
Almonds has L-Carnitine & Riboflavin for brain health, Flax Seeds & Walnuts are rich in Omega 3, helps improve brain memory
Brahmi
Perennial herbs that enhance memory & promotes healthy functioning of brain
Natural Plant Protein
Plant-based protein containing all essential amino acids - Rice, Moong Dal, Oats, Quinoa, Pea Protein that supports growth
Sprouted Grains
Sprouted Ragi, Wheat, Moong Dal are rich in protein & dietary fibre, & improves digestive health
FAQs
Our Brain Booster Chocolate Milk Mix contains a unique blend of 5 brain-enhancing ingredients, including almond, walnut, flaxseed, Brahmi, and algal DHA, along with 23 other essential nutrients. These are scientifically proven to improve cognitive function and support brain health.

Similarly, our Sathu Maavu also includes almond, flaxseed, Brahmi and ashwagandha.

When consumed consistently over a period of time, these ingredients strengthen the brain by protecting it, scavenging free radicals, increasing important neurotransmitters, and promoting overall well-being and mental clarity.

Brahmi: A potent herb that contains synergistic compounds to protect the brain, scavenge free radicals, and increase acetylcholine, the most important neurotransmitter for memory and learning.


Ingredients are used in Milk mix and Sathu Maavuin a way that they build on each other to trigger a synergistic effect For example, Brahmi improves mood. Our products are packed with neuroprotective ingredients, including L-Theanine and Brahmi, as well as a rich source of Omega 3/6. They are completely natural and free from soy, gluten, refined sugar, preservatives, artificial colors, and flavors, ensuring a healthy and wholesome option for boosting your child's brain health.
Our brain development combo is not a medicine but a food product made with proven ingredients to support brain development. Many parents have observed positive changes in their children after consistently using this combo for 4-5 months or more. It includes 1 scoop of chocolate milk mix to be added to a glass of milk daily, along with incorporating any dish made with Sathu Maavu such as porridge, paratha, dosa, or cheela into their child's diet.
Our Brain Booster Milk mix is designed to be added to milk every day, with a recommended serving size of 30g or 1 scoop. It can also be used as a chocolate powder in various recipes, including cakes and other baked goods. Similarly, the Sprouted Multi Grain Health Mix (Sathu Maavu) can be added to milk and given daily. It can also be used to prepare a variety of dishes such as porridge, dosa, roti, cheela, ice cream, cake batter, and even chaas (buttermilk). For more recipe ideas, please refer to our recipe page.
Encouraging children to consume a diverse range of brain-boosting foods, including nuts, greens, sprouts, and herbs rich in Omega-3s, vitamin D, and vitamin K, can be a challenging task. These essential nutrients play a crucial role in brain development, enhancing memory, and improving attention span.

To make it easier for parents, our Brain Booster milk mix and sprouted Sathu Maavu offer convenient solutions to provide children with the necessary Omega-3s, vitamins, minerals, fiber, and protein they need. These products contain ingredients like walnuts (which provide 78 times more omega-3 than avocado), almonds (rich in L-carnitine and riboflavin), flaxseeds (offering 116 times more omega-3 than avocado), and brain-strengthening herbs like Brahmi.
Our Brain Booster milk mix and Sprouted Sathu Maavu is made from 100% natural ingredients ,ensuring its safety for consumption by kids. These are FSSAI Certified Food product, which means it has undergone rigorous testing and meets the required standards for quality and safety.

Every ingredient in the Brain Booster milk mix and Sprouted Sathu Maavu is carefully selected based on scientific research and evidence of its ability to provide sustained benefits. We prioritize sourcing high-quality ingredients that are potent, pure, and easily absorbed by the body. Our product is free from artificial colours, flavours, and sweeteners. You can trust that your child is getting a safe and wholesome product to support their brain health.
Brahmi: A potent herb that contains synergistic compounds to protect the brain, scavenge free radicals, and increase acetylcholine, the most important neurotransmitter for memory and learning.


Algal DHA is a vegetarian source essential for kids' brain health. Algal DHA is a vital component of the brain's structure, supporting memory and learning abilities. It plays a crucial role in brain development during early childhood, promoting cognitive growth and visual development. Algal DHA also protects brain cells from damage and inflammation. It is allergen-free and helps maintain a proper omega-3 balance in kids' diets, ensuring their overall health and well-being.
Almonds contain L-carnitine and riboflavin that helps in the growth of brain cells. One major chemical that helps the brain in cognitive function is phenylalanine and almonds have this chemical in them.
Walnuts & Flaxseeds have omega-3 fatty acid which helps to promote & regulate overall brain health. Alpha Linolenic acid, a type of omega 3 acid present in them is essentially linked to good brain health.
TruVitals helps in meeting the daily quota of essential nutrients, designed as per the Indian dietary requirement. Just 30g/serve is sufficient to take care of their daily requirement of protein & brain health.